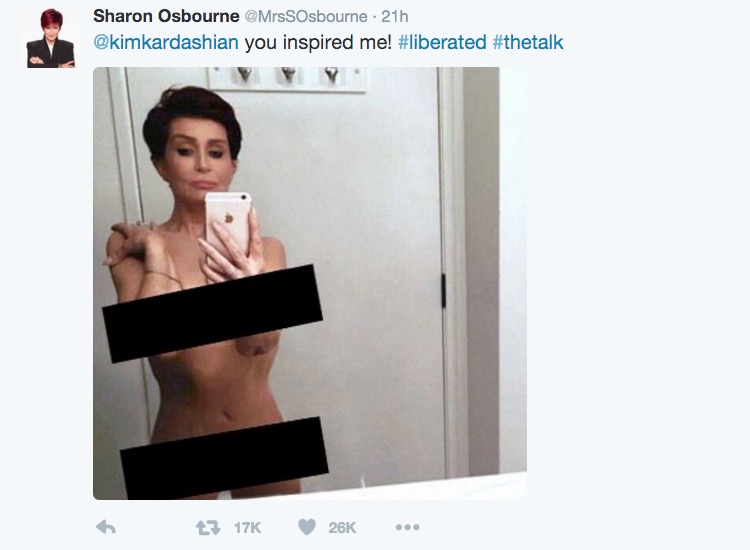 If Kim Kardashian and Kanye West can master the art of controlling the media spotlight, so can Sharon Osbourne.  The 63 year-old talk show host, music manager, and wife of Ozzy Osbourne posted the fearless selfie on Twitter, inspired by an 'internet breaking' post by Kardashian.
That is now causing its own mega-reaction, with the most common reaction being… 'damn!'
Indeed, the Osbourne post is creating its own aftershocks, with massive adulation and reaction coming from all corners.  That includes a broad range of men, many of whom are casting very appraising glances.  But get ready: Osbourne's copycat may have just spawned an avalanche of covered nude selfies, with a list of potentially attention-hungry women (and men) following the trend.
Sharon's post is part of a remarkable celebrity surge that started in Osbourne's 50s.  Inside the industry, Osbourne has a longtime reputation as a tough — and sometimes ruthless — manager of Ozzy, though that hard-as-nails attitude helped to revive her husband's career (with some spillover into Black Sabbath).  A major instrument in that revival was Ozzfest, a traveling metal-fest that started in the late-90s.
Sharon Osbourne's name first edged into the mainstream with The Osbournes, with a judging chair on The X Factor and America's Got Talent soon following.  Presently, Osbourne is a morning mainstay on the The Talk, and one of the richest women on the planet.