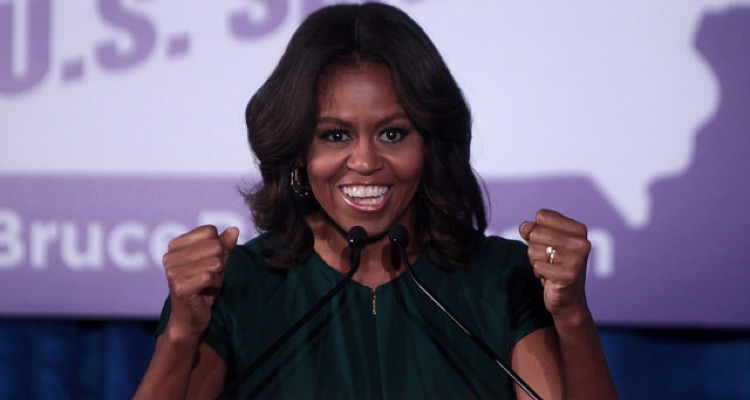 Michelle Obama has released a female empowering anthem titled 'This Is for My Girls,' which features Kelly Clarkson, Missy Elliott, Zendaya, Janelle Monáe, and Kelly Rowland, among others.
The single was released ahead of the First Lady's keynote speech at the SXSW festival.  During the chat, Michelle talked about the Lets Girls Learn initiative and how it aims to combat the epidemic of young, uneducated females.
The song was commissioned by Michelle Obama and produced by AOL, with the purpose of promoting the Peace Corps' Let Girls Learn project.  The ambitious initiative aims to educate an estimated 62 million girls around the world who are not in school.   All of the artists who participated in the song agreed to not receive any revenue from the song, with all funds going directly to the Let Girls Learn fund.
And the song itself?  It's a catchy, upbeat R&B  track with lyrics mainly made up of empowering phrases like 'this is for my girls, all around the world',  'stand up and be heard', and 'keep your head up'.
Diane Warren, a world-renowned songwriter, wrote the song.  In a recent interview, Warren likened the song to "…an updated Destiny's Child record' with Kelly Rowland on the track, a formula that could build "a huge worldwide anthem."  Anthemic or not, this indeed a very catchy, feel-good type of song.
'This Is for My Girls' is now available on iTunes.
(Image by Gage Skidmore, Creative Commons, Attribution-Share Alike 2.o Generic, CC by SA 2.0)