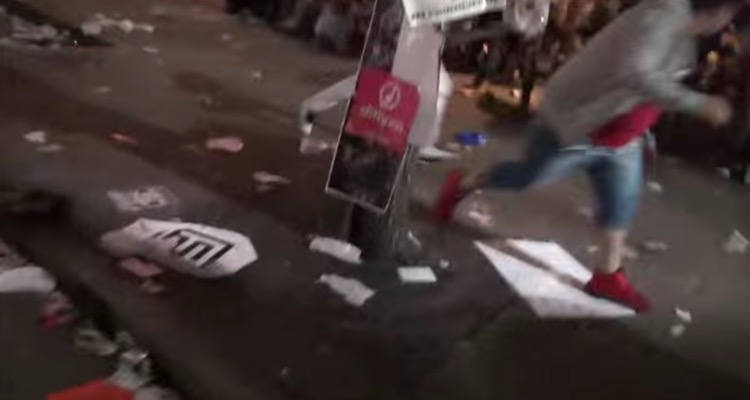 Update 2; Sun. 9:35 pm CT: Video footage has now emerged documenting a shooting in the middle of a dense crowd at SXSW early Sunday morning.
The following is a developing story, please check back for ongoing updates and information.
Video footage showing a large altercation followed by shots fired has now surfaced, with subsequent pandemonium and heavy, armed response by Austin Police following.  The video shows the beginnings of an altercation involving a large number of African-American men in the middle of Sixth Street, the main thoroughfare of SXSW activity.
Some of the participants were belligerent and engaged in heated argument, while others were attempting to neutralize the conflict.  A third group were passively observing heated arguments, which includes the person filming (most likely from a phone).
At approximately 1:39 in the following video, a pair of shots ring out.  Subsequent information from the Austin Police Department indicated that these shots were fired into the air, with no casualties.  In the immediate chaos that follows, a swarm of cops quickly emerged with weapons drawn, while working to achieve crowd control, perimeter establishment, and suspect apprehension.
The video has also been uploaded to YouTube as of Sunday, March 20th, but may be ripped down.  Other video footage may have been taken, but has yet to emerge.  The Austin Police Department indicated that no footage was recorded from traffic or intersection cameras.
Shortly after the incident, the Austin Police immediately downplayed the seriousness of the incident, even suggesting that nothing had occurred.  "The call came in at 3:55 p.m. from the 600 block of 6th Street," APD spokeswoman Jennifer Herber stated, possibly referring to a completely different incident (note the time).  "It came in from the manager of one of the bars there who said he heard two shots outside.  Our officers were obviously really close at the scene because of SXSW.  They were there for quite a while, but were unable to find any evidence of any shooting."
"It could've been a car backfiring.  Thankfully, there were no injuries."
Since that point, a suspect has been apprehended and a gun found near the intersection of Sixth Street and Trinity Avenue, where the altercation first occurred.  "APD on scene at shots fired call at 6th and Trinity," an official tweet from the Department relayed. "Suspect fired rounds into air, no injuries. Suspect captured and gun recovered. WC 6″
At this stage, the suspect has not been named.
The shooting is now the latest in a string of violent incidents at SXSW, with massive, mob-like crowds creating an enforcement nightmare.  In 2014, an intoxicated driver in a high-speed police chase drove into a large crowd, killing and injuring more than two dozen attendees.  Several people were killed, while 23 were immediately reported injured in an aftermath that resembled a warzone.   The driver has since been handed life without parole, though serious questions related to police chase policies, especially during a crowded festival like SXSW, remain.