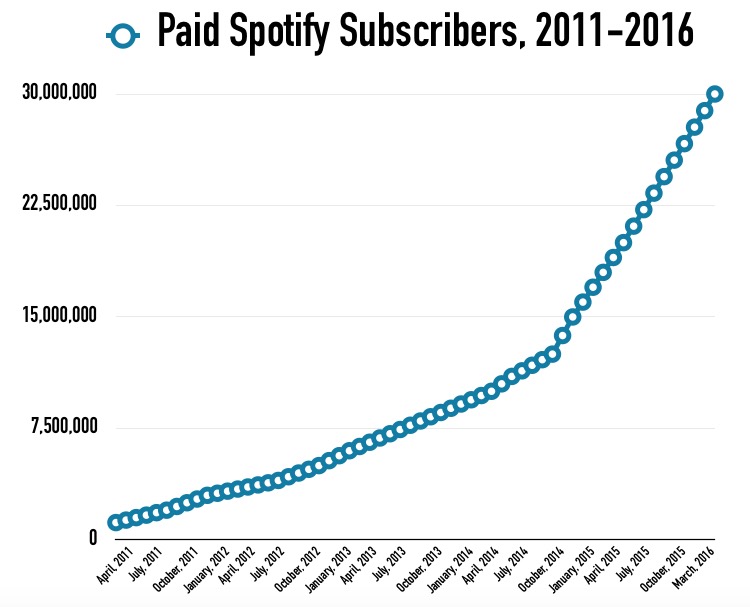 Today, Spotify CEO Daniel Ek officially announced that the streaming service has hit the 30 million paying subscribers.
The announcement offers critical validation for Spotify, and a major counterargument against a torrent of artist complaints and frustrations.   A number of high-profile artists continue to exclude their music from the service, while oftentimes making songs exclusive to other streaming platforms.
Those boycotts are often rooted in compensation disputes, though Spotify contends that free access is a critical path towards achieving paid scale.  Now, the question is whether this Swedish juggernaut can start to elevate its compensation levels with a healthier, higher-paying userbase.
Spotify remains ahead of the pack, though there's a lot of heat in the rearview mirror.  The platform's biggest competitor, Apple Music, has 11 million paid subscribers, according to a mid-February announcement.  That is roughly one-third Spotify's paid users, though Apple Music is less than a year old.
The latest milestone reflects a prolonged surge in paid Spotify subscribers, despite heavy-and-increasing competition.  In 2014, the streaming platform announced 10 million subscribers, which was followed by an announcement in 2015 of 20 million subscribers.  Now, in early 2016, the coveted 30 million subscriber-mark has been reached.  All of that puts 50 million in sight, with Spotify and Apple Music collectively closing in on the 45 million threshold.
That sharp rise could help to thin the competitive ranks, with smaller services like Rhapsody and Tidal struggling in the single-digit millions of paid subscribers.
Separately, a number of heavyweights are preparing paid entrances.  SoundCloud is reportedly working on its own subscription play, a serious heavyweight that remains entirely free-access that moment.  YouTube is also in the early stages of launching Red, a paid platform whose music offerings are currently unimpressive.