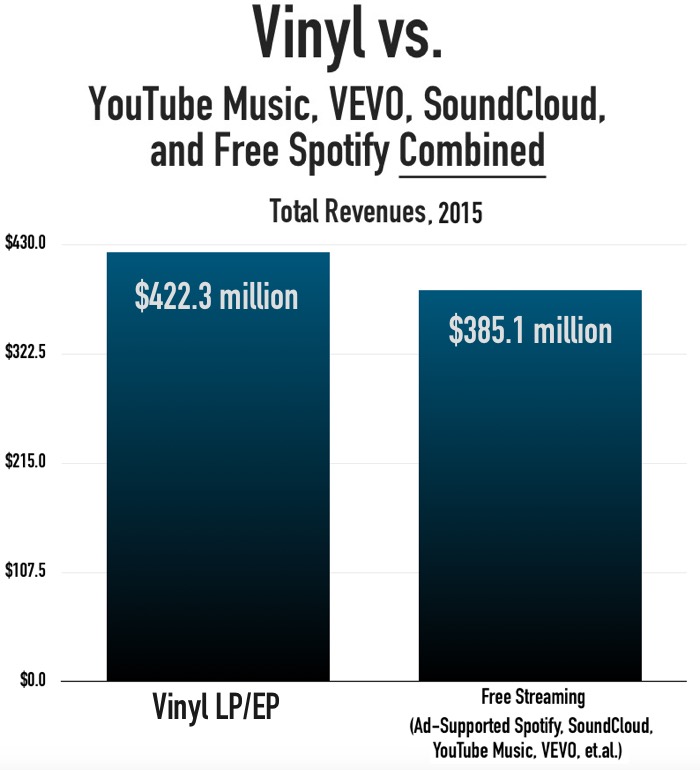 Streaming gets you exposure. Vinyl makes you money. Any questions?
According to US-based revenue data released by the Recording Industry Association of America (RIAA) on Tuesday, vinyl revenues trumped the combined earnings of YouTube music videos, VEVO, free Spotify, SoundCloud, and every other free streaming music service combined, by a healthy margin.  In total, the ad-supported, free on-demand streaming channels contributed revenues of $385.1 million, a 30.6% jump over 2014 revenues.
Vinyl LPs, EPs, and singles, by comparison, sold a combined $422.3 million, which is 9.6 percent more.
Of that total, LPs (full, long-playing records) and slightly-shorter EPs contributed $416.2 million, or roughly 98.6 percent of that total.  Singles, a niche decoration, remains a small part of the vinyl resurgence (for now).
Overall, LP, EP, and 45 sales grew more than 32% in 2015 over the previous year.
The glaring statistic shows vinyl's superior revenue power, especially for such a tiny category (for now).  Last year witnessed unprecedented surges in streaming, with free streaming absolutely exploding.  Indeed, Spotify is rumored to have passed 100 million total users, while YouTube's music platform is bigger than ever before in history.   But that surge carries a cost: according to the figures, ad-supported, free streaming is a weak revenue-generator, and pound-for-pound, vinyl carries immensely more weight.
Paid streaming, on the other hand, packs a more serious punch.  According to the RIAA statistics, there were an average of 10.8 million paying subscribers to streaming services in 2015.  But that produced $1.22 billion in revenue, a major contributor to overall streaming revenues of $2.4 billion.
The rest is coming largely from Pandora, Sirius XM, iHeartRadio, and a collection of online radio platforms, a group that collectively contributed $802.6 million.  Overall, 'non-interactive' digital radio services grew a modest 3.8 percent in 2015 suggesting a US-based plateau.
Vinyl appears far from flattening, though upcoming advancements in high definition vinyl could spark a second growth spurt.