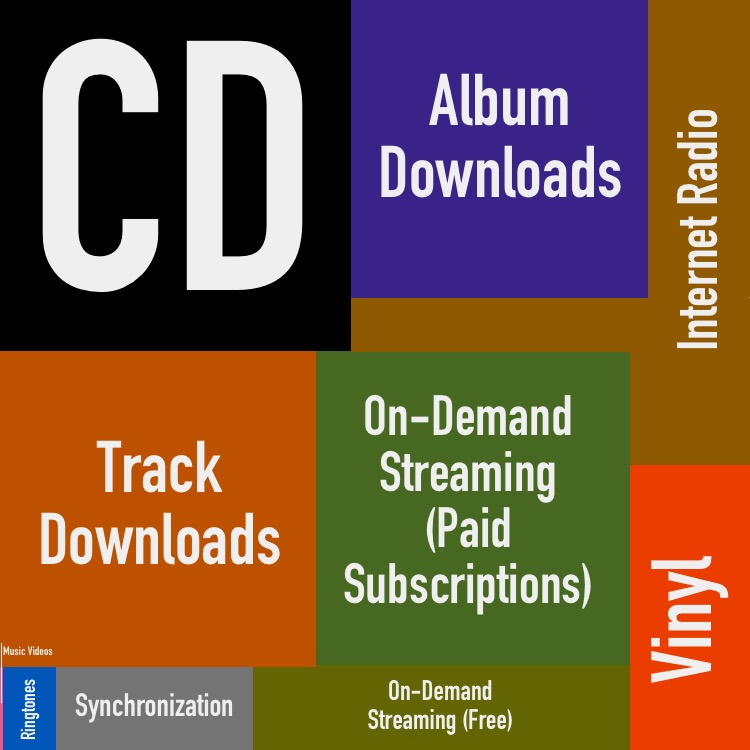 A proportional map of recorded music format revenues, using US-based tallies from the Recording Industry Association of America (RIAA).
CDs maintained a sizable chunk of recorded music sales in 2015, part of a sales map that now features a large number of competing formats.  According to US-based, 2015 stats from the RIAA, CDs, subscription (paid) on-demand streaming, internet radio, and downloads all grabbed substantial portions of a recorded music industry that totaled $7.09 billion in annual revenue.
In terms of the format breakdowns, the old strongholds are shrinking, including:
CDs: $1.52 billion (down 17.0%); 21.7% of the total.
Song Downloads: $1.23 billion (down 12.8%); 17.5% of the total.
Album Downloads: $1.09 billion (down 5.2%); 15.5% of the total.
Ringtones, Ringbacks: $54.6 million (down 17.7%); 0.8% of the total.
Music Videos: $6.4 million (down 52.8%); 0.09% of the total.
And, here's where al the growth is coming from:
Subscription (Paid) Streaming: $1.22 billion (up 52.3%); 17.4% of the total.
Internet Radio ('Non-Interactive Streaming'): $802.6 million (up 3.8%); 11.3% of the total.
Vinyl (LPs, EPs): $422.3 million (up 32.2%); 6.0% of the total.
Ad-Supported (Free) Streaming: $385.1 million (up 30.6%); 5.4% of the total.
Synchronization ('Sync') Royalties: $202.9 million (up 7.0%); 2.9% of the total.
Then, there's the issue of the broader industry total, and whether it's likely to grow.  Despite immense growth around streaming music (particularly paid, on-demand platforms), the broader recorded music industry in the US gained a scant 0.9%.  That reflects a recovery and potential bottoming, though it's unlikely the music industry can recover a decades-plus plunge of more than 65%.
Meanwhile, the traditional breadwinners are continuing to tank.  That includes the CD and paid downloads, both of which are experiencing double-digit year-over-year declines, and could be essentially become negligible within five years.
All of that is putting greater emphasis on a totally different mix of revenue-generators, particularly live shows, branding relationships, and emerging publishing channels.  Additionally, a number of artists (from Kygo to Wale) are moving beyond the album format, and successfully satisfying a totally different consumer preference.