When it comes to streaming music, there are plenty of options.  Here's a way to sift through it all.
To start, here's a quick breakdown of what leading services Spotify, Apple Music, YouTube, Tidal, SoundCloud and Pandora offer: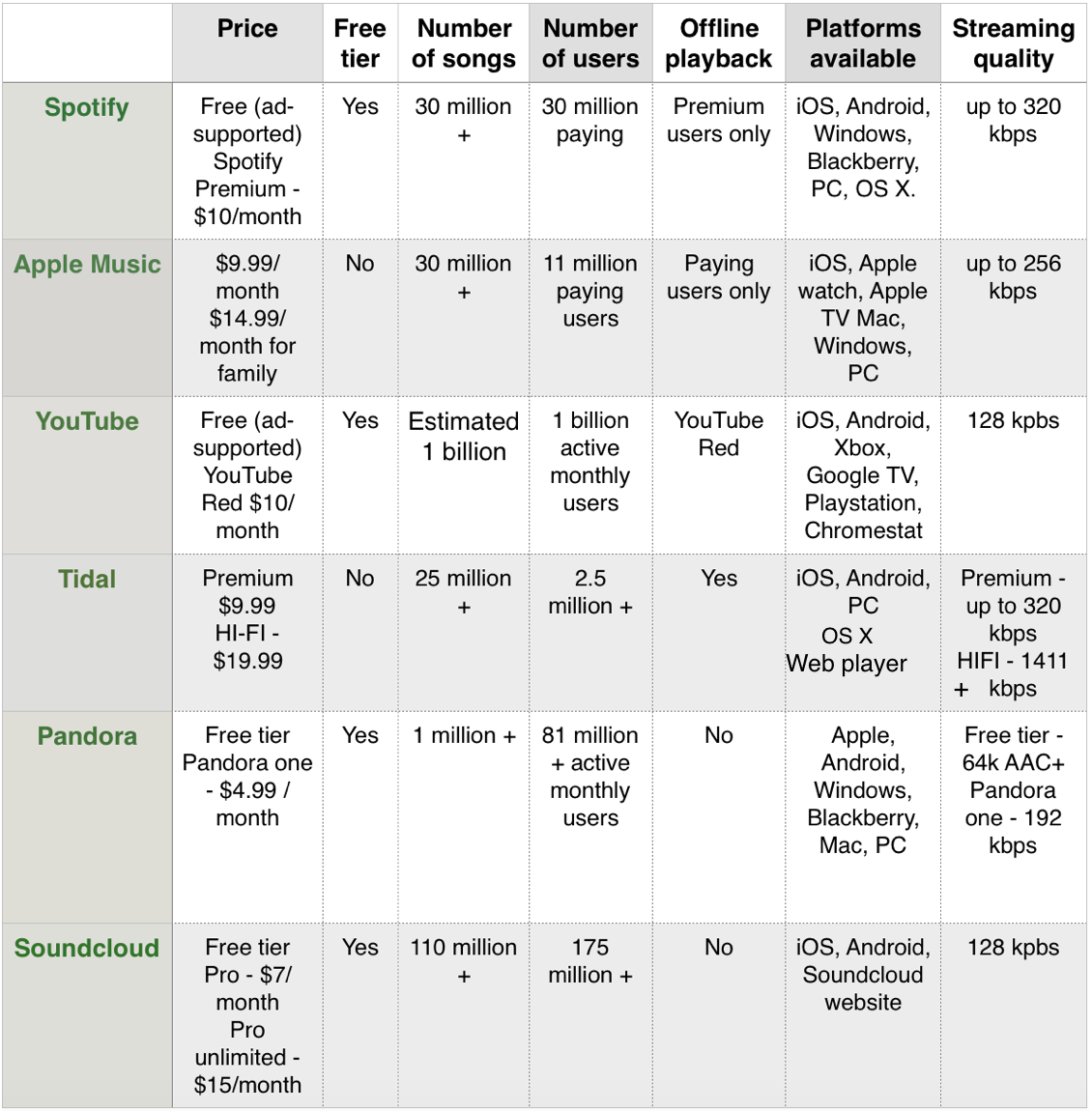 The above chart allows you to quickly identify which service best suits your musical needs, with a more in-depth analysis below.  In it, we'll take a look at each streaming platform and the features it has to offer its users.  While it's impossible to directly compare all of these services, this information will hopefully allow you to identify which service is best suited to your tastes and preferences.
Keep in mind that these are in no particular order, as the 'best' streaming service is entirely subjective.

"A well-rounded music service with a fairly large catalogue and good quality streaming"
Tiers:
Spotify ad-supported version (free)
Spotify Premium ($10 a month)
Subscribers: 
Active users (est. 100 million)
Paying users (30 million+)
Features:
Spotify Premium users have the ability to play songs on demand from any device, and easily access collections.
Access to radio stations and on-demand songs
Lots of personalized playlists, i.e. Fresh Finds, Discover Weekly, etc.
Facebook integration.
Lots of people (and potentially your friends) on board.
Platforms: 
iOS (ranked top-grossing app in the UK; 3rd in the US)
Android.
Windows Mobile.
Mac, Windows desktop apps.
Offline playback: 
Spotify premium users only
Benefits
Availability: Spotify is available across a wide variety of platforms and a large number of countries.
Large, Navigable Selection: Spotify has a large catalog of over 30 million songs, which are searchable by artist, genre, album or even record label.  The service reportedly adds approximately 20,000 songs every day.
Great Playlists and Discovery: Spotify has extensive playlists that are continuously updated, which makes discovery easy. That includes 'Discover Weekly,' updated every Monday with a two-hour personalized playlist, and 'Fresh Finds,' which includes 6 new genre-specific playlists updated every Wednesday.
Solid Interface: One of the best.  Spotify is easy and simple to use, with sub-categories and a search tool that populates results correctly.  And it rarely crashes or freezes.
Social: Spotify has great social features which make it easier for users to share playlists, as well as follow what friends are listening to.
Interesting extras, i.e. the Spotify running feature, which matches music to the speed that the user is running.  Another cool feature matches the music to the environment (like the weather).
Drawbacks
Missing catalogue: Spotify has 30 million songs but there are gaps.  So if you are into remixes, EDM or user-generated content, you may be disappointed.
Low royalty rates: Major artists like Taylor Swift, Adele, Prince and most recently Gwen Stefani have all pulled their music from the service and made it exclusive on other music platforms, thanks to low royalty rates on the ad-supported version.  They feel Spotify is actively devaluing music, and treating artists unfairly.
Verdict
Spotify is a well-rounded music service with a fairly large catalog and solid quality streaming.  It's ideal for anyone who likes to discover new music and enjoys total portability.  Also good if you are into social media.
But, if you are a massive Taylor Swift fan, or you love Adele or Kanye then you may be disappointed: these artists, along with a handful of others, are missing, and may never come on board.  Also, if you care how your favorite artists are getting paid, then you should probably know that Spotify's streaming royalties in ad-supported version are fairly low, especially on the free ad-supported version.
"A wide-spanned catalogue of songs, though there is no free option"
Tiers:
Paid service – $9.99/month or $14.99 for a family account.
No free service (outside of 3 mo. trial)
Subscribers:
Features:
Users can play any song on demand, from any device or environment.
Platforms: 
iOS
Apple Watch
Apple TV
Mac

PC 

Android
Offline playback:
Paid service subscribers can stream saved music without data or Wifi.
Benefits
Free trial: Apple Music offers a 3-month free trial, so there is the benefit of being able to try before you buy.
Large catalog: The service gives its user access to 30 + million songs (like rival Spotify).
Radio: Integration of Beats 1, a 24-hour, live radio station with known deejays.
iTunes Integration: Allows users to integrate iTunes libraries into their Apple Music library.
Family bundle option: Apple's family plan is $14.99, which means up to 6 people can use the service.  Spotify, and other rivals, lack that sort of deal.
Availability: Available in approximately 113 countries (better than Spotify, especially if you reside in a far flung place).
Drawbacks
No free option: There is no free ad-supported version of Apple, unlike with Pandora or Spotify.
Radio: That includes most radio stations, though even on the paid side, radio playlists tend to loop and should be refreshed more often.
Bugs. The launch of Apple Music was met with plenty of complaints, including the mangling of personal iTunes download accounts.  A lot of those have been resolved, but expect a few ticks.
Verdict
Apple Music has a catalog that rivals Spotify.  So if you're deliberating between the two, there is little difference there. Apple Music's integration of Beats 1 is a massive benefit and is probably where Apple Music has the upper-hand on Spotify, especially as their paid option is the same price.
Apple Music's family option costs $14.99 a month for up to 6 users.  If you and your family members are all signed up to different music streaming services, you could really save money with this option.
Apple Music's downfall (if any) is the fact that they don't have a free option, like Spotify, YouTube and other streaming platforms.  After three months, you will have to pay for the service.  But, this is ultimately good for artists, as they will typically get paid more on Apple than on Spotify.  Indeed, artists like Taylor Swift are available on Apple Music, largely because of higher rates and better treatment (perceived or otherwise).
There is a free 3 month trial, so you could always try it out, and see what you think.
"A good radio service that knows what you like, though it's not on-demand " 
Tiers:
Basic ad-supported radio service (free).
Pandora One (commercial free): $4.99 a month.
Subscribers:
80 million active users
Approximately 4 million paying subscribers
Features:
Users have access to customizable radio stations with a limit on the number of times they can skip tracks.
Platforms: 
Offline playback: 
None of the two tiers allow users to listen offline.
Benefits
Good music discovery: The thumbs up and thumbs down feature allows you to select songs you like and the ones you don't want to hear again.  The suggested-song algorithm is also great for music discovery.
Free version: The basic mobile version is free for users.
Low price: The price point is lower than other music services.
Drawbacks
Less control: This is radio, and a mostly 'lean back' experience.  So if you need to play your music 'on-demand,' this isn't the choice for you.  Users can't control the exact songs they play.  Users cannot rewind a song or repeat a song as the function isn't available.
Ads: Free tier has a lot of ads.
Catalog: Pandora has a limited music catalog (though that's not a bother for many listeners).
Licensing restrictions: Pandora is bound by all types of listening limitations, including the number of skips, number of songs from the same artist, and number of songs from a particular album (within specific time listening ranges).  That drives some listeners nuts, while others hardly notice.
Verdict
Pandora is probably one of the best services for music discovery, as it matches new music to the tastes of the user.  However, Pandora is a radio service at its core.  You cannot simply choose the music you want to hear, nor can you download music or create custom playlists (like Spotify and Apple Music).  The features are limiting in this sense.
Beyond this, Pandora also has lower audio quality.
But, Pandora is great if you want to listen and discover music in a hands-off way, and don't want to pay a lot of money. The free tier is good, but may bog you down with ads.  But there's also Pandora One (Pandora's premium service) which is ad-free and only $4.99 (half the cost of Spotify and Apple).   Just be aware that you'll have access to far smaller catalog, with far less control than Spotify or Apple Music.
The conclusion is this: Pandora is not a service you can directly compare with Apple Music or Spotify, but it is an good option for radio enthusiasts.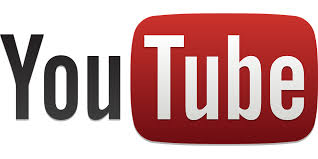 "The most popular streaming service of them all"
Tiers:
Free ad-supported version.

YouTube Red ($10/month, still in development)
Users: 
One billion active monthly users
Features:
Users have access to a vast variety of music video content.  The selection spans songs, mixtape content, covers, live concert recordings, remixes, and all manner of user-generated stuff.  It's a little chaotic, but this is probably the single largest collection of music online.
Platforms: 
iOS
Windows
Android
Blackberry
Mac
PC
Offline playback: 
Available on YouTube Red.
Benefits
Library: YouTube is the world's largest music streaming service by far, with a massive library of music.
Multitask: You can watch videos and listen to music whilst searching for other songs and playing with other features.
Sharing options: Most people are on YouTube, so its incredibly easy to share.
Additional content: The service gives its users access to ample amounts of additional content, like covers, live concerts etc.
Drawbacks
Audio quality: The audio quality is lower than most of its competitors.
Less organized: The service is more chaotic as its less organized than other streaming services, like Spotify for example.
Verdict
YouTube is a great engine for playing music as well as discovering new music. Having a free tier and a paid tier (YouTube Red) gives you options.
The audio quality isn't as good as other streaming platforms, but you have the added benefit of the quantity of content.  If you like a variety of different content, then YouTube is probably the best service for you.  YouTube Red also allows you to watch video's and listen to music whilst searching for other songs.
Also, if you are a musician, a DJ, or a recording artists who is up-and coming, YouTube gives you the opportunity that other streaming platforms don't.  You can upload your own content and create revenue from it, and monitor your channel.  VEVO is a higher-end layer, though lots of content on YouTube is lower-quality.

"A luxury music service with high-fidelity audio, good for hip-hop fans"
Tiers:
Tidal Premium ($9.99 /month)
Tidal HiFi ($19.99 /month)

(Both versions are ad-free).
Users: 
Officially 1 million (with a potential doubling of that thanks to Kanye's exclusive TLOP release)
Features:
Music and videos on-demand.
Access to Tidal X
Platforms: 
iOS
Android
PC apps
Web browsers.
Offline playback: 
Both tiers allow users to listen while their device is offline.
Benefits
Exclusive content: Tidal has exclusive content from massive artists like Beyonce, Kanye West, Rihanna, Daft Punk and several others.  The content includes in-concert exclusives as well.
Artist-friendly: The service is widely known as being artist-friendly, so if you care about how your favorite artists gets paid for their craft, then Tidal is a good option.
Audio quality: Tidal's audio quality is the best out of all the streaming services.
Drawbacks
Navigation: The app isn't as easy to navigate as Spotify.
Cost: The service is way more expensive than any other streaming service, and there's no free option. Unless you are using high-quality expensive equipment you will not hear the benefits of the 'high fidelity' audio that the service offers.
Verdict
Tidal is the best service for sound quality, so if you prioritize quality over quantity then this service is a solid choice.
Also, if you are a Hip-Hop/Rap music fan, then this has some of the best exclusive content for this genre.
However, 'high-fidelity' music comes at a cost: Tidal's premium, $9.99 tier is on par with Spotify and Apple Music, while 'Hi-Fi' is $19.99, which is double the cost of any of the other streaming services.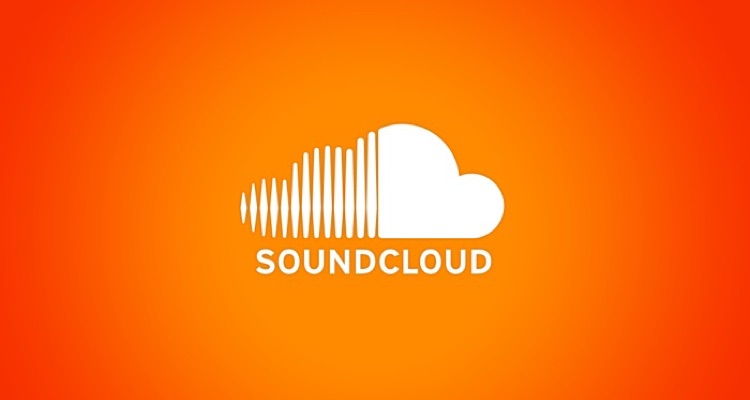 "A free service that allows you to quickly and easily upload music"
Tiers:
Free tier
SoundCloud Go – $9.99 web/android and $12.00 iOS (launched March 29th)
Subscribers: 
175 million monthly users (free tier)
Features: 
Listeners can pick the song they want to listen to, as well as upload their own content.
Plenty of pre-created playlists as well, including by genre.
Platforms: 
Offline playback: 
None (free tier)
SoundCloud Go has offline playback
Benefits
Sharing options: SoundCloud gives users the option to share music privately with friends of publicly through social media networks.
Navigation: The service is easy to use, great for musicians/DJ's as you can record something on the spot and post it up directly.
No uploading limits: There are no limits to the size of files uploaded.
Drawbacks
Limited features: There are no editing features, so although a song can be uploaded pretty much instantly, there are no tools to easily edit.  
Verdict
SoundCloud is a massive platform for musicians, DJ's, and up-and-coming' artists, somewhat like YouTube.  It's quick and easy for artists to upload their content, and has the added benefit of being free for both the uploader and the listener.  This means that you get more unique content on SoundCloud than you would on other streaming services, like Spotify, Apple Music or Tidal for example.  The flip side is that  this also opens the door to considerable low-quality content, similar to YouTube.
However, the platform has good social links, which makes it easier for users to share music with friends across social media platforms, like Facebook for example.
Update: SoundCloud has just launched a paid subscription service (March 29th). More updates as they come.
Beyond these streaming services, there are other options in the streaming market that you may want to check out:
Google Play: Catalog of 20 million songs, Sound quality: up to 320 kbps; service has a free tier and a $10/month tier.
Rhapsody: Catalog of 32 million songs, Sound quality: up to 192 kbps; service has a $10/month tier.
Deezer: Catalog of 40 million songs, Sound quality: up to 1411 kbps; service has a free tier and a $19.99/month tier.
Top image adapted from Ethan Lofton using Creative Commons Attribution 2.0 Generic (CC by 2.0).