Today, SoundCloud rolled out its music subscription service, SoundCloud Go.  And it's actually pretty decent…
The Basics:
For the first 30 days the service is free, $9.99 a month on Web/Android thereafter and $12.99 a month for iOS.
Go boasts a huge catalog of songs: approximately 125 million, making it attractive to a wide range of music listeners.
The platform already has 175 million monthly users who have been using the service for free.
Getting Started:
The app was easy to download via the App Store.   I didn't need to enter any account details as it is already attached to my Apple ID.  I simply clicked install and a few moments later I was in the app.
I opted for a 30 day free trial and began searching for music.
On first impression, I noticed the interface of the app looked clean, making it really easy to navigate my way around.  I began searching for artists and quickly realized that the library of music was vast.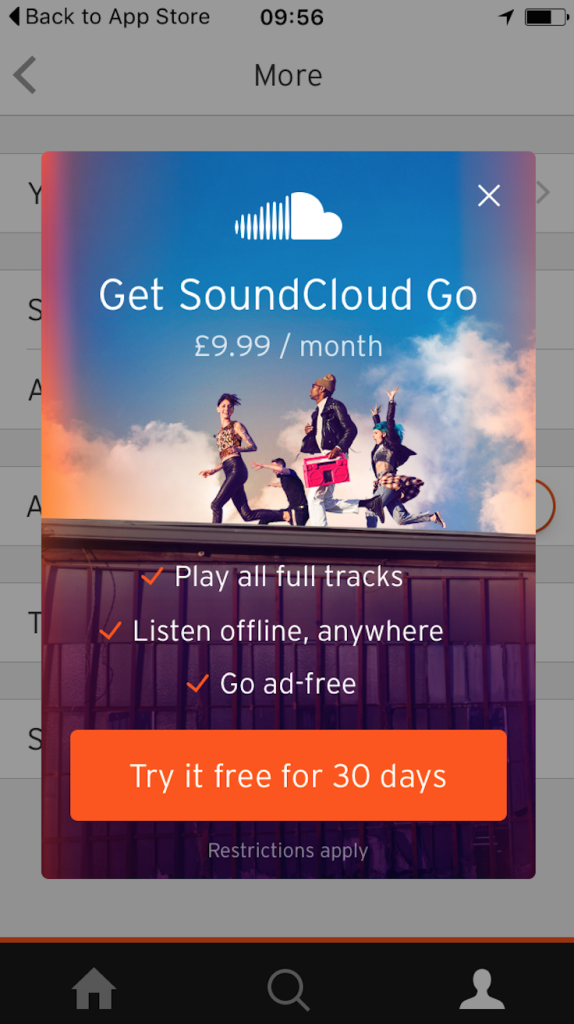 Catalogue
There is a ton of content on the app, from DJ mixes to chart music from major artists and independent artist alike.  Listeners can pick the song they want to listen to as well as upload their own content.
Though, the music is currently not organized in a logical way.  If you type in a global artist's name, a remix or cover by someone else may be one of the top results.
For me, this was a non-issue as I like to discover complete new music and unique versions of songs.  But, if you are simply looking to listen to a particular artist, this could be slightly annoying as you would have to scroll through to find exactly what you are looking for.
Although, if you are looking for a particular song and you type in the name of the song and artist, the results that are populated are very accurate.
Sometimes it can be difficult to differentiate what's paid and what's free.  Songs from the paid subscription service are mixed in with free music, so there's no way to differentiate between the two unless you have the knowledge of the artist.

Music Discovery
After about 5 minutes of using the app and listening to artists that I typically enjoy, I stumbled across a handful of other artists and songs that I never heard of before.
These songs were by independent up-and-coming artists.  The best part is that these tracks were playing directly after massive hit songs by international artists.
This is great music discovery for music listeners like myself and improves the chances of emerging artists getting noticed.
Playlist Creation
It's really easy to create a playlist on the app.  All you need to do is click the
 icon in the bottom right-hand corner of the song and then you click 'add to playlist'.

The best thing about creating playlists on Go is the fact that you can bundle DJ mixes and original tracks together.  There is also the benefit of pre-created playlists by genre.
Stations
Like other subscription services in the streaming market, SoundCloud has Stations.  This feature is handy when looking for new music to listen to. You can start it off by selecting a song, and the feature then formulates other songs based on the initial track selected.
Offline Listening
SoundCloud Go makes it easy to listen to music offline.  All you need to do is click the 
 icon and it is saved to listen later.
Verdict
Overall SoundCloud Go is a great service, although there is room for improvement in terms of the organization of the songs in search results.  That being said, it's still early days, and updates will undoubtedly follow.
Go definitely has the ability to compete with other major music streaming services, like Spotify, Apple Music and Tidal, and with some work this could be a very solid service.