I. Total number of streams versus total number of downloads (2015)
II. Total revenues from streaming versus total revenues from downloads (2015).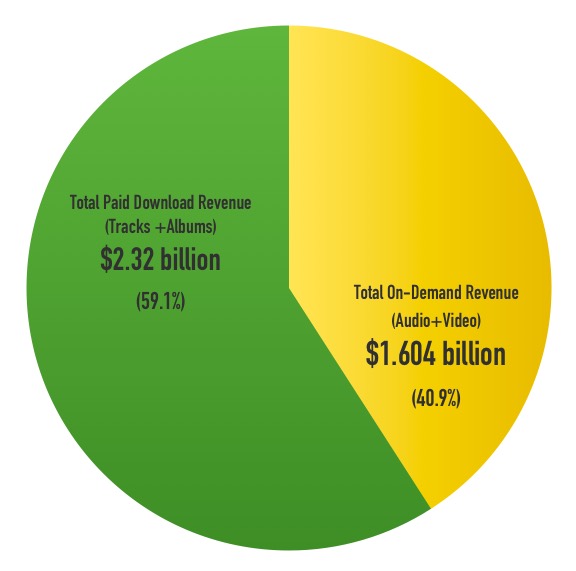 Methodology.
Sources: Recording Industry Association of America (RIAA) and Nielsen data for 2015, supplied to Digital Music News.  Nielsen data finalized and supplied to DMN in January of 2016; RIAA data furnished earlier this month.
Streaming figures includes audio and video on-demand data from leading platforms like Spotify, YouTube/VEVO, Google Play, SoundCloud, Beats/Apple Music, MediaNet, Rhapsody, Xbox Music, and others.  Streaming data is on-demand only, and doesn't include 'non-interactive' internet radio platforms like Pandora, iHeartRadio, or Slacker (though this may be incorporated as a comparison for later).
Total on-demand interactions and total track/album downloads calculated by Nielsen Soundscan, and reflect paid-only downloads (i.e., not pirated, torrented, stream-ripped, etc., downloads).  Revenue figures calculated entirely by RIAA, released earlier this month. 'Streaming vs. Downloading' comparison is a US-based comparison, with both Nielsen and the RIAA national data monitors.
Projections into 2016 (and beyond).
In terms of overall growth and projections, the disparities between paid downloads and streaming will only intensify.  According to RIAA data, 'Download Single' sales plunged 14.9 percent last year alone (in terms of total transactions), with 'Download Album' sales dropping 7.0 percent (also in terms of total transactions).  Those declines are likely to intensify in 2016, while streaming is highly likely to continue surging.
Within streaming, weak revenues could be addressed by an increase in paid subscribers, who drive far greater revenue and free, ad-supported users.  Paid subscribers are definitely increasing: just recently, Spotify announced its 30 millionth paying subscriber (worldwide), Apple Music is pushing past 11 million (from nothing last year), and Tidal has just announced its 3 millionth subscriber (from roughly 1 million last year).  That said, YouTube remains the fastest-growing streaming platform, and Spotify's total user base is estimated to have reached 100 million.
Written while listening to Mark Storie on the Toolroom Radio podcast.