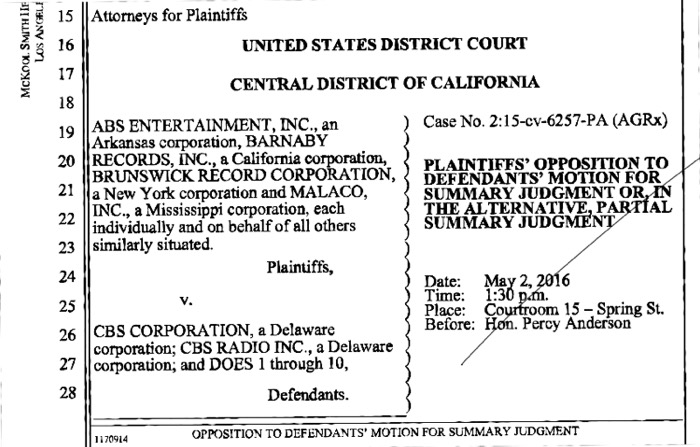 And the latest inextricably complicated royalty mess featuring legal warfare over unpaid royalties?
For that, Digital Music News brings you to the US District Courthouse in Los Angeles, where ABS Entertainment is battling CBS Radio over its use of pre-1972 classic recordings.  ABS says CBS isn't authorized to play the recordings given a lack of federal copyright protection, while CBS Radio is trying to toss the case based on bogus claims.
As a quick primer, 1972 is the year when United States federal copyright protection started covering recordings, a shift that replaced a patchwork of statewide statutes (or lack thereof) on the matter.  That was the focus of a recent battle between pre-1972 band The Turtles, who successfully litigated against Pandora to secure internet radio royalties on their works (and others similarly situated).
That may seem irrelevant to 'terrestrial,' or traditional broadcast radio, given its special exemption from paying performance royalties on recordings (note that terrestrial radio stations like CBS Radio pay royalties on underlying compositions, i.e., the notes and lyrics, but not the actual rendition of those notes and lyrics).
But what if CBS Radio is over-extending its exemption, and playing pre-1972 music without authorization?
That's exactly the claim of ABS, whose oldies catalog includes artists like Al Green, Andy Williams, the Chi-Lites, Jackie Wilson, Ray Stevens, the Everly Brothers, the Chordettes, and King Floyd.  "CBS admits that it broadcast or streamed at least 57 sound recordings that Plaintiffs' claim to own," ABS' complaint reads.  "Substantial evidence shows that CBS broadcast or streamed significantly more."
That potentially crosses the federal-to-state line, and could leave CBS liable for performance infringement.  But CBS Radio argues that if those recordings were remastered after 1972, then federal copyright law applies.  That is the basis of CBS' request for summary judgment, which would essentially toss the case.
ABS is aggressively fighting that claim, contending that a rework that doesn't fundamentally change the original doesn't qualify as a new recording.  "CBS is wrong on the law," the latest filing continues.  "Remastering a pre-1972 sound recording does not convert it into a post-1972 sound recording or create a derivative work protectable under the federal copyright act—even if the remastered copy is not "identical" to the original master recording."
The legal battle comes as CBS is apparently mulling an spin-off of its CBS Radio division, possibly in a public offering (IPO).  The full filing, entered this week, follows.