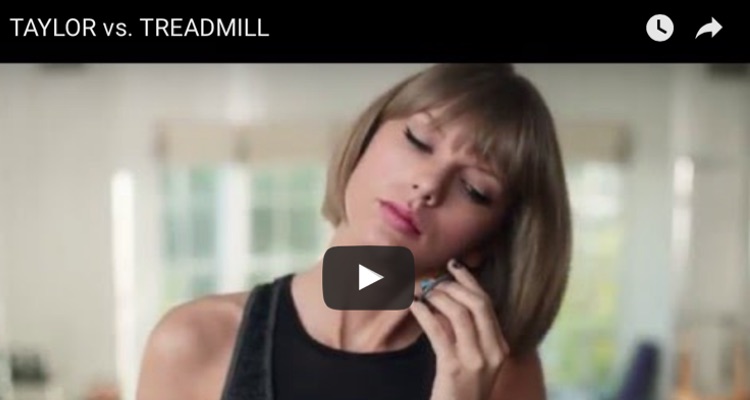 In a recent Apple Music ad, Taylor Swift falls off a treadmill while listening to Drake and Future's 'Jumpman' on Apple's running playlist 'Gymflow'. 
The ad reverses a contentious relationship between Swift and Apple during the initial launch phase of Apple Music.  No hard feelings, and rappers Drake and Future are benefiting from the mended relationship.
In the ad, Swift enters the Apple Music 'Gymflow' app, selects a playlist and the song and then starts running on the treadmill.  About 40 seconds into the video, she then falls off the treadmill as part of a humorous stunt to get people talking about the advert and the service.
And it worked: the ad was widely shared through social media platforms and has already racked up over 11 million views on YouTube.
Five days later, Apple's Gymflow playlist surged a reported 325% and is now ranking in the top 5 playlists of the week, according to Adweek.  On top of this, Drake and Future's song 'Jumpman' has also surged on Apple's iTunes Store, rising a massive 431%.
All of which highlights the power of advertising and its effect have on music sales.  And, more importantly, the massive power that Apple's bank account will play in the streaming space.  Indeed, Taylor Swift has a massive mob of superfans who follow her on social media, and Apple smartly tapped the rich vein.
Adding the operatic drama is the long-standing acrimony between Swift and Spotify, with Swift dropping harsh criticisms on the streaming leader.  Part of Swift's hatred towards Spotify apparently stems from the platform's refusal to limit her releases to paid-only subscribers, though Spotify's low-hanging royalty rates may also factor into the acrimony.
No word yet on what sort of subscriber bump Apple Music is experiencing following the ad.  At last count, Apple Music reported 11 million paying subscribers, a figure that may now be cruising past 15 million.