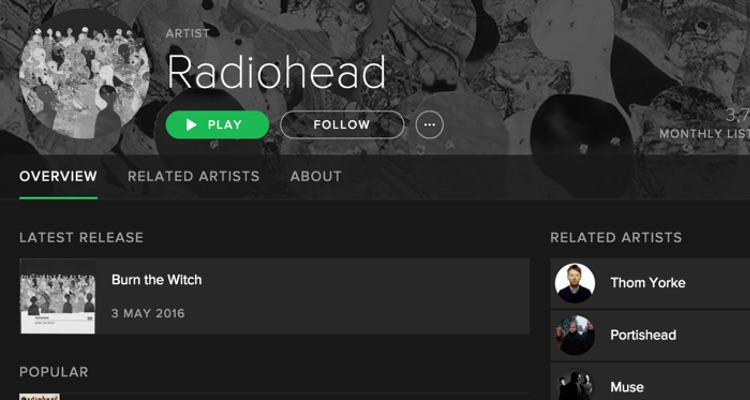 Radiohead's new song is on Spotify…
Which is surprising when you consider that Thom Yorke, on several occasions, has declared his absolute hatred for Spotify, YouTube and other streaming services that allow fans to listen to music for free.  Yorke even went so far as to compare YouTube to the Third Reich.
Yorke is an advocate for fair-pay for artists, and back in 2013 he famously pulled his music from Spotify dubbing the service "the last desperate fart of a dying corpse."
On July 14th, 2013, Yorke blasted Spotify for short-changing musicians and tweeted the following.
When explaining to Business Insider, Yorke has previously said…
"I feel like as musicians we need to fight the Spotify thing.  I feel that in some ways what's happening in the mainstream is the last gasp of the old industry.  Once that does finally die, which it will, something else will happen."
Regardless of Yorke's protest against the streaming service, Radiohead's new song 'Burn The Witch' is on the service — news that makes Spotify very happy.  The streaming service posted this ebullient tweet yesterday…
But, that's not all… Radiohead's new song is also on YouTube.
Another surprising revelation, considering the fact that Yorke compared YouTube to 'Nazis during second world war' last year. The song has already racked up over 4 million views on YouTube in one day.
So, has Thom Yorke finally made up with these streaming platforms?  Or, has streaming gained so much strength that it's near-suicide to release without them?