Last year, research group MusicWatch shared data with Digital Music News that showed 53 million Americans actively pirating music content.  But even more shocking was how they were doing it.
Instead of torrenting on the Pirate Bay, more and more piracy is now happening on YouTube via stream-ripping, with direct streaming piracy and storage lockers also mounting threats.
The music industry is blaming YouTube for not paying fairly on free, legal streams.  But they seem to be ignoring a massive surge in YouTube-based stream-ripping, which grew more than 25% last year.
But that's just the beginning: according to data shared this morning by Muso, a London-based firm that specializes in pirate audiences, mobile-based piracy surged 8 percent alone in the last year alone (more on that below).  That's just one part of a shift away from 'traditional' torrent sites, and heavy movement back to YouTube ripping and web-based MP3 download sites (often through mobile devices.
These are among the many changes tracked by Muso, specifically tracking trends from January through December of 2015.  We'll hopefully have updates for 2016 soon, but this offers a view of the trends.
1. There are fewer people using torrent sites…
2. There are more people directly downloading music videos from YouTube…
3. There are fewer people actually going to piracy sites…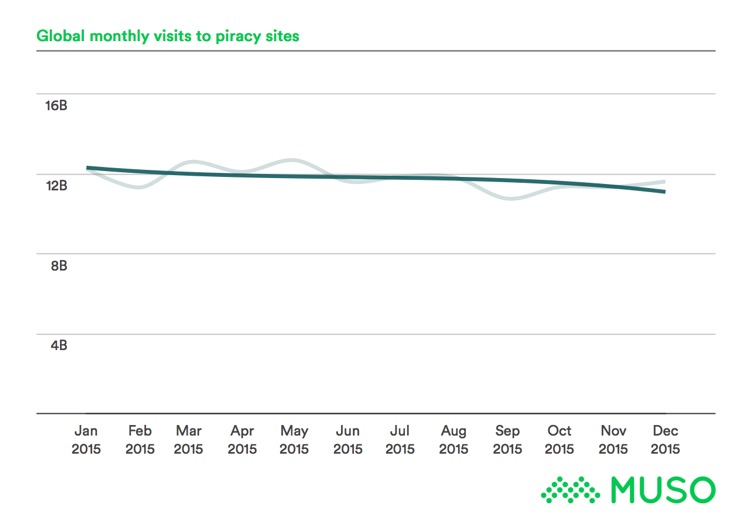 4. BUT, there are more people going to web-based music download sites…
5. Mobile is a massive source of music acquisition, legal or illegal.
According to Muso, a massive 28% of all visits of pirate hubs in 2015 came from mobile devices.  In total, the company tracked 141 billion visits to more than 14,000 pirate sites, which means roughly 40 billion visits are coming from mobile devices.
6. 'Popcorn Time' style pirate streaming is absolutely surging.
In total, Muso counted 12 billion visits to websites solely to stream pirated music content, with 44% of this piracy activity was via mobile devices.  They also found 58 billion visits to websites solely to stream pirated film and TV content online, with 28% tracked via mobile streaming piracy.
7. More people are stream-ripping YouTube from mobile devices than desktop computers.
But the most shocking part is this: mobile-based ripping on YouTube is now bigger than desktop.  In fact, it's probably easier for most music fans.  "The ripper piracy from mobile devices overtook piracy from desktop devices, growing by 46% last year," the company relayed.
"The usage of [stream ripper] sites is far larger than many realize, in fact making up 17.7% of all visits to piracy sites for music content."