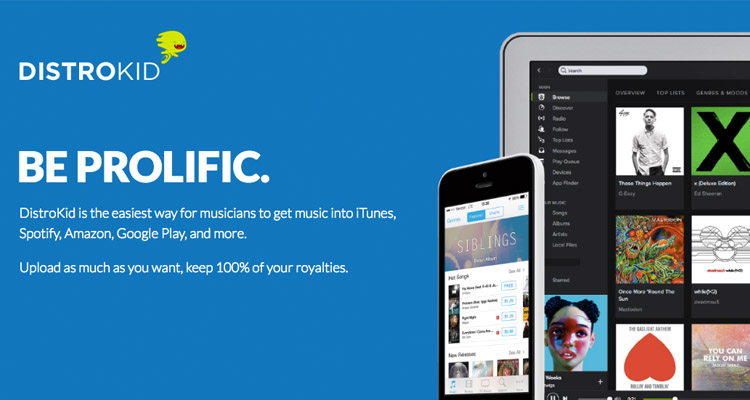 This is groundbreaking.  It's a first on a mass scale in the current music industry. This is where we have evolved to.  And this is where we are at.
DistroKid is one of the world's leading digital distribution companies that gets artists and labels' music into over 90 digital outlets.  That includes Apple Music, Spotify, Amazon, iTunes, Google Play, Tidal, Deezer, etc.  Now, they will directly pay revenue from your releases to anyone you want.
What does this mean?
Your producer gets 3% of revenue from your most recent single?  Before, you would have to download your sales reports every month, calculate the totals for the designated release and write your producer a check for 3% of that. Every month. You did a YouTube collaboration with 5 other artists? Now, instead of one person having to figure out the splits and paying each collaborator directly, DistroKid will do all the accounting, reporting and payments directly to each collaborator. Did a DJ remix one of your songs? You can now split up all the royalties just for that release between you and the DJ. Couldn't pay freelancers up front, but promised them backend royalties? Now it's simple and transparent.
And this is especially helpful for indie labels. Now, a label can designate all payout percentages to each party.  That includes the  artist (even down to individual band members), producer, manager, anyone.  This will help transparency, accounting and reporting.
You can designate any percentage for any party. And every collaborator can see full sales/stream stats.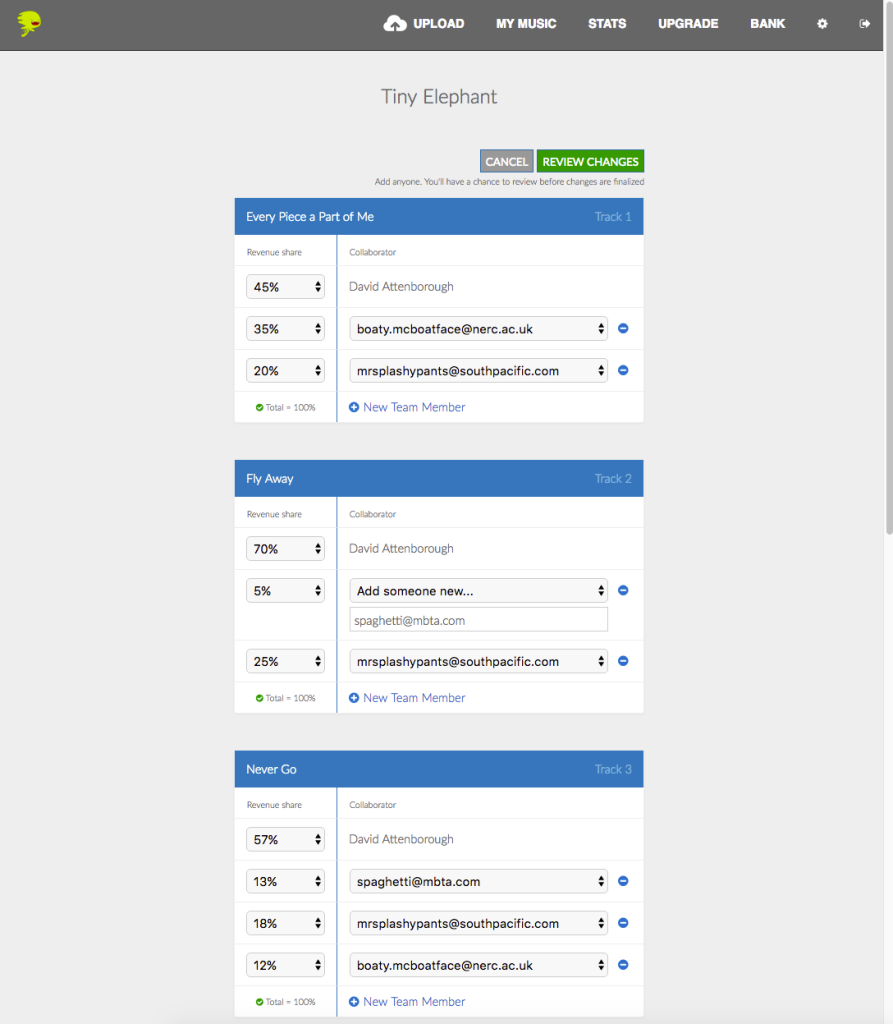 If you release a full album, you can designate percentage breakdowns for each song.
Say, each song has 4 different collaborators and every collaborator is different per song. If someone buys the full album, each collaborator's earnings are pro-rated based on their breakdown.
And for bands this is paramount.
Now, DistroKid can deposit each band member's earnings directly into their personal accounts.
Loudr has had this feature since its inception in October 2013, however it's not automated and requires contacting support to set it up. And Loudr only distributes to 6 outlets (as opposed to CD Baby, Tunecore and DistroKid's 90+). Loudr has started to sunset their distribution program to focus on licensing for cover songs.
Loudr will handoff its distribution catalog to CD Baby this year.
So this leaves DistroKid as the sole player in the all-access (anyone can signup for their services), digital distribution market that provides revenue splitting like this.
DistroKid disrupted the digital distribution market in October 2013 when it launched as the first digital aggregator to offer unlimited distribution for a set yearly fee. Because it was such a drastically different model than what was currently on the market, it instantly received praise from CD Baby and Tunecore's founders (who no longer work at the companies).
DistroKid has disrupted the field once again with this new revenue splitting feature.
DistroKid has over 90,000 artists in their network and has distributed over 700,000 songs.  They also boast a #1 iTunes worldwide hit by their artist Jack & Jack, a top-10 Billboard hit by iLoveMemphis (formerly iHeartMemphis) and a top-10 Spotify global viral hit by vōx whose haunting Kendrick Lamar cover is a must listen.
As an artist who has distributed my music via DistroKid, CD Baby, Tunecore and Loudr (and having put out a comprehensive review of the 9 of the biggest digital distribution companies in the world), I understand the nuances in these operations which can make a huge difference.
+Want To Know Who The Best Digital Distribution Company Is?
Stats, Reporting and Analytics
Tunecore's backend stats are far superior to DistroKid's (and CD Baby's) at the moment – giving the artist/label full transparency with very littler effort. Whereas on DistroKid you need to download pages of Google Sheets reports, filter, segment and copy/paste to analyze the data for your releases, Tunecore offers a very simple way to filter by date range, release (broken down by song and/or album) and outlet to see total streams/sales in any given time period.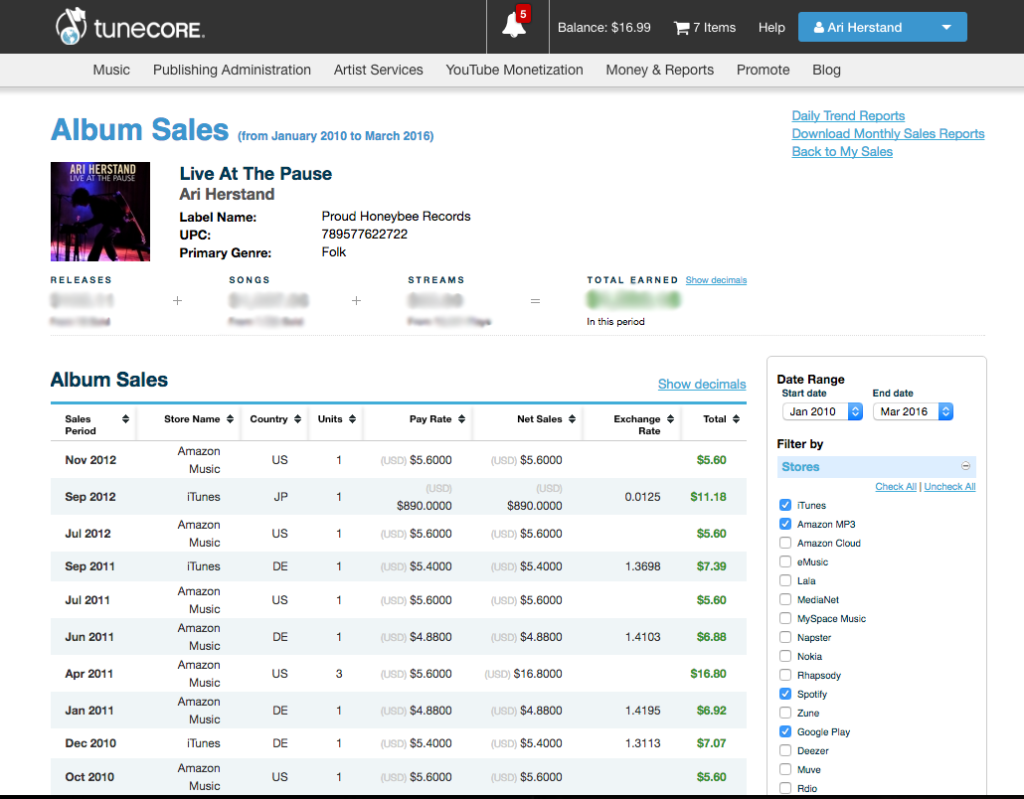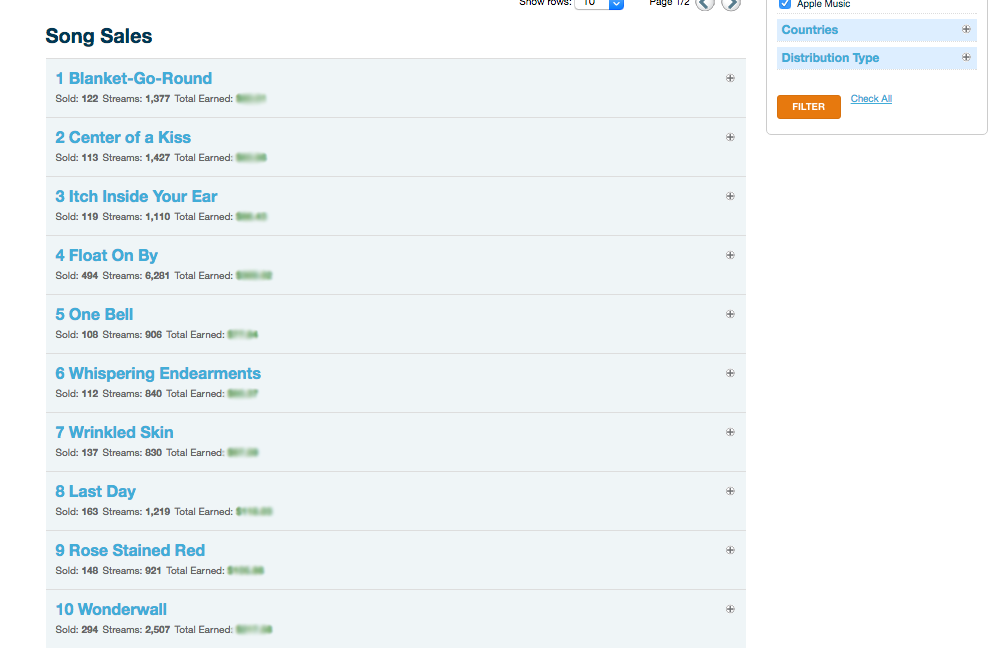 There's no way to see total sales/streams numbers or income for a designated release during a time range in CD Baby or DistroKid.
I can only see thousands of lines of data on multiple pages.  And for some reason I can only see page totals (not complete totals). For instance, I want to know how many total Spotify streams my song got this past year. No way to do that on DistroKid or CD Baby without downloading a spreadsheet file and manually filtering it which would take forever. I can see this in Tunecore very easily with a couple clicks. If I want to see how much a single song earned (which was released as part of an album), I can't do this in CD Baby or DistroKid period. It's right there in Tunecore's backend.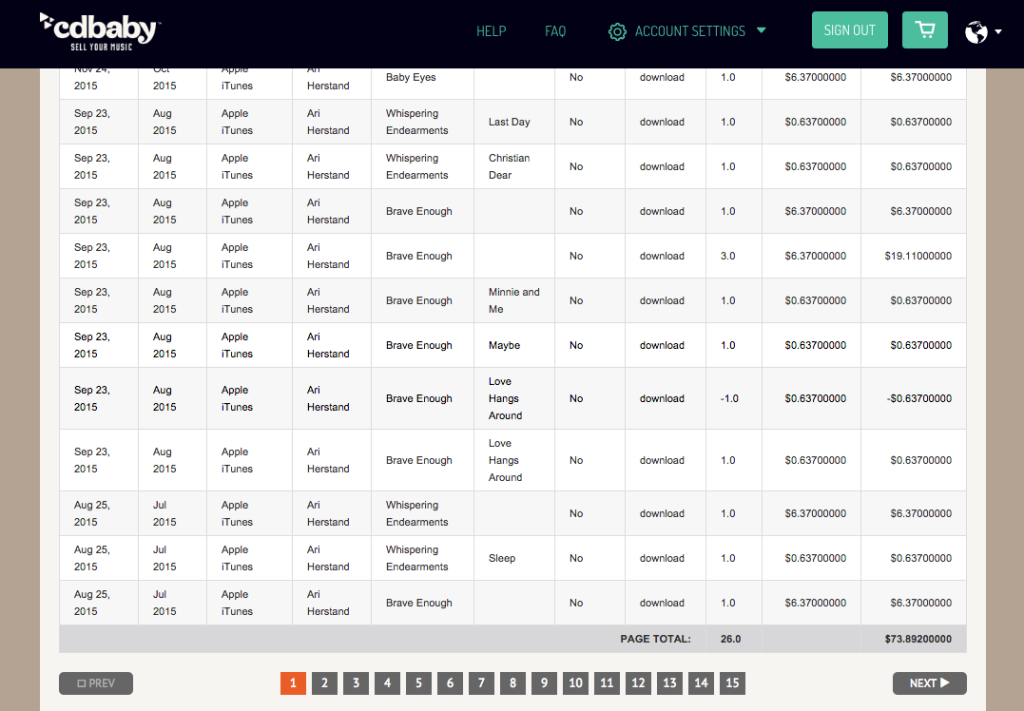 ---
DistroKid's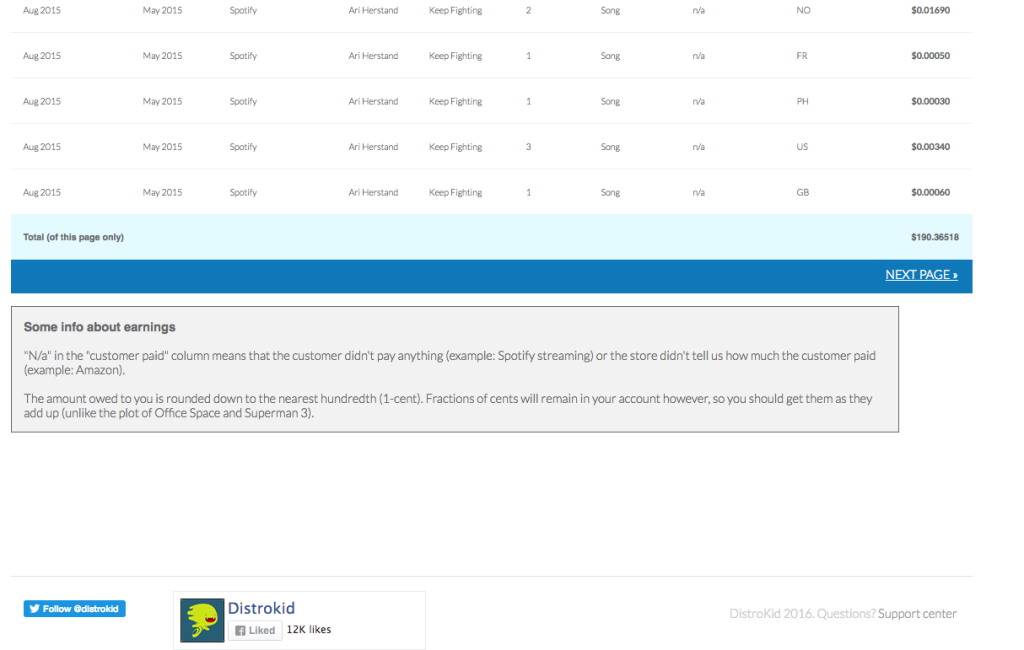 Which brings us back to revenue splitting. If I owe producer X 3% for track #7, producer Y 2% for track #5, producer Z 50% for track #8, and my featured artist 30% on track #6, there is no way for me to know how much to pay each collaborator in CD Baby (or previously DistroKid). Tunecore lists sales/streaming info right there in the backend database. However, Tunecore doesn't pay out revenue to anyone other than the account holder.
Whereas DistroKid's backend stats still leaves much to be desired, the new revenue splitting feature solves this specific issue.
To be clear, this is just about the ease in which users can view reports. All 3 services, to my knowledge, have accurate collection, reporting and payouts. It's just a lot easier to view and analyze the data on Tunecore versus CD Baby and DistroKid.
CD Baby, Tunecore and DistroKid all have iTunes and Spotify daily trending reports (DK and Tunecore also have Amazon), which displays estimates of recent sales/streaming data.
What I would like to see on all services reporting is demographic information.
Currently, Tunecore displays top countries (filterable by outlet).  But this can only be broken down to cities in the iTunes (not Spotify) trending reports (up to the past 90 days) – which would actually help route a tour. CD Baby displays top countries, gender and age brackets for their Spotify trending reports, but only up to the past 90 days and they only display top countries for their iTunes trend repots (also only up to the past 90 days). DistroKid doesn't have any demographic information in their reporting whatsoever.
And What About Publishing?
CD Baby and Tunecore each have their own, opt-in, add-on publishing services. Each company will collect worldwide publishing royalties (mechanical and performance) and take a small commission (15% and 10% respectively).  They then pass the rest off to the artist/songwriter.
Previously, if a songwriter/artist didn't have a publishing company, there was virtually no way to hunt down all of these royalties. I did a comparison of these two services a few years back when they launched. DistroKid currently doesn't have any add-on, admin publishing services (at least not yet). So if you distribute your music with DistroKid and wrote the songs, the only way to collect all of your songwriting royalties is via an admin publishing company like SongTrust, Audiam or Kobalt. Your PRO (ASCAP, BMI, SESAC, SOCAN) does not collect all of your songwriting royalties – only performance royalties.
To be clear, these admin publishing services don't retain any ownership of your songs. They simply collect royalties, keep a small commission, and pay out the rest.
+How To Get All Of Your Royalties That You Never Knew Existed
In terms of DistroKid's new revenue splitting program, this is just for revenue earned from sales/streams for the sound recording – not songwriter royalties from the composition.  So, if you co-wrote a song with someone and want to split those songwriter royalties equally, you have to do that with your publishing company.  Which is not DistroKid (at least not as of now). Where it gets complicated is some of these songwriter royalties are, in fact, built into the download sale.  But that's a whole other topic. You can read more about how all these royalties are broken down here.
Hopefully DistroKid will add on an admin publishing option (similar to CD Baby and Tunecore's) soon and hopefully the revenue splitting option will be able to be broken down by both non-songwriter collaborators and songwriter collaborators.
Every collaborator who wants to get paid directly from DistroKid will need to create an account for $19.99 a year.
This will enable them to get paid from any DistroKid release by any DistroKid artist (and be able to distribute their own songs as well for no additional cost).  If the collaborator gets invited by a current user, the collaborator gets a 50% off discount for the first year.
As we march forward into the new music industry, DIY artists are seeing massive success without record labels.
Indie digital distribution companies are becoming the one-stop-shops for artist royalty collection services. Artists want to keep everything under one roof. We don't want to have to signup for 7 different agencies, companies, platforms and organizations just to make sure we get paid everything we're owed. And we don't want to have to deal with complicated accounting. The easier these distribution companies makes this process, the happier artists will be. And the distribution companies that do this the best, will be the ones that completely take over the market.
+Want To Know Who The Best Digital Distribution Company Is?
It's worth mentioning that there are other all-access digital distribution and royalty collections companies out there.  That includes Symphonic Distribution, Ditto, MondoTunes, ReverbNation, OneRPM, RouteNote, JTV Digital, Stem, RepostNetwork, Catapult, among many many others.  And don't forget the indie digital distribution companies which mostly only serve labels, not artists.  That list includes The Orchard, Believe and INgrooves.
But CD Baby, Tunecore and DistroKid remain to be the top 3 all-access digital distribution companies.  They're leading the way in the new music industry.