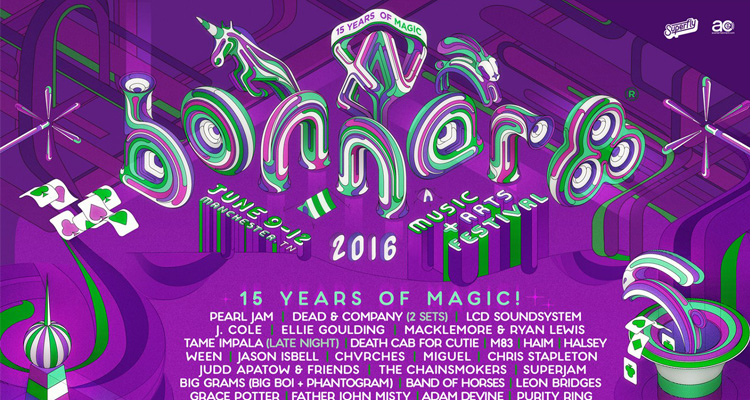 After 14 years of dROOling, I'm finally losing my Roo-ginity!
This year's Bonnaroo features headliners Pearl Jam, Dead & Company (fronted by John Mayer), LCD Soundsystem, Death Cab for Cutie, Ween, Chris Stapleton, Macklemore, Leon Bridges, Ween, J. Cole, M83, Ellie Goulding and Tame Impala.
But I'm also excited to see LA / Ann Arbor funkers Vulfpeck, Seattle soulster Allen Stone, San Francisco rockers Con Brio, indie folker Brett Dennen, Nocturnal-less Grace Potter, Nickel Creek front woman Sara Watkins, former James Brown impersonator Charles Bradley, and horn-fueled Nathaniel Rateliff & The Night Sweats.
In the (AIR CONDITIONED) comedy tent, Judd Apatow, Adam Divine, Vanessa Bayer, Pete Davidson, Bridget Everett, Piff the Magic Dragon, John early, Sean Patton, Adam Ray and Josh Rabinowitz will be a nice respite from the heat and the dancing.
There's also a cinema tent where there will be a Purple Rain screening and both a Pitch Perfect and Trapped In The Closet sing along. The jam-funk band Lettuce will also screen their road / studio documentary and host a talk back directly following the film.
Because Bonnaroo turns into the 9th largest city in Tennessee over the weekend, there are enough diverse activities to keep all Rooites (Rooers, Rooians, hmm what are we called?) engaged and entertained over the course of the 4 day festival, like the silent disco at 3AM or the 9AM vinyasa flow yoga. Dare me to hit both.
And Saturday Kamasi Washington leads the Heart, Soul & Spirit: A Tribute to Tennessee SUPERJAM.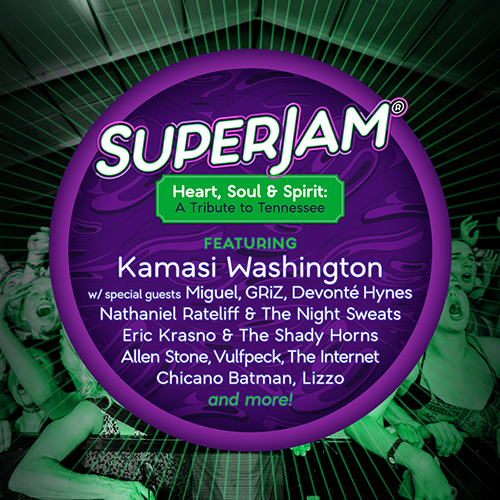 As it's my first time, I've been studying the myriad survival guides scattered around the internet. Some official, put out by Bonnaroo, and others just random guides made by fans and hosted on a Google doc. One dude's guide mostly focused on drug purchasing tips, complete with recommendations on tester kits to make sure you don't get taken.
Needless to say, there are no shortages of festival survival guides out there. But after speaking to many festival veterans and studiously taking notes from the online guides, forums, discussion groups and weird corners of the internet I found myself during this research, I've put together:
The Official Digital Music News Bonnaroo 2016 Survival Guide
First off, you should download the Bonnaroo app for your phone. You can add the acts you'd like to see to "My Schedule," and there are also maps, attractions & retail, food & drink specialties and other activities happening throughout the weekend. It beats the paper guide which will inevitably crumble, rip and vanish.
Don't forget these items:
THE OBVIOUS:
* Hat
* Sunglasses
* Sunscreen
* Tent
* Sleeping bag
* Hammer
For the tent stakes
* Bug spray
This is Tennessee, not California. The mosquitos will be out in full force.
* Extra clothes
It's going to be HOT! Bring shorts, tanks, Ts. Don't worry about looking cute. This ain't Coachella. Just be comfortable.
* Water water water
There are water stations throughout to fill up your bottles or pouches. Camelbak's are highly recommended. The #1 reason people end up in the infirmary is because of dehydration. Especially if you're going to be consuming lots of alcohol, make sure you're consuming MORE water.
* Cooler
Consider freezing a bunch of water bottles as your ice. When they melt, instead of having a pool of water at the bottom of your cooler, you have icy-cold, drinakable water.
* Beer
No glass is allowed
* Lantern / Flashlight
With extra batteries
* Phone charger
There are charging stations around the grounds
* Comfortable shoes / Extra shoes
You're going to be doing a TON of walking (the campsite is about a 20 minute walk from Centeroo). There's also a 5K race happening Saturday morning. So if you're into that, pack those running shoes!
* Towels
There are showers on site! With 97 degree high, though, you may just want to air dry.
THE NOT SO OBVIOUS:
* Toilet paper
The porta potties will most likely be out of TP. It's recommended that you have some on hand at all times.
* Tarp
Tie it between cars for shade
* Helium balloon
Tie it to your tent so you can find it amongst the tens of thousands of others
* Dry Ice
This will hold up longer than regular ice. Wrap the dry ice in a towel and place it at the bottom of your cooler. If you freeze a bunch of water bottles and put it in the cooler with the dry ice (and your other perishables) you will not only have icy cold water all weekend, you most likely won't have to refill your cooler with ice.
* Body Glide / Gold Bond
You're going to be walking a lot. And you're going to be sweaty. Get some anti-chafe stuff. There, I said it.
* Battery pack
I just bought an Anker power core 20100. I apparently charges an iPhone 6+ seven times. Which should be good for at least a couple days of heavy Snapchatting. There are power stations in Centeroo, but what a drag to have to hold up your crew by sitting like a dumbass charging up by a power station for an hour. Bring a backup battery pack and cary it in your Camelbak.
* Hand sanitizer
* Baby wipes
* Swim suit
For Splash-a-Roo's kiddie pools, tropical slide or the 40-foot Big Ass Water Slide. Or create your own slip n slide in the campground. It's gonna get hot, so these water activities may be your saving grace.
* Cash
For beer, food and collectable purchases in Centeroo. It's recommended you bring in at least $100 a day to Centeroo.
* Ziplock bag
In case of rain to store your cash and food (you're gonna sweat)
* Poncho
Not supposed to rain this year, but who knows!
* Extra clothing
It will get dirty.
* Swiss army knife
* Duct Tape
Always a good idea. You never know.
* Boombox
* Bandanna
You're gonna sweat
* Extra batteries
For lantern, flashlight, boombox
* Blanket
For sitting
* Earplugs
For sleeping
* Extra car keys
Distribute amongst friends.
DRUGS
Not that Digital Music News condones drug use by any means, there's no getting around this reality of the fest. There will be plenty of people selling and partaking in illegal (in Tennessee) substances. Be smart about it if you're going to buy on site. And be careful. Tennessee police are super eager to pull over out of town (barely) speeding cars all decorated for the Roo. And all cars will be searched by security when you're entering the grounds. The cops will rip your car apart looking for the goods. The festival security will be gentler.
ALCOHOL
You can bring your own alcohol into the campgrounds but you can't bring in any glass. So either transfer your liquor into plastic or just bring in cans of beer or boxed wine. You're also not allowed to bring "excessive" amounts of alcohol in. Bonnaroo describes this as "anything over 2 cases of beer, one 1.75 liter of hard liquor, and 2 boxes of wine per person."
You can't bring in alcohol to Centeroo, but there are plenty of places to buy beer once inside.
VALUABLES
Keep them in your car when you go to Centeroo and of course lock it up!
SELLING STUFF ON SITE
It's not allowed. But bartering and sharing is encouraged!
BANNED ITEMS
These are the things that will get confiscated when security checks your car upon entering:
* Weapons of any kind (even slingshots)
* Glass containers
* Drones
* Fireworks
* Illegal substances
* Bicycles, scooters or motorized vehicles
* Professional cameras with "detachable lenses longer than 2 inches"
* Glowsticks
* Pets
* Trailers (RVs are OK but require an RV pass)
* Gas-powered generators (larger than 4KW)
* Laser pens
IF YOU FORGOT SOMETHING
Don't wait to buy all your stuff at the Manchester Walmart. They will be sold out of the one thing you actually need – because there are nearly 100,000 people passing by the same Walmart for the same purpose as you. Plan ahead, but if you do forget something or run out of something, there are two general stores on the grounds which have personal hygiene items, batteries, ice, beer, water, soda, food, and other things you may need.
THE MOST IMPORTANT TIP
Maintain a great attitude. From everything I've read and all the Roo veterans I spoke to, the festival is all about the vibe. Everyone at Bonnaroo is friendly and into community building. Don't be 'that guy' who ruins it for everyone else. If you turn into an asshole drunk, don't drink. If you turn into a sad drunk, don't drink. Just go in with a great attitude. Smile as much as you can. Even if you're dying from the heat, your beer is warm, and you missed your favorite band, just smile. It will make you feel better. Yes, of course, the music is the main attraction, but your attitude is the main ingredient for the kind of experience you will have. Or so I've heard…
I'll report back next week with all my festival stories. I don't really have an agenda and all the bands I added to My Schedule are just suggested guidance. I'm heading in with a group, but unfortunately, I'm the only kid not cool enough for a tour bus bunk or VIP camping. So I'll be making some new friends with my camping neighbors. The only thing I'm really expecting is lots of high fives and good vibes.
Here we go…