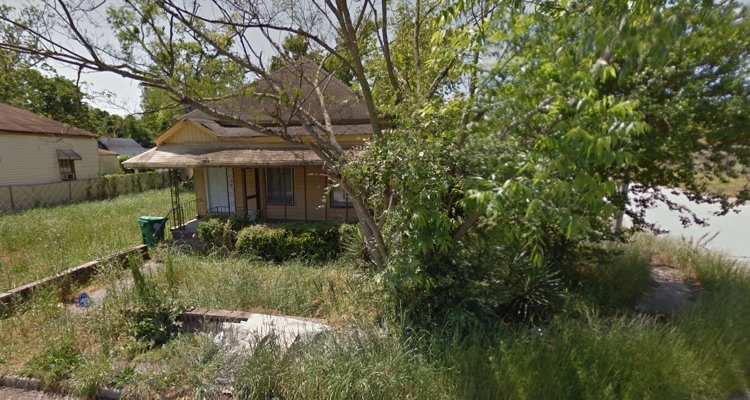 Little Richard's childhood home at 1540 5th Ave., Macon, Georgia.
The house in Macon, Georgia where Little Richard grew up will soon be the site of a massive highway interchange, according to plans approved by the Georgia Department of Transportation.  The house has fallen into disrepair, and it's also in the way of a major series of upgrades planned for the interchange of Interstates 75 and 16.  That's great news for gridlocked commuters, but a potential travesty for fans of rock n' roll and the legend that helped to create it.
Immediately, concerns arose over the potential destruction of the site, despite being a (neglected) landmark in rock n' roll history.  Now, there's hope: after back-and-forth debate, the Macon-Bibb County Commission's Operations and Finance Committee and the Georgia DOT have ironed out a plan to physically relocate the landmark.  The new location would be less than a mile away at 416 Craft St., and will be recreated into a music and community resource center.   "[Macon-Bibb County] will maintain the Little Richard House as a neighborhood resource center," a now-published resolution now states.
According to a report published by the Macon Telegraph, the State of Georgia has pledged $10 million to the Pleasant Hill neighborhood to relocate or construct several homes, improve local roads, build or improve parks, and erect noise barriers.  Now, the plan needs approval, with a vote scheduled for this Tuesday (June 21st).
The relocation offers a compromise, though even a transplant shifts the home from sacred ground.  1540 5th Ave. is where Richard recorded 'Tutti Frutti,' one of the most important songs in the history of modern music.  Tragically, it's also within a mile of where the singer's father was shot while managing his nightclub.
The news may be coming at a difficult period for Little Richard.  The singer, whose real name is Richard Wayne Penniman, appeared to be struggling through a health scare last month.  Bootsy Collins fueled those rumors by asking fans to pray for Little Richard during his darkest hours, with a tweet that closely followed the death of Prince and understandably stirred some anxious paranoia.  "A friend, a legend & some say the true King of Rock & Roll.  Lil-Richard needs our love & understanding right now…." Collins tweeted.
Just days later, the singer cooled the rumors.  "This thing started on Facebook," Richard told Rolling Stone magazine through a spokesperson.  "Not only is my family not gathering around me because I'm ill, but I'm still singing.  I don't perform like I used to, but I have my singing voice, I walk around, I had hip surgery a while ago but I'm healthy."
Richard, born into a deeply segregated and racist Georgia in 1932, first gained notoriety in the Deep South, particularly among black audiences.  His wild performance style and showmanship was complemented by his aggressive rock n' roll music, which ultimately started crossing over towards white audiences.
That crossover sometimes happened directly, with early-moving whites recognizing black artists like Richard.  More often, however, the progression happened through white artists, with the Beatles, Rolling Stones, and other rock icons pointing to Richard as a huge influence.  Other groups, most notably Led Zeppelin, have been accused of directly copying black artists, with Willie Dixon successfully suing the group in the 80s over a direct rip-off of 'You Need Love'.
That racial divide is still palpable, and gaining more attention among younger audiences.  Indeed, books like The Beatles: Extraordinary Plagiarists have stirred controversy for demanding more attention for African-American artists, while lowering the genius glow that surrounds the Fab Four.  In the current situation regarding the Little Richard home, it also raises difficult questions over how the situation is being handled.  After all, the proposal to move the home is an attempt to avoid a complete bulldozing of the site, though neither plan seems entirely satisfactory.  Those measures would be unthinkable solutions for Elvis Presley's humble birthplace in Tupelo, Mississippi, for example, a location that has been carefully restored, curated, and already curated into a museum.