Vinyl fans can wave goodbye to any hopes of a season 2…
Vinyl was HBO's dive into the 70s music industry, a show that followed the fictional American Century Records.  The troubled label was struggling to reinvent itself and capture a new sound, with endless amounts of cocaine to propel the plot.
Bobby Cannavale played the CEO record executive, with both Martin Scorcese and Mick Jagger directing. As part of the 'set,' Scorcese transformed Brooklyn's Rough Trade record shop into a 1970s music-biz drama, along with other New York locations.  But, new reports from HBO confirm that they will be scrapping a previously-planned season two, indicating that the show may not have been as big of a hit as we thought.
In a statement, HBO confirmed the nix:
"After careful consideration, we have decided not to proceed with a second season of 'Vinyl."
The cancellation follows a major executive shake-up at HBO.  That included Michael Lombardo, who stepped down as Programming President after nearly ten years in the gig.
Casey Bloys, HBO's former Head of Comedy, stepped up to replace Lombardo, and the decision was made that the budget originally set aside to launch season 2 of Vinyl would be better spent on other pending projects.
Alongside the chop, HBO offered the following farewell concession:
"We have enormous respect for the creative team and cast for their hard work and passion on this project."
Vinyl fans took to Twitter to share their disappointment on the news….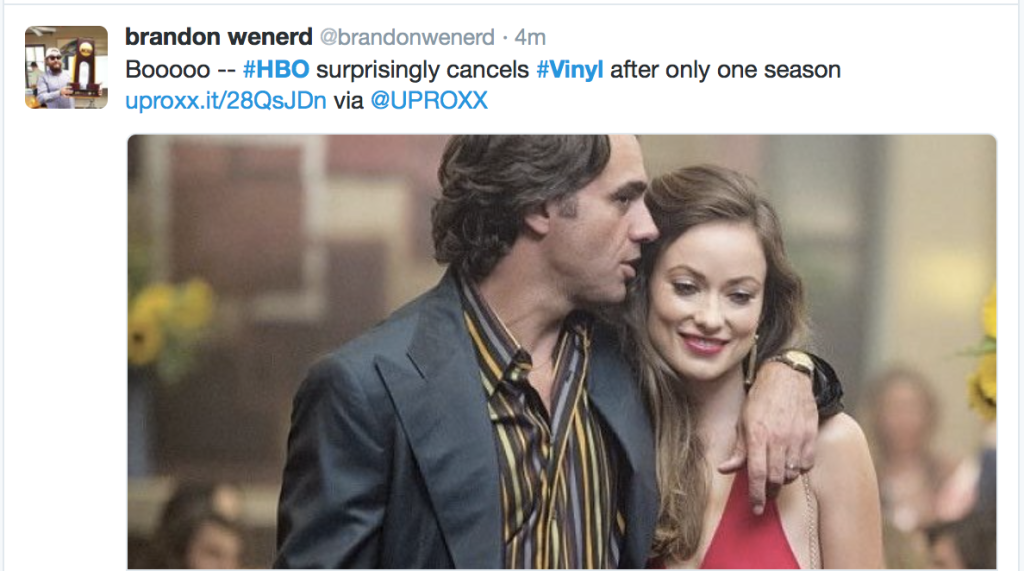 The series certainly gained heavy attention within the industry, though old-line executives sharply disagreed with the coke-fueled, mobbed-up version that was presented.  That includes Seymour Stein, a legend of the business whose biggest successes came during the period portrayed in Vinyl.  At both Musexpo in Los Angeles and Canadian Music Week (CMW) in Toronto, Stein took issue with a portrayal that he deemed highly inaccurate.
Indeed, it's hard to imagine the protagonist label executive achieving anything productive while so heavily under the influence.  That said, coke, booze and other drugs have been notoriously intermingled with the record business, especially the old-school business.  Actually, Vinyl seemed light on hookers, though a friendly dose of mafiosi was properly blended into the concoction.