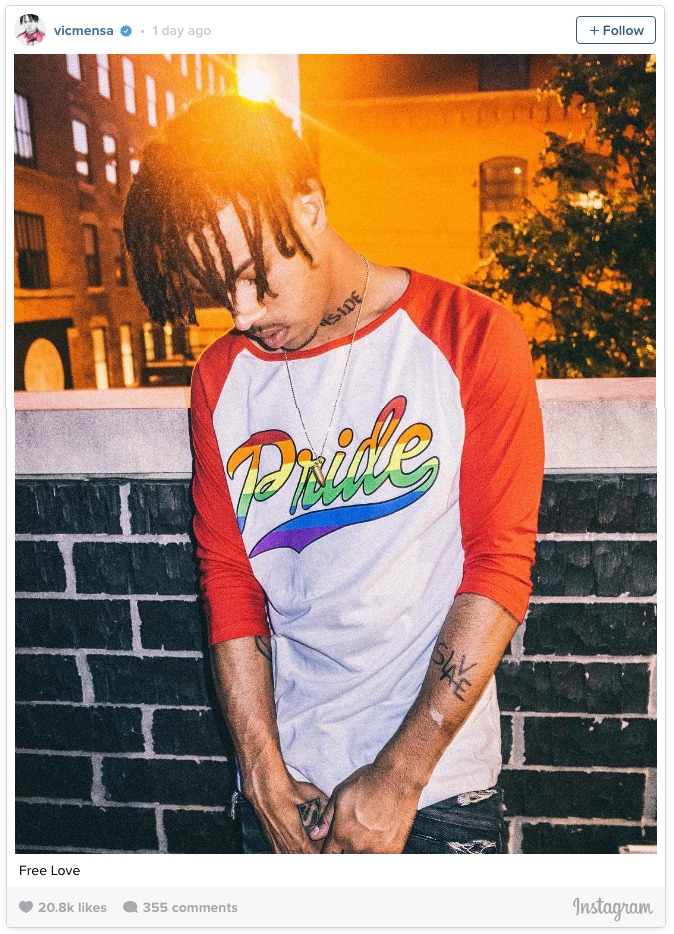 This definitely isn't Eminem (or the generation that produced him).
Since the early 80s, rap has totally transformed music and challenged almost every musical rule before it.  Unfortunately, rap — and the hip-hop community that surrounds it — has a history of being extremely homophobic, often very blatantly through overt lyrics.
Maybe that's starting to change with a newer generation of rappers.  That includes Vic Mensa, signed to Jay Z's Roc Nation, who just released a pro-LGBT song alongside this post to his Twitter account.
Free Love. What a moment in time. Love is under attack from all angles. I saw a photo on CNN of 49 birds flying over a vigil they were holding in Orlando of the 49 souls lost at Pulse nightclub. John Lennon once said he didn't fear death, he considered it to be like getting out of one car into another. In the midst of such horrific tragedy, I found beauty in that image. It's stuck with me ever since. As humans we fear that we don't understand. A year ago I remember having a conversation with a family member about LGBT rights. I've always been in support, but I didn't feel personally attached or really feel like it was my battle to fight. I didn't know any gay people growing up (that I know of), and I just felt as if I should stand for things I know. It wasn't until a member of my own family revealed to me that they identified as queer this year that it really started to sink in with me. It made me uncomfortable at first. And that's good. We have to be removed from our comfort zone to be able to grow. It felt like some subconscious judgement inside of me had to die to be able to really accept someone I love with my whole heart telling me that this is who they are. Once that happened, it was as if a great weight had been lifted from my shoulders, I couldn't feel indifferent about something that was so important to people I love. Looking at the world around me, I realize now that as a creature of love, the battles of all people fighting to love are also mine. And I will stand with them. Will you?
Keep Fighting The Good Fight,
Vic Mensa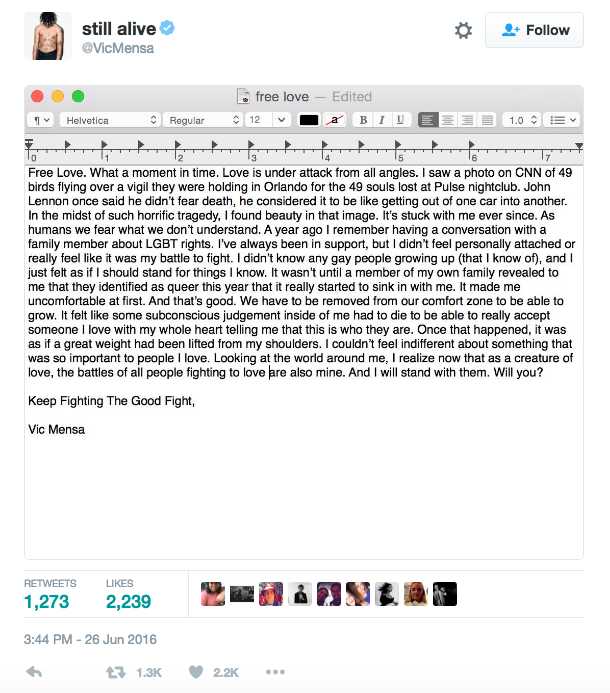 Alongside this message, Mensa has released this song to support the LGBT community in the wake of the Orlando attack.  It's called 'Free Love,' and it features Le1f, Halsey, Lil B, and Malik Yusef. Enjoy.