It's official: 2016 is the year that killed music downloads.
Last month, sources pointed Digital Music News to double-digit declines in music download sales, with drops potentially exceeding 20 percent year-on-year.  But actual figures released early this morning show a sharper drop than imagined.  According to Nielsen Soundscan first-half figures, music downloads dropped an astounding 23.9%, with total sales landed at 404.9 million.
The severe drop is the worst on record, and comes alongside breakneck gains in streaming.  Suddenly, debates over whether streaming is cannibalizing downloads are being thrown out the window, with the latter clearly devouring the former for breakfast, lunch, dinner, and a midnight snack.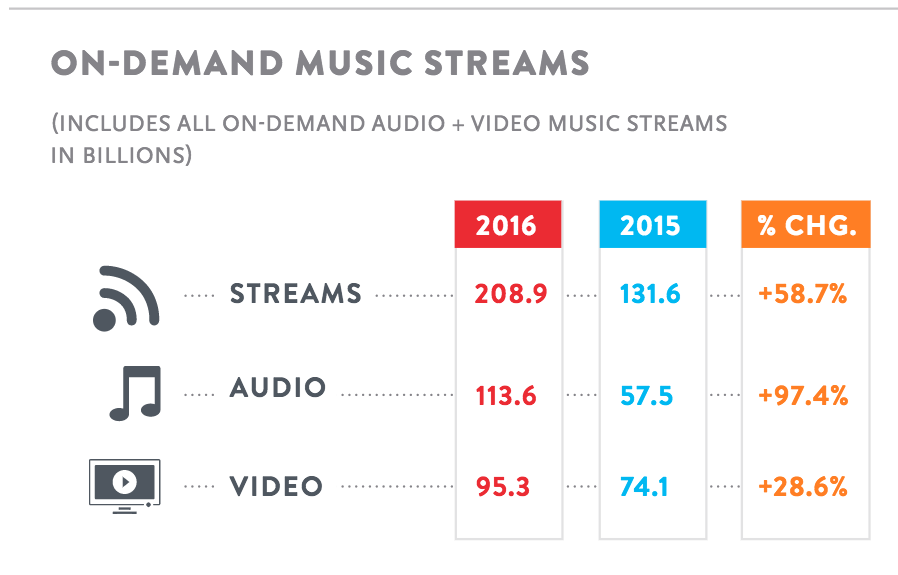 downloads < 0 ?
2016 is clearly the year that killed paid music downloads.  But unlike CDs and vinyl, which enjoyed post-extinction lifespans, the music download could be permanently wiped off the Earth.  Emmanuel Zunz, CEO of digital distributor ONErpm, was the first to predict a complete and total replacement of the paid download, simply because streaming is so directly competitive (and better).  "CDs aren't going to go away completely, just as vinyl never went away completely," Zunz told Digital Music News last month. "But I think downloads could potentially go away completely."
Meanwhile, chatter continues to surround possible next steps at Apple, whose iTunes Store rules paid downloads.  In earlier, iPod-dominated times, Apple commanded an estimated 85 percent of all music download sales, with upstarts like Amazon claiming most of the remainder.  Fast-forward a half-decade, and music download are becoming a sag on a bloated iTunes application, with streaming partition Apple Music fighting with 99-cent downloads within the same application.
It's a mess that's generating serious churn (ie, unsubscribes) for Apple Music.  And it's apparently prompting some serious soul-searching on the future of iTunes Music downloads, though Apple quickly denied a DMN report that downloads would be removed within 2-3 years.  Noted, though sources continue to point to serious iTunes revamps ahead, with several major developments on the downloads front, possibly this year.
That probably doesn't include an upcoming iTunes interface upgrade, though 2017 is an entirely different question.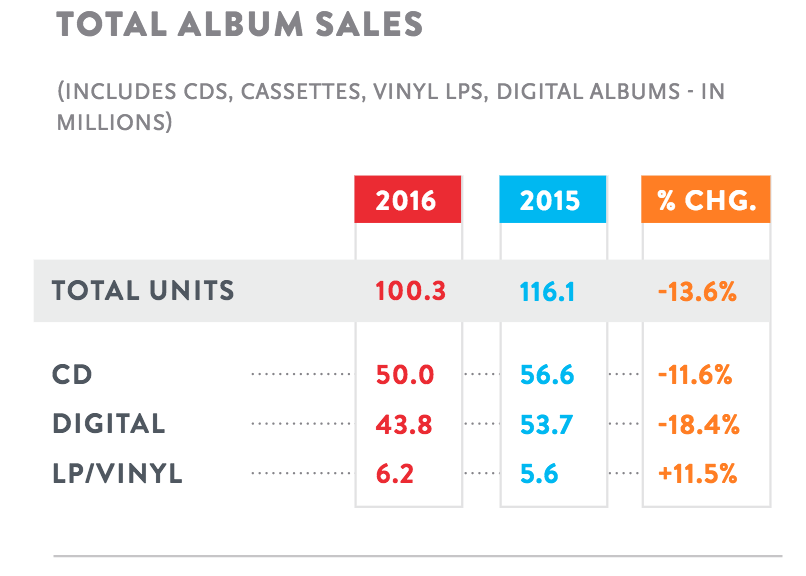 Meanwhile, the blood is also flowing on download album sales, once a smaller, reliable mainstay for the industry.  That's now changing in rude fashion: according to the Nielsen stats, paid album downloads tanked an additional 18.4% during the first half of 2016, with CDs showing a more modest 11.6% drop.  By sharp contrast, LPs (vinyl) posted a handsome 11.5% gain, with a growing link suspected between streaming and retro wax purchases.
More ahead.