Welcome to the second part of our ongoing series on the 'mechanics behind the mechanical royalties'…
These articles aim at lifting the curtain on one of the most discussed sources of revenue in the music industry.  In case you haven't read the first part covering the basics on what mechanical royalties are and aren't, I'd strongly recommend to do so.  If you have, you are now well prepared for diving into deeper waters without having to fear dangerous underwater riffs and cliffs.
In this installment, we're talking money.  Just how much can you expect in mechanical royalties for somebody manufacturing and selling recordings that embody your copyrighted musical composition? As you might have guessed, it depends – namely on the type of usage, the territory of sales and, of course, the number of units sold.
Starting with the type of usage, let's have a look at the most common types of usage that require a mechanical license: physical, download and streaming sales.
Physical copies.
The backbone of the industry for close to a century now, physical records are probably the most intuitive embodiment of the idea of mechanical licenses. When clearing the license, labels report the number of units manufactured to the publisher or licensing agent. Keep in mind that the actual amount of mechanical royalties due is based on the number of units made and distributed, NOT sold, which can make for a wee bit of a difference. In case a label cannot sell all units manufactured, but wants to get them out of their warehouse and books, publishers or licensing agents may ultimately demand for a confirmation of the overstock's destruction.
In the US, the calculation of royalties is based on the individual tracks featured on the physical record. Effective from March 2009, Copyright Royalty Judges have established a statutory rate of the greater of $0.091 per track or $0.0175 for every minute of track duration started. Sounds complicated? It isn't, really, as the above can be broken down to a simple rule of thumb:
if the track's duration is shorter than five minutes, the applicable rate is 9.1 cents.
if the track's duration is longer than five minutes, every minute started is multiplied by 1.75 cents.
So for a track with a duration of 03:40, the mechanical rate is 9.1 cents.  For a track with a duration of 05:31, mechanicals of 6 x 1.75 cents = 10.5 cents are due.  Get the idea?
Calculate this for every track on the physical record, add up the numbers and you'll know the amount of mechanical royalties due for the sale of one physical record.  (Note: as an alternative to the statutory rate, it is also possible for copyright owners and licensors to negotiate for an individual rate.)
Either way, in case you are signed to a publisher and this publisher has their mechanicals administered by a licensing agent like HFA, don't forget to factor in their service fees as well.  And of course, if there is more than one songwriter involved, the amount of royalties is to be divided according to the actual shares each songwriter (or their publisher) holds on the composition.
Outside the US.
Now, let's look beyond the US to some other territories.  The major difference to the US system is that the duration of the track is not a factor in the calculation of mechanicals due. So no need to count the minutes here. Instead, most countries have agreed on the mechanical royalties to be a percentage of a record's published price to dealers.
In continental Europe, a total of 55 national collecting societies gathered under the roof of BIEM (Bureau International des Sociétés Gérant les Droits d'Enregistrement et de Reproduction Mécanique – do repeat five times) have established an effective mechanical royalty rate of 8.712% of the published price to dealers (PPD) of a physical record sold.  However, this BIEM rate only applies to record labels that are IFPI members and manufacture their records under a special industry agreement.
For licensors that are not members of this illustrious group of industry friends (think Cousin Jimmy And His Psychobilly All-Stars), the various national collecting societies have established work-by-work rates.  These typically comprise of a greater-of between a percentage of the PPD or retail price and a minimum fee depending on the type of physical format (single, CD or vinyl LP, etc.) and the number of units manufactured.
For example, Germany's GEMA will ask for the greater of
13.75% of the published price to dealers (excl. VAT) and
10.00% of the retail price (excl. VAT).
The aforementioned minimum fees range between EUR 0.14 for vinyl singles and EUR 0.62 for your standard CD LPs.
In a similar fashion, rates introduced by France's SACEM are the greater of
9.009% of the wholesale price (excl. VAT) and
7.40% of the retail price (excl. VAT).
Minimum fees range from EUR 0.2287 for CD singles to EUR 0.4955 for CD LPs.
In the UK, the mechanical royalty rate for physical copies of copyrighted musical works is either
8.5% of the published price to dealers (PPD); or, if unavailable,
6.5% of Retail Price (RP)
Multiply this by the number of units shipped and you know the amount of mechanical royalties due.
Download sales.
After the major labels' early attempts to introduce legal download services were pretty much DOA (friends of crude nostalgia may want to Google for "Pressplay" or "MusicNet"), it took for a certain Mr. Jobs to establish the first truly successful a la carte download shop in 2003.  For more than a decade, iTunes was the epitome of how digital music sales were supposed to work, with the download being the digital world's closest resemblance to a physical sale.  Consequently, the concept of mechanical licenses and royalties has been applied to downloads as well. And even though downloads have been on a steady decline over the past three years, they have still accounted for the majority of digital sales in 2015.
If you now fear there is another complicated rule on mechanical royalty calculation waiting for you, then rejoice – good news is coming your way:
In the US, mechanical royalties for download sales are calculated in exactly the same way as their physical counterparts. Remember the "greater-of 9.1/1.75" rule explained above? Yep, you can apply the very same statutory rates to the calculation of US download mechanicals as well.
However, to keep things entertaining, it is now international territories that introduce a greater-of for download mechanicals.
In the UK, the applicable mechanical royalty rate is either
8% of gross revenue, or
a minimum fee ranging between 5p per single track and 2p for releases containing 30 tracks and more.
In addition, starting from tracks with a duration longer than 6 minutes, there are extra multipliers in store as well.
Similarly, Germany's GEMA will ask for the greater of
10.25 % of the retail price (excl. VAT); and
A minimum fee ranging between EUR 0.091 per single track and up to EUR 0.0563 per track for downloads of releases containing 18 works and more.
France's SACEM have established a minimum download mechanical royalty of
EUR 0.07 (exc. VAT) per track downloaded; and
EUR 0.70 (exc. VAT) per album downloaded.
Streaming Mechanicals.
Even though streaming does not result in the creation of a permanent copy of a musical composition, even the temporary storage in the cache of a user's listening device counts as enough of a reproduction to require payment of mechanical royalties.  After all, a copy is a copy, right?  But then again, not all streams are made equal.
We're now accustomed to distinguishing between ad-supported and premium subscription, non-interactive and interactive, online and offline (tethered) streams. And so it will come as no surprise that there are different rates applicable for different types of streams. In addition, streaming mechanicals depend heavily on the actual music service revenue in the specific usage type (i.e. ad-supported, premium).  This factor, unfortunately, is beyond the control of copyright holders, which makes it nearly impossible to forecast the actual amounts in streaming mechanicals to be expected.  However, let's have a look at the underlying calculation bases.
In the US, on-demand streaming services pay a rate of 10.5% of the music service revenue to authors and composers.  However, these 10.5% include both the performance and the mechanical royalties and thus need to be split up accordingly.  Remember: mechanical royalties are collected either by a mechanical licensing agent like HFA, or paid directly to the publisher, while performance royalties are typically collected by Performing Rights Organziations ASCAP, BMI or SESAC.
Luckily, HFA have created some pretty neat graphics to explain the process of calculating the mechanicals for the different types of streams.  Don't get overwhelmed by the seemingly complex layout – once you get the hang of it, all charts read in a similar fashion.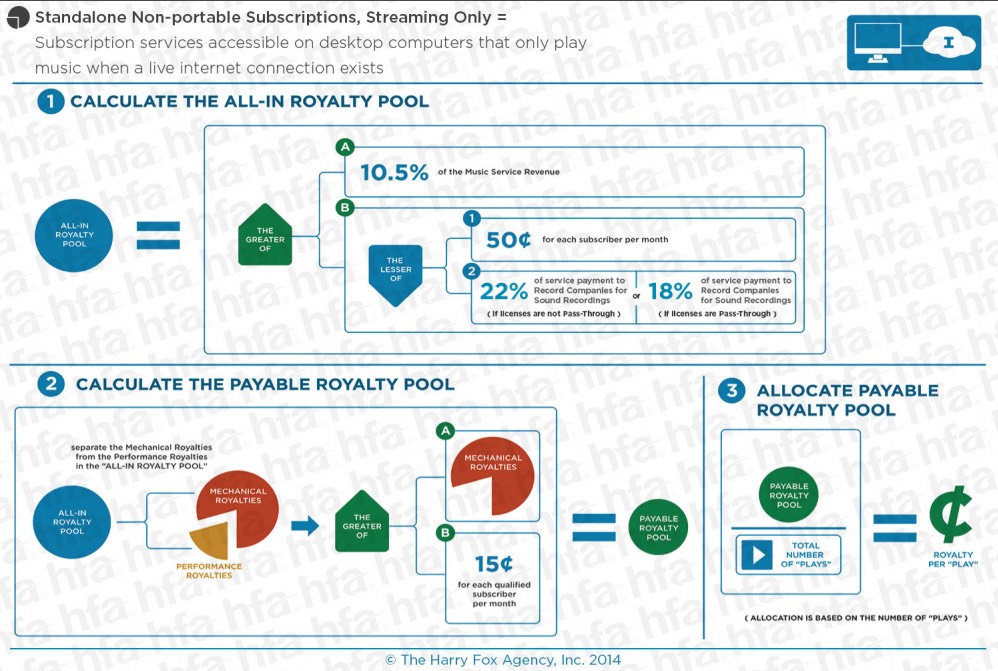 Here are the links to the tables for some of the most common streaming services (visit HFA's rate chart section for all streaming types):
Free Non-Subscription / Ad-Supported Services
Standalone online and offline subscriptions accessible through portable devices such as mobile phones
Content Lockers offered for free to purchasers of permanent digital downloads, ringtones or physical records from a qualified seller of such products.
In Germany, GEMA calls for the following rates:
for online and offline premium subscription streams: 10.25% of the music service net revenue; and
for online-only, free ad supported streams:

10.25% of the music service net revenue, and
a minimum per-stream royalty between EUR 0.00025 per stream for low interactivity and EUR 0.00375 per stream for high interactivity services.
In addition, special royalty provisions apply for free ad supported streaming services launching in Germany for the very first time.
Again, like in the US, these rates include both the performance (⅔) and the mechanical (⅓) royalties and need to be split up accordingly.
French SACEM  requires the following rates to be paid:
For free, ad-supported music and/or music,

15% of music service income from advertising, partnerships, sponsoring, etc.; and
a minimum amount of EUR 0.0022 (exc VAT) per stream.\
For audio-only premium subscription services,

13% of music service subscription income, plus minimum fees of
per subscriber/per month rates of EUR 0.52 (exc. VAT) for online only or EUR 1.04 (exc. VAT)  for online and offline (tethered download) use
In the UK, PRS for music do not operate a standard scheme for multi territory streaming services with revenues over £200,000 (Spotify, Deezer, etc.). Instead, these services are licensed under individually negotiated agreements, with a 50/50 split between performance and mechanical royalties.
Bonus section: Sheet music.
This is where it all started, way back in the days when publishers were the golden kings that ruled the industry and petite daughters of wealthy families were forced to entertain the evening salons with more or less skilled renditions of popular piano pieces. Although representing the same line of thought (manufacturing and selling copies of copyrighted musical compositions), the right to reprint and distribute lyrics and sheet music is not called a mechanical license per se. Instead, this type of license is typically requested and negotiated on an individual basis directly from and with the publisher, with no compulsory licensing and no statutory rates involved. Folks specializing in worship music or wedding songs can still make a decent buck out of this. For all others, unless you have a Grammy-award winning album or a string of smash hits, there's virtually no money to be expected here nowadays. But hey, you asked.
Coming up next: how to get paid!
Congratulations — if you have made it all the way down to this section by actually working your way through all the different scenarios laid out above, you are well on your way to carrying the black belt in mechanical royalty payments. Not that you'd be able to impress anyone outside this little industry, but still. As you can see from all these examples, mechanical royalty rates may differ quite substantially, depending on country, service type and, in case of streaming services, even service revenue. This makes the calculation of mechanicals due for an international release a pretty messy affair. However, ask any big publisher and they will tell you that all's good exactly the way it is. No need to change anything at all, really.
So now that you know how mechanical royalties are calculated for different types of usage, how can you actually collect these little beasts? This is what we will look at in the third part of our installment. Plus, we'll have a look at the problems that might arise if mechanical licenses are not cleared and royalties are not paid properly to the correct rights holders. In some cases, these problems can become up to $150 million big…
I look forward to seeing you in the third installment.  Rob.