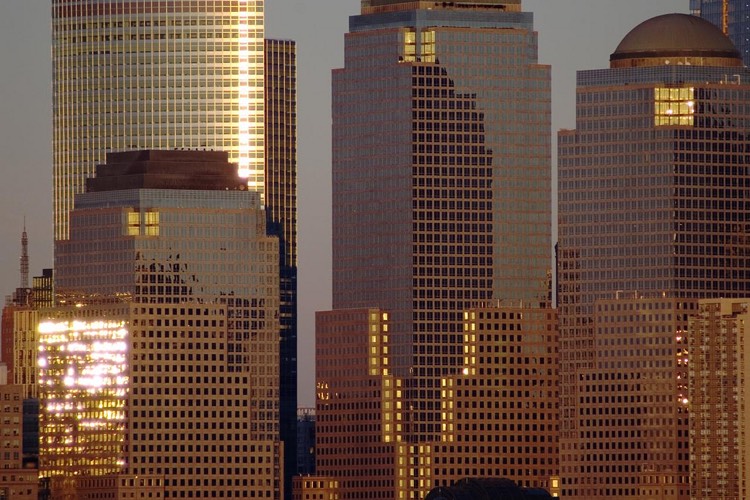 Spotify is serving a playlist of media manipulation and Wall Street securities fraud, according to some ugly accusations.
Staunch artist activist David Lowery is fighting Spotify, Goldman Sachs, HFA, and the NMPA to the bitter end, with a $200 million lawsuit wavering in the wind.  After Digital Music News effectively declared his contentious class action deflated, Lowery fought back by accusing Spotify and its mega-investor, Goldman Sachs, of hoodwinking DMN into a favorable headline that plays well for Wall Street manipulation.
The big blowback follows a big victory for Spotify, with 96% of publishers represented by the National Music Publishers' Association (NMPA) agreeing to an out-of-court arrangement.  In a discussion Tuesday, NMPA president David Israelite shared the opt-in results with Digital Music News, and earlier confirmed details of the Spotify arrangement to compensate unpaid parties.
But that misses the entire point of the class action, according to Lowery.  "Beg to differ," Lowery blasted in DMN's comment section.  "This doesn't do anything to the class action. The class action is about UNLICENSED SONGS not UNMATCHED ROYALTIES."
In other words, the NMPA-structured agreement is a sideshow designed to dupe songwriters and unsophisticated publishers.  "Songs represented by NMPA publishers were never really the issue here. Why? In most cases the licensing was done via modified compulsory by NMPA owned Harry Fox Agency.  The unlicensed songs are most likely to belong to non-NMPA publishers and songwriters."
"However if you are Spotify or Goldman Sachs and you need to convince investors that the problem is cleared up this headline works! Let the securities fraud begin!"
In follow-up email correspondence, Lowery confirmed those comments to DMN, though questions of whether Lowery can achieve a critical mass of litigants remain paramount.  Lowery noted that 100 participating class action members were needed to move the case forward, and raised the strong possibility that this class can be achieved.  "The court determines if there likely are more than 100 affected songwriters," Lowery relayed.  "Then it's a class.  All similarly situated songwriters are automatically in. You can opt out if you like, but unless you do you are in."
96% = 10%….
On the topic of whether '96% of publishers' is actually accurate, Lowery offered a concrete breakdown of who might be left out of that equation.  "[Israelite is] saying market share equal to 96%," Lowery offered. "In a superstar economy like the music business, 96% by market share may represent only the most popular 10% (?) of songs/songwriters."
And, maybe the NMPA and their members don't actually have the authority to commit their songwriters into their structured agreement.  "Just because publishers opted in NMPA deal, they may not have right to opt in for their songwriters," Lowery offered.  "Especially in administration deals.  The Survey Monkey form that TuneCore used is evidence that  they had no legal right to opt in their songwriters."
The Wixen Problem.
Then, there's this: a major defection from a serious publisher: Wixen Music Publishing, Inc.  This letter, leaked to Digital Music News earlier this week, squarely indicates the Wixen is not participating in the NMPA-structured agreement.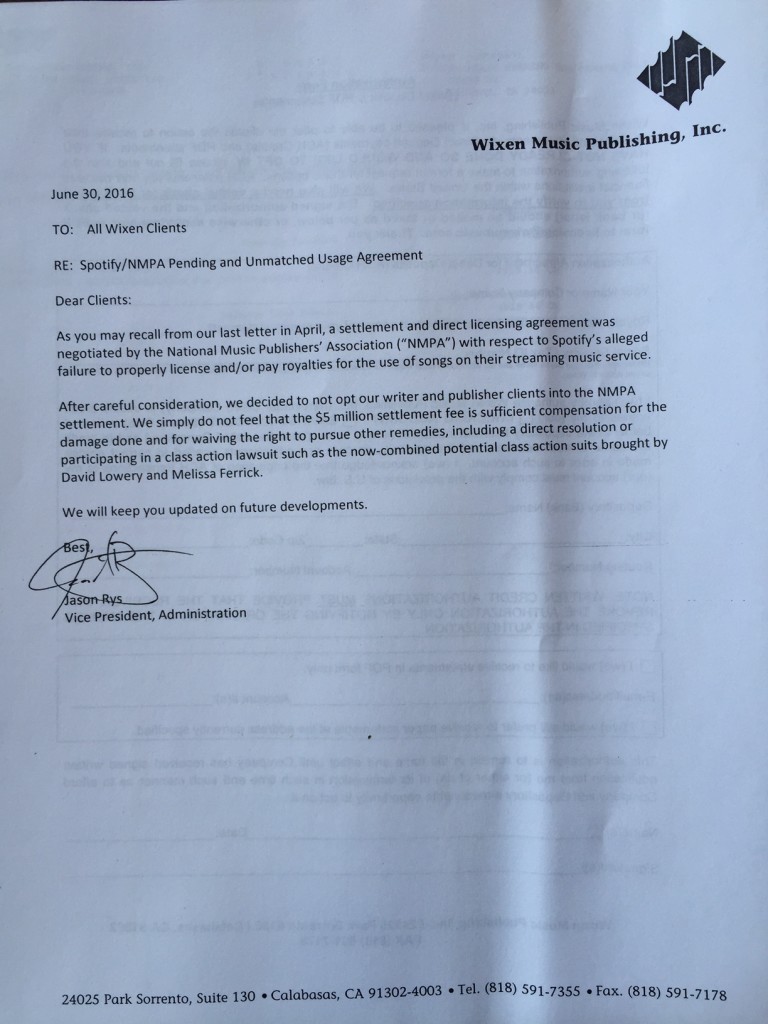 Whether Wixen constitutes a fringe minority of publishers that opted-out is an important question.  The company counts more than 2,000 individual songwriters and publishers, hardly a number to sneeze at.  "We would match our client list against any slate in the music business," the Calabassas, CA-based company boasts on its website.  "And our clients stay with us forever."
But the presence of at least one uncooperative publisher, especially one of this size, indicates that there are more out there.  Indeed, Lowery is making the calculation that a verifiable class won't be hard to achieve.  "Simply put: what are the odds that at least 100 songwriters did not opt into the NMPA deal?  Infringement damages are calculated per track not per spin," Lowery continued.
"Even at the lower end of statutory damages for willful infringement (at $10,000 a song), my catalogue racks up 1.5 million in damages.  At a maximum of $150k? My catalogue racks up $22.5 million."
Top image by Bill Benzon, licensed under Creative Commons Attribution 2.0 Generic (CC by 2.0).