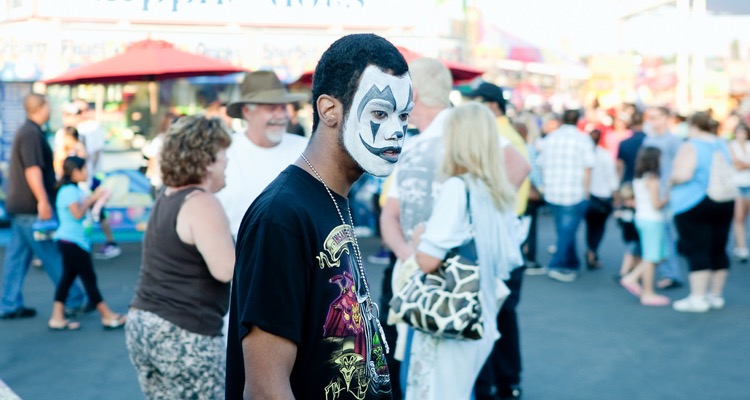 "We're gonna do a f*-king march on Washington."
In 2011, the FBI's National Gang Intelligence Center classified the Juggalos as a "loosely organized hybrid gang," slotting the group alongside Bloods, Crips, and others.  That classification was formally contested by Juggalo leaders Insane Clown Posse, who filed a lawsuit against the US Department of Justice to remove the classification.
The Juggalos argued, in part, that the gang classification was based on a small subset of Juggalos.  Either way, the case was tossed by a federal judge, though permission was granted for an appeal in September of 2015.  The appeal, which drew the support of the ACLU, is now awaiting the review of a federal judge, and is only serving to strengthen a mob estimated at roughly one million members.
That unity is building momentum for a far more potent protest.  Now, the controversial collective of Juggalos is about to demonstrate some serious political muscle, while more forcefully challenging the FBI's characterizations.  A monstrous march  is now in the works for Washington, DC, with potentially hundreds of thousands of face-painted Juggalos descending on the Nation's Capital next year.
"They call the Juggalo World a movement, right?"
Dubbed the 'Million Juggalo March,' the gathering is now slated for September 17th, 2017, according to details disclosed at the recent, 17th annual Gathering of the Juggalos.  "In 2017, the weekend of September 17th, we need you," rapper Violent J of Insane Clown Posse told the Gathering, according to Detroit Local News.  "We're gonna do a fuckin' march on Washington.  They call the Juggalo World a movement, right?  Well, let's move!"
The march is expected to start at the Lincoln Memorial, and weave its way to the Washington Monument.  Later that evening, a concert is scheduled at Jiffy Lube Live in Bristow, Virginia, just outside of the city, with other festivities and activities planned.
More details as they emerge.