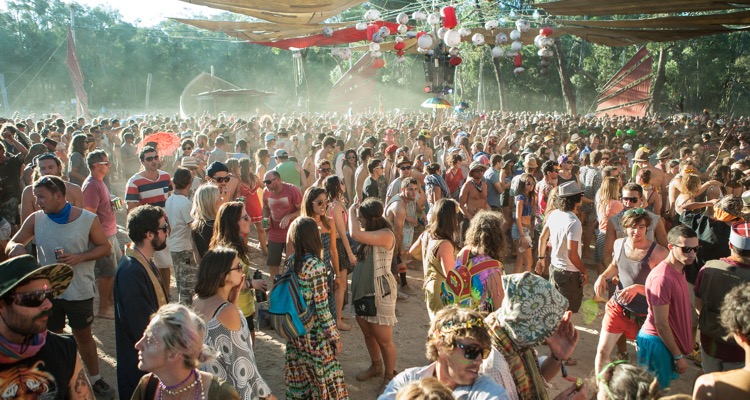 Why have festivals taken over the live concert experience?
The following sponsored post comes from ibus media.
Despite it being easier than ever before for music fans to aggregate, communicate, buy, sell, and promote online, music festivals around the world continue to grow with each passing year.  But just what has motivated this growth despite so many of the festival scene's advantages being overshadowed by the internet?  Some of the answers may come as a surprise: let's dig deep to see what's happening under the hood.
Adaptation to a New Context
Compared to other venues, festivals have adapted much more successfully to shifts in consumer demand for live music. Even tickets for the biggest, most expensive music festivals cost roughly as much as one might spend for a typical one-band concert — and although festival prices are on the increase, a live music festival in the U.K. currently sets an attendee back about £100, whereas a ticket to just one concert by Italian tenor Andrea Bocelli in 2015 racked up over £150.
With it being so easy and cost-effective to hear a vast selection of high-quality music on demand, it's the experience more than anything that drives attendance. And it's precisely the experience of the live performances, pyrotechnics, entertainment stands and all those added extras that many festivals have learned to cultivate so much faster than their concert-organizing counterparts.
High Quality Experiences
The standout quality of the shows themselves have also played an enormous part in the soaring numbers of ticket sales: one spectacular example is Barcelona-based festival Primavera Sound, which between its 2001 launch and fifth edition in 2005 saw attendee figures explode from 8,000 to 190,000. Today the festival commands A-list performers that include Radiohead, LCD Soundsystem and The White Stripes, boasts a sister festival in Portugal and an entire Off Program of free live performances outside the festival venue.
While improving audio technology and sophisticated social media campaigns (which sometimes go wrong) have unquestionably played a role in hyping these events to their target audience, arguably the catalyst has lain in the sharp decline of album purchases. With many artists struggling to pull in the same revenue they might once have from traditional sales, the industry has moved towards pouring money into a greater number of live performances. The festivals are growing because the experience got better; the experience got better because it had to get better.
Increased Corporate Sponsorship
Given that in 2012 alone, brand sponsorship of music festivals in North America reached over $1 billion, it's easy to see how companies from a variety of sectors would be persuaded to dedicate part of their marketing and branding budget to supporting public events, helping them to expand in scope and popularity. Sponsorship of live music by brands from a variety of sectors is significantly on the rise, with the power to transform festivals from humble local affairs to international beacons of cutting edge contemporary music.
The sponsorship of the 2015 Atlantic City Beer and Music Festival is a case in point: the 3,000 person event in 2006 has now grown into a 27,000-person production in just ten years, drawing in high-caliber bands such as the Dashboard Confessional, Reel Big Fish and Manchester Orchestra; partnerships with local breweries and restaurants and sponsorship from global brands Yelp and PokerStars. "The second year, we had just 6,000 people, and it escalated from there," said festival executive producer Jon Henderson. "Now people treat it like it's Christmas."
Growing Sophistication of Marketing
One of the core factors driving the growth of music festivals in recent years has little to do with music or the participants, but instead with changes in how businesses today market their brand. The importance of brand loyalty and social media engagement has skyrocketed in recent years — or at least, the understanding of its role and importance has.
While savvy businesses have always appreciated the value of interacting with their target market in a variety of ways, social media and other tools have turned every event into a clear opportunity to advertise. In 2013, music channel VH-1 hosted a GIF photo booth at Chicago-based festival Lollapalooza, inviting festivalgoers to create an animated photo that could be shared on social media using hashtag #BestLollaEver, essentially offering added value to the overall festival program as well as spreading significant brand awareness.
Millennial Trends
While there's always a risk of making sweeping generalizations about a generation, there's also a strong argument to be made that the surge in music festival attendance owes much to how Generation Y enjoy themselves. Millennials enjoy sharing and collaboration more than individual ownership; they love having new and unique experiences to share on social media, they enjoy being the first to hear a band no one's ever heard of play live, and they like knowing they're making a contribution to local economies.
Millennial trends have been a significant player in driving the massive growth of music festivals over the last decade: the 2010 Interactive SXSW Festival in Austin, Texas had an estimated 13,000 attendees, representing a 40% jump from the previous year; iconic British festival Glastonbury averaged 100,000 attendees in the early 2000s but today hosts over 175,000 people, the bulk of whom are under 30 years old (in 2015, the 18- 24 year old demographic were responsible for creating the most online buzz surrounding the event). Glastonbury Festival also has a notably successful social media presence, with over 590K followers on Twitter, 92K on Instagram and 730K likes on Facebook – serving to explain the increasing attention moneyed interests have paid to these festivals, from musicians to sponsors.
The Power of Social Media
The varied ways that mobile device users can use to capture unique experiences in real-time has allowed festival organizers unprecedented levels of access into the tastes and preferences of their clientele, opening the opportunity for events to literally be custom tailored to their audience and hot-wired for that very same audience to share their festival experience in the moment on social media. This in turn generates multi-platform exposure rolling out in real-time that widens a potential audience considerably; as most festivals last at least a few days, there's plenty of time for stragglers to see what they're missing and rush to get in. Which in turn generates even more people talking about the event and making sure to attend because of FOMO, or the fear of missing out.
Before social media, such buzz would be naturally contained — it was entirely possible for people who would love an event to never hear about it, or only hear about it well after it took part. Today, even the most reclusive fans hear about their favorite bands attending the very day that the line-up goes public via Twitter and Facebook. And each of those fans then mentions his or her attendance, drawing in more of their friends and acquaintances.
Ultimately, these different factors boil down to one simple concept: there's money to be made from festivals and more people are hearing about them. The perfect storm of cultural trends and technology has combined to make music festivals explode in attendance, visibility and overall quality. It's anyone's guess how long this lasts or when it fades — for now, expect to see each year surpass the last.
Top image: Rainbow Serpent Festival, Australia, 2013 (Asher Floyd (CC by SA 3.0)); 2nd from top: MyCokeFest, Atlanta, 2007 (Daniel Mayer (CC by 2.0)); 3rd from top: Muse at Outside Lands, San Francisco, 2011 (Edward Betts (CC by SA 3.0); bottom: CMA Music Festival, 2008 (Public Domain).