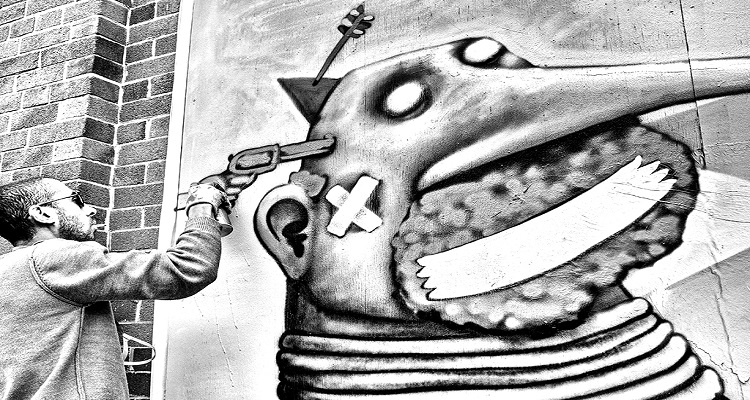 Here in the United States, it's difficult to ignore that gun-related shootings are reported on an increasing and almost daily basis, whether it be innocent civilians caught in the crossfire, angry ex-employees exacting revenge, or another another school gunned down without warning.
Please note: this article was first written back in 2016, and is (no surprise) getting even more attention these days.  So sadly, there are many more killings that are not included in this piece.  Here's the original article.
While gun-related violence as a whole seems to be growing, it's also difficult to ignore that the cries are becoming ever louder for stricter gun-control laws to be put into place.  Sadly, the music industry is no stranger to gun violence — and we're losing more musicians as time goes by.
In its history, the music industry as a whole hasn't been immune to this problem, whether by the tragic deaths of John Lennon, Notorious B.I.G., Tupac Shakur, and others.  Here at Digital Music News, we'll quickly break down some of the biggest names found in an image recently published by Mike "DJ" Pizzo.

In the 1950's, one of the most prominent artists was John Marshall Alexander Jr., better known by his stage name Johnny Ace.
The son of a preacher man, Johnny served in the U.S. Navy during the Korean War. Right after, he joined the B.B. King band before being signed with Duke Records as a solo R&B Artist in 1952.  On Christmas Day in 1954, during a break between sets, Johnny Ace had been playing with a .22 caliber.
Billboard first reported that he died from a wound suffered during a game of Russian Roulette, but bass player Curtis Tillman, who witnessed exactly what happened, said that Johnny had been drinking, and after trying to prove the gun was empty, pointed the .22 caliber to his face, shot, and ultimately killed himself at the tender age of 25.
In the 1960's, Samuel Cook, better known by his professional name Sam Cooke, another son of a Church of Christ preacher man, was known for his solid vocal, piano, and guitar skills.
Getting his start during the 1950's, he quickly became the lead singer for the gospel group the Soul Stirrers, and gave the group its first recording, "Jesus Gave Me Water" in 1951. His success continued well into the 60's, when in 1963, he was signed to a five-year contract for American businessman Allen Klein.
Unfortunately, he was never able to finish his contract as he was fatally shot on December 11, 1964, the victim of a reportedly gunshot wound that pierced his heart by Hacienda Hotel manager Bertha Franklin. Franklin claimed that Cooke entered into the manager's office in a rage with only his shoe and a sports coat on, and violently grabbed her. After grappling with her, Franklin got her gun and fired, killing Cooke a month before his 34th birthday.
Family members, acquaintances, and investigators have called her story into question, believing Cooke's death to be part of a conspiracy, with singer Etta James, after viewing Cooke's body, calling the whole account into question.
The feel-happy and joyful vibes felt throughout the entire music industry during the 70's wasn't enough to escape from the cycle of American gun violence.
Music professions like soul singer Darrel Banks, blues singer Kid Thomas, and singer-songwriter Bobby Bloom lost their lives due to gun-related violence. One of the most notable musicians during this time was drummer, producer, and songwriter Alan Jackson, better known Al Jackson Jr., who, since he was a young boy, was exposed to the music industry thanks to his father Al Jackson Sr., who led a jazz and swing dance band in Tennessee.
At just the tender age of five, Jackson began playing on stage and drumming with his father's band. After playing in the all-white Manhattan Club, he was soon brought on to Stax Records, becoming the first musician to be paid on a weekly salary.  On September 30, 1975, after returning home from watching the Frazier-Ali fight screened at the Mid-South Coliseum in Tennessee, even going so far as to delay his scheduled flight to Dallas, Jackson was shot on October 1 at 3 a.m. after finding burglars at his home.
A year later, the suspected murderer, the boyfriend of his estranged wife before his death, who had also shot Jackson in the chest, was killed by a police officer after a gun battle. In 2015, Jackson was posthumously inducted into the Memphis Music Hall of Fame.
The fall of disco during the 1980's gave rise to other styles like dance music and new wave. This was also the decade when the music industry lost several legends like John Lennon and up-and-coming artists like hip-hop DJ Scott La Rock to the music scene.
Besides the death of the British icon Lennon, one of the most difficult to forget even today was how Marvin Gaye ultimately had his life ended during this decade.
Born Marvin Pentz Gay Jr., Gaye first got his start when he and friend Reese Palmer formed the vocal quarter The Marquees in the late 1950's.  Better known for his later hits like What's Going On and Let's Get It On, as well as influencing R&B subgenres like neo-soul and quiet storm, Gaye met his end in Los Angeles, California.  In the early after hours of April 1, 1984, Gaye had intervened in an argument between his parents.
After a physical altercation with his father, Marvin Gay Sr., who he had a turbulent relationship with, his father got a .38 caliber and shot his son twice, the first in the heart, and the second at point-blank range.  Marvin Gaye Sr. was initially charged with first-degree murder, but had the charges dropped to voluntary manslaughter after singer Gaye's autopsy revealed he had drugs in his system.
Besides bringing to rise the teen pop and dance-pop trends first started in the 70's but continued during the 1980's the 90's saw the rise of the golden age of hip-hop.  This was also the decade that saw more gun-related deaths in the industry than the 50's, 60's, 70's and 80's combined.
One of the most tragic deaths during this time, besides the events of Kurt Cobain, Selena, Tupac, and Notorious B.I.G., among others, was none other than troubled Plasmatics singer, songwriter, and actress Wendy O. Williams.
Known for her shocking antics, Williams was born Wendy Orlean Williams in Webster, New York in 1949.  At barely the age of 15, Williams was arrested for sunbathing nude.  She also left high school before finishing the tenth grade and was described by classmates as a "shy and pretty girl."  Williams first got her start in the late 70's when she was asked to join the newly formed punk rock band, Plasmatics, by Yale graduate Ron Swenson.  Around this time, Williams soon got into trouble with the law after simulating sex on stage several times as well as trouble with several television producers. Williams ultimately died by a self-inflicted gunshot wound a month and a half before turning 49. On April 6, 1998, she had left Swenson, a significant other, a package that included noodles he liked, several other items, and a living will. Before this, she had already tried committing suicide in 1993 by hammering a knife into her chest, and once again by drug overdose in 1997. During a memorial, Plasmatics co-members played a six-song set.
The start of a new millennium wouldn't prove to help quell gun violence in the industry, with at least 18 gun-related deaths reported, shy of the 90's 26.
One of the deaths that led several artists to express their grief was that of pioneering DJ of Run-D.M.C., Jam Master Jay.  Born Jason William Mizell in Brooklyn in 1965, he had started playing the trumpet after having played bass, guitar, and drums at just 3 years old.  After moving to Queens in 1975, he discovered the turntables and started DJing when he was 13.  Besides throwing small parties around Queens, he also got his start playing at parks and at bars. He hooked up with Joseph "Run" Simmons and Darryl "D.M.C" McDaniels after graduating from high school.
At 7:30 p.m. on October 30, 2002, Jay was shot in a recording studio in Queens.  Another person in the room survived after being shot in the ankle.  The news of Jay's death led several top hip-hop artists and impresarios, like Dr. Dre and Chuck D, to express their grief, with Russell Simmons, brother of Joseph Simmons, to state that "they represented everything good and positive about hip-hop."
Just about halfway through this decade, and already having reached the same number of the previous decade, the 2010s have been anything but immune to gun-related violence.
In this decade, we've already lost Keith Emerson, Mindy McCready, and Mark Linkous, among others. What seems to truly mark this decade is that most gun-related deaths have been suicides. We can see this clearly in the life of certified 2x Platinum artists Mindy McCready.  Born Malinda Gayle McCready on November 30, 1975 in Fort Myers, Florida, she first got her start in her local Pentecostal church at just 3 years old. She also graduated from high school at 16, intending to start her music career right away. It didn't take long for this to happen, when at 18 years old, she was signed by BNA Records. Her debut album, Ten Thousand Angel, released in 1996 sold two million copies. Right after her album was released, she reportedly had a troubled love life, with one aspiring singer even being arrested and charged with attempted murder after choking and bearing her in 2005. After giving birth to her second child, the boy's father, record producer David Wilson, had killed himself in January 2013. McCready sent out a statement, referring to Wilson as her "soulmate" and "life partner." A month later, after receiving reports of gunshots being called, McCready was found dead on her front porch, the same place where her boyfriend and the father of her second child had shot himself. Right before her death, she had also shot and killed the pet dog that belonged to Wilson.
---
Gun Control image by Helen M. Bushe, licensed under Creative Commons Attribution 2.0 Generic (CC by 2.0).
Infograph image by managing editor and co-creator of Cuepoint @ Medium, Mike "DJ" Pizzo.