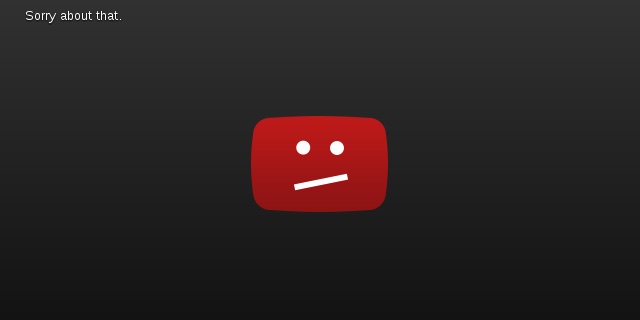 Don't want your music videos on YouTube? Then take them down.
This morning, Warner Music Group officially licensed their content to Vevo, the YouTube-embedded music video service (we first reported on the deal here).  The move comes amidst growing plans to diversify Vevo beyond YouTube, which currently accounts for nearly every music video viewed on this planet.  It's an ambitious plan by Vevo stakeholders Sony Music and Universal Music Group, and it's being fueled by growing animosity towards YouTube's refusal to pay more for music videos.
But new data not only shows that YouTube isn't breaking the law, they aren't even abusing existing copyright law.  A recent report from music industry research group Midia revealed that just 2% of YouTube's music video content is unauthorized.  These are illegal UGC uploads of concerts, lyrics videos, the actual videos, or other material that rights owners didn't green light beforehand.  The rest, about 98%, are not only completely authorized, about 75% of them are high-quality and supplied by the labels themselves through Vevo, according to the same dataset.
So, if just 2% of music videos are unauthorized and can be taken down using DMCA procedures, what's the problem here?  The Recording Industry Association of America, an organization that represents the three major labels, has been leading the charge against widespread DMCA abuse by video giant.  "YouTube takes advantage of the dysfunctional DMCA to do less about piracy than it could and pay unfairly low royalty rates," RIAA chief executive Cary Sherman declared.  "It doesn't have to be like this."
But is that even true?  Adding to the confusing is Content ID, a system created by YouTube to allow content owners to automatically flag their content if it appears on YouTube without permission.  Once identified, the owner has the option to remove that content, monetize it, or even strip the audio out of it (for example, if paired with a group of people singing karaoke).  YouTube says that system, part of a self-contained copyright ecosystem, makes the DMCA irrelevant in most situations.  In other words, if you don't want your video on YouTube, then you should just remove it.
So, why aren't labels and artists simply removing their videos?  The only problem is that most artists don't want to do that, especially those that are trying to build their careers.  Justin Bieber is the most famous YouTube success story, but thousands of others are using this platform in various ways to grow their audiences and stay connected with fans.  They're getting paid crap, but they obviously value the audience and platform that YouTube provides.  Otherwise, they wouldn't be constantly uploading new videos, or, for that matter, creating videos specifically for the platform.
It's a simple economic calculation: YouTube offers more value than just a fractional penny rate, and artists and labels are making a calculation that it's worth it.  Otherwise, they would leave.
Given all of this, I can't figure out if Cary Sherman, who gets paid millions every year according to filed documents, seems to be missing the basics of how YouTube operates.  Either that, or the RIAA is trying to orchestrate a ridiculous PR campaign (go figure).  But maybe there's something here: the simple threat of UGC uploads from tens of millions of users.  After all, if the labels decided to move all of their content off of YouTube tomorrow, then maybe that vacuum would be filled with a torrent of crappy, user-uploaded videos.  That's the chaos from which this video platform was born, and it once characterized music videos on the platform.
Actually, Vevo is dangling the threat of moving its videos… to Facebook.  That would hurt, given that Vevo supplies such a massive amount of well-shot, high-end music videos to YouTube, and Facebook is now a very serious video competitor.  But it's really unclear what would happen after that nuclear option.  After all, wouldn't users just start uploading music videos themselves, and start monetizing them before they get ripped down?  Just like the old days?
But Facebook isn't organized in the same way; it's impossible to just look up a video and press play.  Not everyone is on Facebook anymore; you can't just share a link and pop it open.   Then there's the real Facebook Achilles' Heel: most people watch Facebook videos in silence.  So there's that.
Perhaps this debate is really simple: the industry and its artists want more money from YouTube, and YouTube is refusing to pay it.  Part of the issue is that all of this is ad-monetized, and there aren't enough ads running with enough money being generated.  Layer in ad blockers and a struggling subscription service, and you can see why YouTube doesn't want to pay more.
But is YouTube doing anything illegal?  Actually, not really.  They just pay like crap while serving the biggest music audience online (and maybe the world).  And so far, it doesn't seem like the music industry has a solution to that problem.  Or a way to make YouTube pay them more.