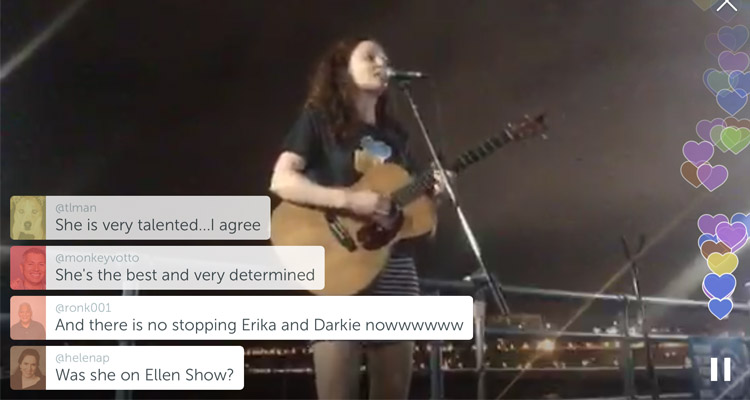 Los Angeles based Clare Means has been street performing for the past 8 years on the Santa Monica Pier and Promenade. As two of the biggest tourist traps in LA, street performers can earn a substantial amount. Some average $100 an hour or more. And some average $5 an hour. It all depends on the the location, the crowd, the weather, the performer and their fellow street performing competition.
Clare has been a full time musician for the better part of 8 years and has supported herself (and paid her Santa Monica rent) primarily with her street performing sets.
Last September, she decided to prop her phone up against her tip jar and Periscope her street performances. She included a link to her website (for CD purchases) and a PayPal.me link for tips in her Periscope bio. Initially, she only had a few people tuning in for her scopes for the first few months. But because she scoped every street performance and she street performed nearly every day, she built up some regular followers. And they started tipping and buying her CDs. And because PayPal.me enabled people to tip whatever they wanted, some tipped her $50. Some tipped $200.


Photo by Miguel Santana
By the end of December, Clare Means had built up about 1,000 Periscope followers. She started Periscoping from home in addition to the street, taking requests and giving even more interaction to her new Periscope "friends" – as she likes to call them.
And then this past January, the stars started to align. A fairly big Periscoper, @YoPickles, shared Clare's scope to her 20,000 followers. @MitchOates happened to be walking the Santa Monica Pier and stumbled upon Clare. He Periscoped her and shared her scope with his 25,000 followers. @LennyJacobson also shared Clare's scopes around this time to his 30,000 followers and Periscope featured Clare on the homepage List a few times.
As of today, Clare Means has over 34,000 followers – gaining thousands more each month.
But her followers are so much more than just a number. The reason Clare refers to them as her Periscope friends is because she interacts with them directly during her scopes and she has gotten to know quite a few of the regulars.
And more than that, her fans have gotten to know each other from tuning in so frequently and chatting during the scopes. They even formed their own fan club and call themselves "ClareBears" – in part because Clare eats gummy bears during her street performing set breaks.
"They're friends with each other. Regulars talk amongst each other. Scopes are almost like a chat room"
One fan sent her a 17 pound bag of gummy bears. Another fan created a blonde voodoo doll (one of her songs is called "Voodoo Doll." Another fan sent her a sweatshirt she made with a voodoo doll attached to the zipper.
And some nights when she has a really bad street performing experience, her ClareBears on Periscope step up.
"One time I had a really shitty night on the Promenade. A loud guy set up next to me. I made $200 in tips on Periscope and I didn't have that many people in my scope. They wanted to make up for the bad experience," Clare told me over the phone.
Whereas on the street, people typically drop in a dollar, or five if they're feeling generous. On Periscope, people tip much larger amounts because it's very easy to type in a higher number. No cash necessary. Someone tipped her $700 last month to help her buy a new guitar which had blown over on her stand during one of her set breaks on the street. And many of her regulars have bought her 3 CD for $25 package from her website (another direct link in her Periscope bio).
The ClareBears even set up a fan website, Claresbears.com, to help fund Clare's new guitar. There's a photo page, a video page, and event info for a meetup Clare is participating in on October 8th in Santa Monica.
A couple that heard her on the pier while visiting Santa Monica, when they returned home started watching all of her Periscopes and then flew her out to play their wedding.
Last month she went to Nashville and busked a bit. She stopped by Third Man Records and hopped in the recording booth where one can record a performance straight to acetate. Third Man charges musicians $20 per song in the booth and the musician walks away with the acetate record of their performance. In the booth, Clare Periscoped her performance and asked her Periscope audience how much she should charge for this rare record. Someone suggested $100 and others concurred. A couple people said they'd pay $250 if she played their request (and sent them the record of their song). In just the hour she was in the booth, she made about $1,400 and sent out 10 records to the fans who happened to tune in.


Photo by Miguel Santana
I asked Clare what advice she'd give to musicians who wanted to get started on Periscope. She said consistency is very important. Early on, you may only get a few people here and there tuning in, but if you interact with them, respect them and give an entertaining experience they'll follow you and come back.
Always thank people for sharing and for tipping. Say hi to the regulars. Take requests. Try to interact as much as possible. She recommends to try different songs, different settings and maybe different instruments to mix it up.
She improvs songs occasionally during her home scopes and takes topic requests. One of her Christmas songs actually came out of one of these improv sessions.
She mentioned that she encourages her viewers to share her scopes and invite their friends. And people do it.
The quality of the fan is more important than the quantity
Clare encourages musicians to not worry about the number of followers they have.
"You can still make good money even if you have less than 1,000 followers"
Now, she averages about 6,000 total viewers per scope. She usually busks for 2-4 hours and scopes the entire time, so she has a couple hundred people tuning in at any given moment. However, while we were on the phone, she checked in to last night's stats and saw she had 10,400 people tune in over the course of the 4 hour scope.


Photo by DC Buchanan
The way to make it as a musician in the new music business requires getting creative with the tools available. There is no one way to make it as a musician anymore. Anyone who tells you that you MUST put all your efforts into YouTube is flat out wrong and doesn't know what they're talking about. They are 5 years behind the curve. Yeah, YouTube is important and every musician should have some sort of presence, but Clare realized that her efforts were better spent on Periscope, not YouTube. DJ Khaled became famous on Snapchat. Shawn Mendes became famous from Vine.
But, as Clare, and thousands of other working musicians have learned, it's not about becoming famous. Sure, everyone would like to grow their fanbase, but many DIY musicians are making comfortable livings doing what they love by getting creative with their monetization efforts.
You can bitch about Spotify royalties until you're blue in the face or you can get creative with all of the new tools available to build a fanbase and make a living in the new music business. Your choice.