Two of the most legendary guitarists in the world, Jeff Beck and Buddy Guy, are struggling to fill the Hollywood Bowl.
They're both widely regarded as two of the most legendary guitarists in the world, with far-reaching influence over an entire generation of famous musicians.  They've both been included in numerous greatest guitar lists, including Rolling Stone's top 100.  Both have been inducted into the Rock and Roll Hall of Fame, and showered with accolades that span Grammy Awards, platinum albums, and innumerable honors over their multi-decade careers.
Yet Jeff Beck and Buddy Guy, despite being revered as musical legends, never crossed over into the superstar status enjoyed by the likes of Clapton, Hendrix, Stevie Ray Vaughan, B.B. King, or Jimmy Page.
Sadly, that's now apparent in the low-barrel prices being offered for the duo's Hollywood Bowl performance on Wednesday night.  During the early afternoon hours, cheap seats were available for below $7 on StubHub (see above), with a slight move upward (to about $8) by early evening.  The show, which also features special guests Steven Tyler and Beth Hart, is in no danger of selling out, with broad swaths of seats available across multiple sections.
That includes relatively well-placed slots like 'L2,' which is just three major sections from the stage (trust me, it's a nice seat).  Seats in that area are just $33, with heavy-spenders getting front row access for around $130.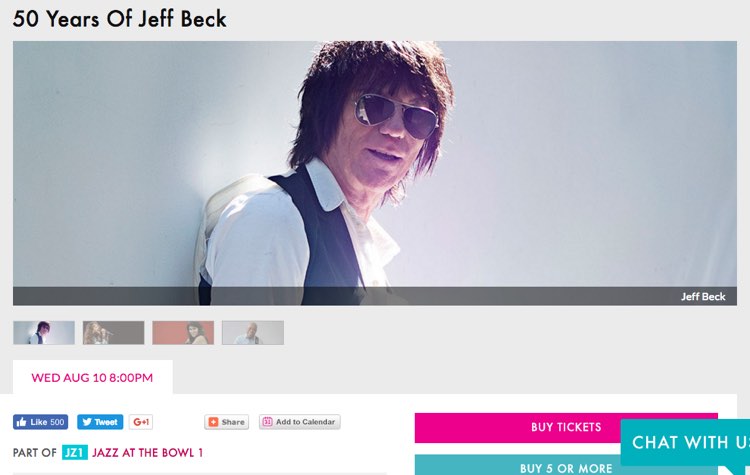 The development could be explained away by a Wednesday night plunked in the middle of August.  Locals love the Hollywood Bowl, but this isn't an in-and-out affair.  Instead, crowds are slow-moving and parking is a disaster, with stacked parking trapping attendees long after the final encores (pro tip: Uber it, take the subway, or use a shuttle bus).  That said, most tolerate the time-consumption with a relaxed attitude, something the Bowl encourages with its open, picnic- and alcohol-friendly atmosphere.  Sounds like a wonderful summer night, but not if there's work on Thursday morning.
But that may only explain part of the problem.  After all, the Bowl is often sold out midweek, with groups like the Cure packing nostalgic bodies, complete with parking snarls and time-devouring hassles.  All of that raises the possibility that Beck and Guy, as well as Tyler may simply be over-touring, or worse, that every artist out there is touring too much.  That's been a growing issue as recording revenues plummet, forcing artists of all ages to hit the road to make ends meet.
It just sucks if that collapse is happening towards the end, instead of the beginning, of your career.