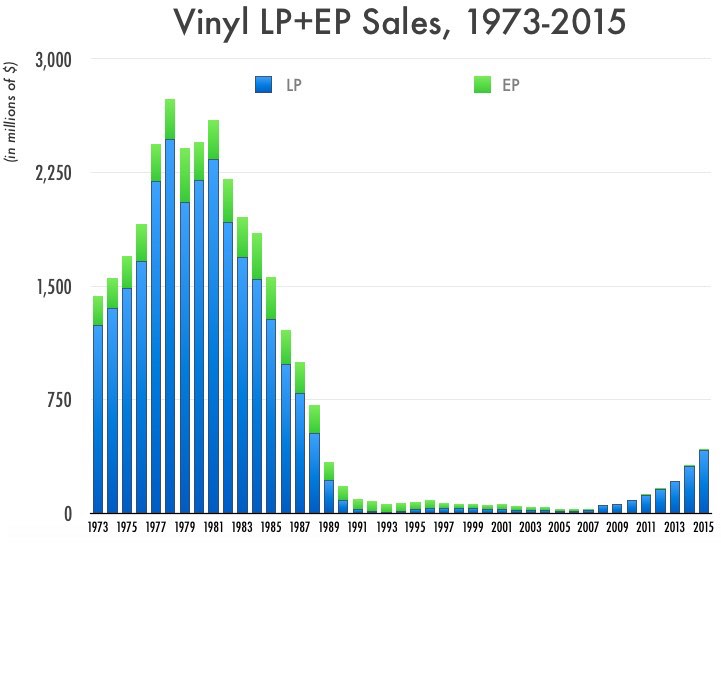 How strong is the vinyl records comeback?  That really depends on your perspective.
Last year, vinyl revenues hit an astounding $422.3 million in the US alone, according to the Recording Industry Association of America (RIAA).  That's a vinyl comeback that was unthinkable ten years ago, especially after nearly 15 years of near-constant decline.
Accordingly, this is the chart that most people reference when the speak of the explosive vinyl resurgence (source: RIAA; scale also in millions of dollars):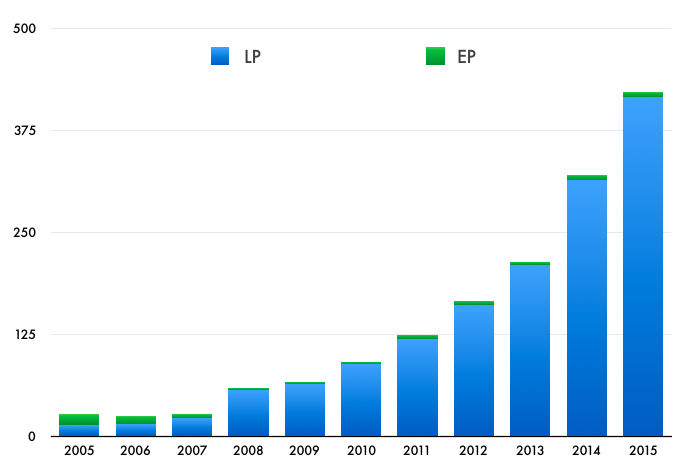 As you can see, the vinyl market was basically irrelevant in 2005, and considered a virtually dead format.  Sure, there were niche audiophiles who savored the warm, vinyl sound back then, but most of those aficionados were buying used LPs.  Part of the reason for that was simple nostalgia, but the other was simply that labels weren't producing new records anymore.  They'd given up.
Make no mistake: used LPs are a huge part of the current market today, and not accurately factored into current statistics and growth models.  That said, this is a vinyl records resurgence that will soon include used product, new product, and enhanced, HD vinyl within a matter of years.  Just recently, Rebeat filed patents around its HD vinyl records technology, one that streamlines the entire manufacturing process while delivering a fuller, longer-playing LP (more on HD vinyl, here).
(And, for more on just how much used vinyl is being purchased these days, read this report).
And just how big will this vinyl keep growing?  By comparison, in 1978, vinyl sales hit $2.78 billion, according to the RIAA's inflation-adjusted figures.  But that's where predictions get extremely difficult: back in the late-70s, vinyl and 8-tracks were pretty much the only way to listen to pre-recorded music, with digital downloads and streaming unthinkable experiences for nearly twenty years.
Fast-forward to 2016, and studies are now showing that streaming actually helps to propel vinyl purchases, with overall music listening at an all-time high.  All of which makes this market almost completely unchartered territory.