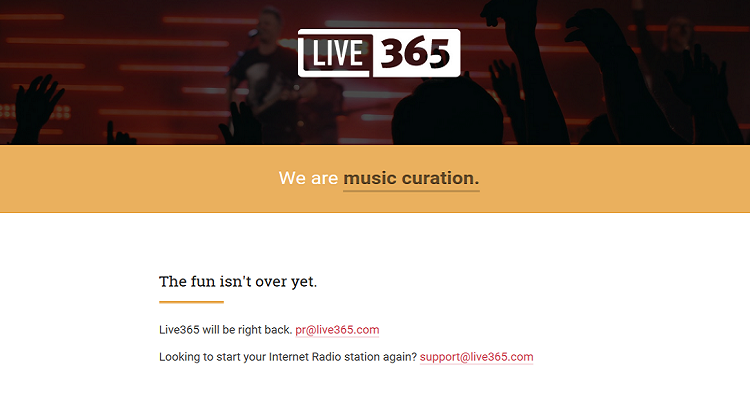 Let's face it. Small webcasting is dead. There's only room now in the market for the heavy hitters of streaming like Pandora, Apple Music, Spotify, iHeartRadio, and many more who are providing standard tech innovations and increasing their market share almost daily. With the loss of companies made to help out the little guy, there's only room to think about what might've been had companies like Live365 survived the Copyright Royalty Board's rate hike.
But wait. Not so fast. According to a rather vague yet auspicious message posted on the Live365 website:
"The fun isn't over yet.
Live365 will be right back."
We reported on Live365's closing earlier this year in January. Due to mounting pressure and costs from royalty rates for online casters, and with the U.S. government heartily denying small podcasters any kind of relief, Live365 had no choice but to shut down, leaving the little guy who sustains an independent podcast out to fend for his or herself against top giants like Pandora and iHeart Radio. Digital Music News readers will remember the U.S. Copyright Office Register's decision to increase the royalty fee of streaming as well as allowing the 'Webcaster Settlement Act of 2009' to expire, effectively forcing mid-sized and small webcasters to pay a per-stream rate of $0.17 cents per 100 streams.
The original Webcaster Settlement Act of 2009 had allowed small to mid-sized podcasters to pay only a small percentage of overall revenue, which allowed them maximize their overall earnings. After meeting with Pandora, the CRB made the decision to increase the rates, with top streaming companies in favor, but that smaller companies against since they wouldn't be able to afford these change in rates.
Live365's site also includes a very warm invitation for former Live365 webcasters to use the service again:
"Looking to start your Internet Radio station again? [email protected]"

[Update] We've reached out to Live365, and they sent us the same confirmation received by RAIN News:
"The only comment we can make at this time is that the assets from Live365 have been acquired and we are still finalizing plans. We will make an announcement with our official plans in the next coming weeks."
Was Live365 bought out? Is a larger company resurrecting Live365 for the little guy? What sort of features are they bringing this time around? How will they keep costs down with the new CRB fees? We'll keep you updated as this story unfolds, with hopefully the official announcement coming much sooner than we thought.