Maybe you need YouTube more than YouTube needs you.
Music videos and music-related video content account for just 4.3% of overall YouTube traffic, according to data now released by San Francisco-based Pexeso.  By stark comparison, gaming-related content accounts for 33.4% of the total, which mirrors the massive draw of channels like Twitch.
Entertainment-focused content also dwarfs music content, according to the data, with an 18.9% chunk.  Random content uploaded by people, bloggers, and YouTube personalities also beat music content, accounting for 14.3% of the pie.  Other categories like Sports and Film & Animation also trump music.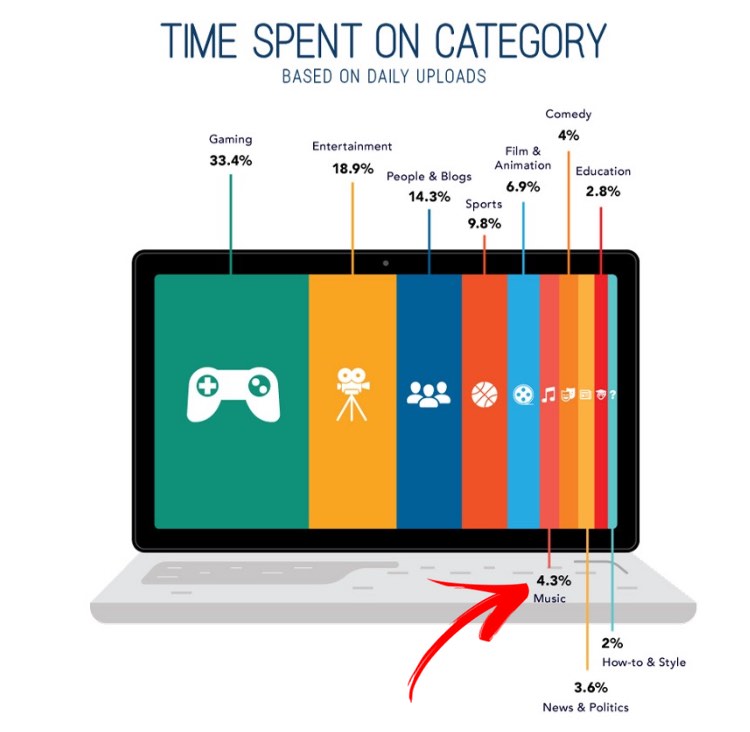 The 4.3 percent figure improves markedly when sliced by views.  That suggests a greater appetite for music video and broader music-related content, based on the typically shorter length of songs.  That said, the shorter length of music videos also introduces issues of lower engagement.
All of that starkly contrasts with earlier research, some of which shows music videos accounting for more than 40% of the total.   That figure has been heavily touted within the music industry, particularly when contrasting volume to compensation.   "Here's a little statistic," former UMG executive (and current Apple Music executive) Jimmy Iovine rattled last October.  "[YouTube] are 40% of consumption of music and 4% of the revenue. That's a problem!"
"They know that doesn't work. But do they care? I have no idea."
YouTube, on the other extreme, recently claimed that music videos account for just 2.5% of the total.  "The final claim that the industry makes is that music is core to YouTube's popularity," the video giant's Head of International Music Partnerships Christophe Muller declared last April.  "Despite the billions of views music generates, the average YouTube user spends just one hour watching music on YouTube a month.  Compare that to the 55 hours a month the average Spotify subscriber consumes."
But perhaps those data points are merely weaponry in a debate over compensation, and ultimately, suspect and unreliable.  Enter a player like Pexeso, which is working to create a video detection and claiming system that functions like YouTube's Content ID, but works for all video online.  Their chip in this game is a bit different, though tellingly, their result is closer to YouTube's than those quoted by the music industry.
Either way, a lower percentage could explain YouTube's inaction against a barrage of music industry complaints.  Instead of dramatically changing its lowball compensation policies towards rights owners, the Google-owned video behemoth has instead fired back with their own statistics.  That includes those tied to Content ID, which YouTube claims addressed roughly 99.5% of all copyright issues.
Images: top pizza slice image by theimpulsivebuy, licensed under Creative Commons Attribution 2.0 Generic (CC by 2.0).  Other images supplied by Pexeso.  
Written while listening to Mozart Piano Concertos Nos. 2 & 17, as played by Ingrid Jacoby.