That time Steve Aoki broke a fan's neck while stage-diving in an inflatable raft…
If you've ever been to a Steve Aoki show, you know there's a lot of high-energy stuff flying around, including (but not limited to) pieces of cake and spraying champagne.  The manic Aoki also likes to dive into the crowd, sometimes — literally — from the rafters, which includes lighting scaffolding, speaker tops, and other elevated places.
Awesome!  Except for that time Aoki landed directly on a fan's neck in 2012, and broke it.  The incident happened to a very unlucky Brittany Hickman, who got straight landed on at the show at the Hard Rock Café in San Diego.
According to Hickman, Aoki started to climb the scaffolding at the San Diego show, proceeded to jump onto a pool raft, and then crowd surfed.  So, essentially, the raft arrived first, then Aoki into the raft (all on top of Hickmans' head).
In an interview with Cristin Severance, she claims that at that moment, she was knocked unconscious and doesn't have any memory of what happened afterwards:
"I came to when one of the people who was working for the Hard Rock was wrapping up my ankle."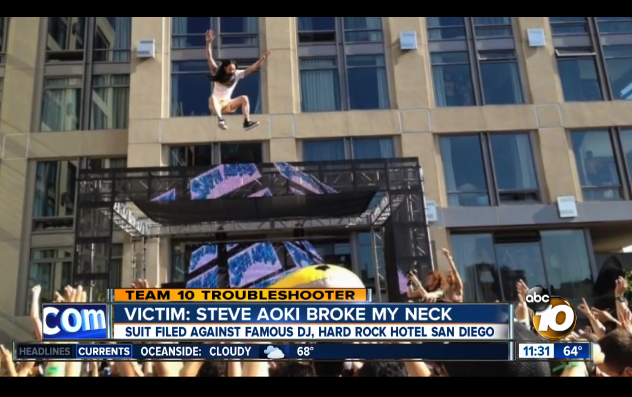 We first reported on the resulting $10 million lawsuit, which was actually directed against Aoki and the Hard Rock Café for refusing to handle the medical bills and subsequent disability period of two months.  Aoki expressed regret that a fan was injured, but declined to say anything else given the ongoing suit.
Once the suit got started, lawyers for both the Hard Rock Cafe and Aoki argued that the fan should have been aware of the pending stage dive, given that Aoki basically jumps into the crowd at nearly every show.
Well, fast-forward to this week, and both Aoki and the Hard Rock Café was just acquitted of all liability by a California jury, who agreed with that argument.  As a result, both Hard Rock and Aoki are now totally in the clear, according to court paperwork shared with Digital Music News this morning, though it's likely that Aoki and various venues may seek to warn attendees (or even get them to sign something) to reduce their liability.
Court paperwork is expected to be filed later today; we'll keep you updated.
Top image by Amnesia Ibiza, taken in 2012 and licensed under CC by 2.0; second a screengrab from ABC 10 TV reporting on the case.