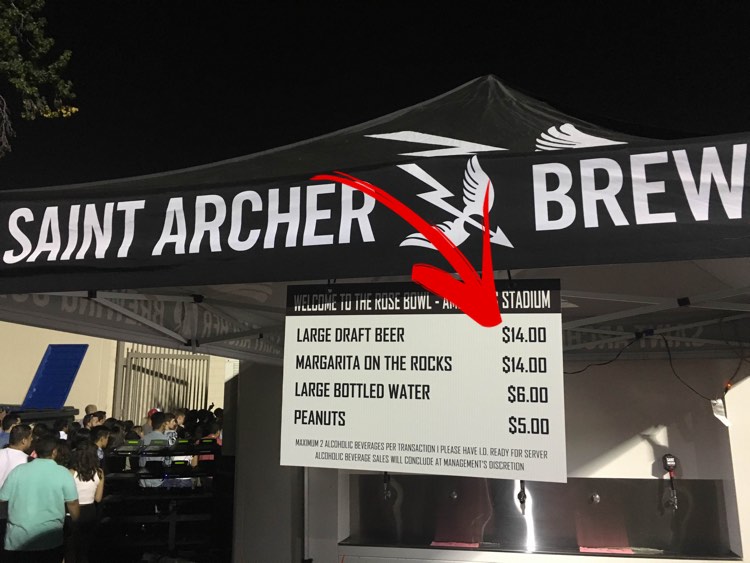 One of many beer stands throughout the Rose Bowl, where Coldplay played back-to-back concerts last weekend.
What's the most you'd pay for a beer at a concert?
During back-to-back, sold out performances by Coldplay at the Rose Bowl last week, beers were priced at an astounding $14, with a $1 discount for domestic brews.  A small plastic cup containing an ice-heavy 'Margarita On the Rocks' was also $14, with a medium-sized bottle of water selling for $6 (with no tap water alternative or water fountains you'd want to use).
I know these details, because we bought all three of those.  Why?  Because after driving, Ubering, and waiting for two hours to get in, everyone wanted to enjoy the show with a brew.  So we bent over, and said 'thank you sir, may I have another!'
And yes, fans in line were openly bitching at how expensive everything was, especially since fans were strictly prohibited from bringing anything inside the Bowl (part of new, stepped-up security, which we'll discuss later).   It's just like the airport, but this time, there's a face that's screwing you: the band you're listening to.
Eavesdropping in line, people were also complaining that the beers weren't even actual tallboys.  Two forty-something fans discussing whether this was a 16 oz. or a 24 oz. can. They were tall, yes, but somehow a step smaller than a full-sized, tallboy can.  Funny, you can't find this fake-me-out size in the supermarket.  Another scam that you didn't realize until you paid $56 for the first round.
And what kind of beer was this?  Nothing was on the sign.  It turned out that 'imported' actually meant 'Tecate'.  Not to rip on Tecate, but when I see 'imported,' I'm usually thinking Heineken, Beck's, or something German.  Nobody was happy, especially dads who had brought their 4+ person families to the show, and had already dropped $400 on tickets, parking, and other unexpected expenses (like t-shirts).  Now, they were about to be called cheap for not wanting to drop $50, $100, or more on snacks and beverages.
And that's how much it adds up to.  While we were tying to find out $80 crappy seats, I saw a guy with a large box of nachos, fries, drinks, and other junk food.  He told me he paid more than $100 for it all.   All of which raises the question:
Are bands like Coldplay burning their fanbases by straight-up gouging them at shows?
Hey Coldplay: just because they'll pay that amount, doesn't mean they're happy about it.  Even worse, they may decide to skip your next tour, for this exact reason.
Now, before you protest that this isn't Coldplay's fault, that it's the same, jacked-up prices at every show, you might want to rethink that assumption.  Consider this: if Chris Martin demanded that every fan have $4 beers and $2 nachos, then every last Coldplay show would have $4 beers and $2 nachos.  But Martin, like everyone else in the band, wants a big, fat check from their performance.  Otherwise, they wouldn't even show up (sorry Coldplay fans, don't take it personally).
And playing a full-blown show at the Rose Bowl, where Coldplay performed last weekend in Pasadena for two nights, is a damn expensive proposition.  There weren't fireworks at the end — there were fireworks at the beginning, and middle, and end.  There were multiple stages, including a long, extended catwalk, and all sorts of video montages and presentations.
They even gave every attendee a wristband with multi-colored lights inside, with every last one synchronized remotely to create blinking effects (that was pretty cool).  The crew on a tour this size is so big, they even run credits at the end of the show, just like a major motion picture.
But does any of that justify $14 beers, $14 margaritas, and $6 water bottles?
Maybe that's not such a good idea.  Sure, Coldplay is actually one of only a handful of bands that can fill a full-blown stadium like the Rose Bowl for two consecutive nights.  But Americans aren't as rich as they used to be, they're noticing the price and thinking about the grand total while sitting in traffic, trying to leave the stadium.
You may never see a lot of those people again, Chris.