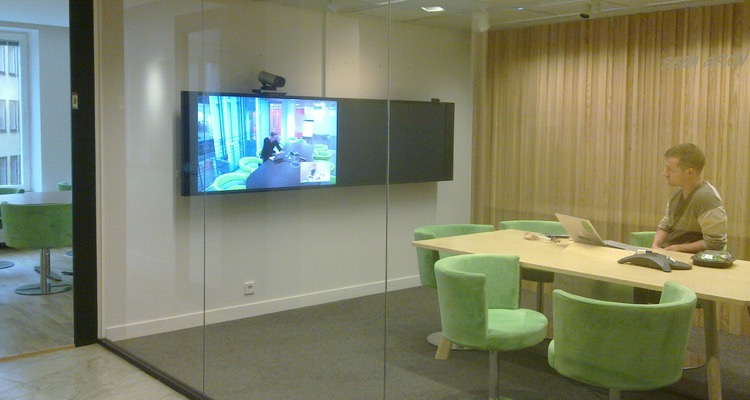 Spotify employees videoconferencing from Stockholm headquarters.
Spotify's paid subscriber tally is rapidly approaching the 40 million mark, with an official figure of 39 million now shared with Digital Music News.
Spotify has now reached 39 million paying subscribers, a strong milestone that helps to validate the controversial 'freemium' business model.  The threshold, shared with Digital Music News this morning ahead of a broader announcement, has been fueled by heavy discounting for new (and returning) subscribers, including a three-month, $9.99 introductory deal.
The development is a huge one for Spotify, especially given intense competition coming from Apple Music, not to mention other rivals like Tidal, Deezer, and even YouTube.  Back in March, Spotify had 30 million paying subscribers and 100 million total users, suggesting that Spotify is now in the neighborhood of 125 million total users.  But paying subscribers are the most important metric for the music industry, with Spotify boosting its paying userbase by an astounding 30+% in just 6 months.
If that doesn't jump off the page, perhaps this graph will.
Maybe this game is going to be harder than Apple thought.  At last count, the paid-only Apple Music had 15 millionth subscribers, as first reported by DMN in mid-June.  At a pace of roughly one million paying subscribers per month, that puts Apple Music August total in the 17-18 million range, and possibly higher.  Not too shabby, especially without a free tier, though it's still less than half of Spotify's new total.
In terms of grand announcements, Spotify may opt to wait before announcing its 40 millionth paid subscriber in September.  Either way, Spotify is still effectively double the size of Apple Music, despite substantially lower marketing budget and a lack of high-profile artist exclusives.
The day exclusives died.
Speaking of which, it now looks like Apple can shelve its ultra-aggressive strategy of pulling superstar exclusives, a critical part of its high-budget growth strategy.  In an email leaked by industry analyst Bob Lefsetz earlier this week, Universal Music Group chief Lucian Grainge is now shelving all streaming exclusives, a move that closely follows a disastrous exclusive involving Frank Ocean.
In that unfortunate imbroglio, which is still ongoing, Ocean released a pair of albums in succession, with massive piracy and illegal copies available for days across Google Drive, SoundCloud, and Dropbox.  Strangely, neither UMG (owner of the first album) nor Ocean (owner of the out-of-contract second album) seemed to be policing the illicit uploads, with Apple itself ultimately threatening Digital Music News for covering the disastrous situation (more on that later).
DMN, and later Bob Lefsetz, have become sharply critical of streaming exclusives for punishing paying streaming subscribers and fueling piracy.  Indeed, for an industry struggling to get fans to actually pay for music, exclusives are strikingly counterproductive strategy given that most people subscribe to a maximum of one streaming service (if they're subscribing at all).  If all of those services — whether Spotify, Apple Music, Tidal or whatever — have gaping content gaps, based on a fragmented landscape of exclusives, then consumers could easily feel shortchanged and alienated.
Spotify's Other 99 Problems: Major Labels, Wall Street, Goldman…
The threshold is great news for Spotify, though this is a platform struggling to advance to the next level.  Enter difficult major labels, who collectively claim massive ownership shares in the platform but remain unwilling to extend longer-term licenses.  Indeed, Spotify is now rumored to be negotiating for extensions within limited, month-to-month arrangements, a situation that has deeply cooled enthusiasm among Wall Street investors.
+ Spotify IPO 'On Hold' as Major Labels Refuse Long-Term Contracts
Currently, there's no date set for a Spotify public offering, though investors like Goldman Sachs are ticking up interest rates on a recent $1 billion loan to the streaming giant.  Those rates will continue to climb the longer an IPO is delayed, according to loan terms shared earlier this week.
More as this develops.
Written while listening to Lindsay Sterling's latest, 'Brave Enough.'  Go check it out, it's not bad!  Other stuff: top image by Jon Åslund, CC by 2.0, middle image by DMN.