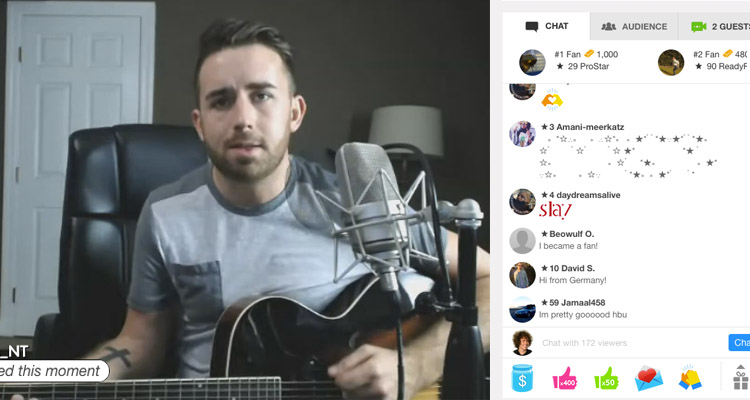 A couple weeks ago I profiled Clare Means who more than doubled her income simply by live streaming her street performances on Periscope (by including PayPal.me and website links in her profile to accept tips / offer merch).
As the most popular live streaming app on the market, it seemed that Twitter-owned Periscope had figured it out. And that musicians should take advantage of it.
+ How a Singer/Songwriter Doubled Her Income From Periscope
But there are many shortcomings in Periscope's ability to help musicians' bottom line. For one, there are no in-app tipping or other monetization features. The only way to leverage your Periscope followers into customers is by including a link in your profile. Fans have to leave the broadcast to take action and complete the transaction – missing a good chunk of the artist's show.
But it's better than nothing, right? Sure. Or so I thought.
It all started with one of the emails I got in my Promotions folder in my Gmail. I'm subscribed to so many damn eblasters, that I rarely get to them all. But this one, from the fan-survey app, AudioKite, caught my eye because it discussed live streaming. AudioKite surveyed 4,000 music fans on what they thought about music broadcasters on YouNow. The report also mentioned that one musician was earning $10,000 a month on YouNow. YouWhat? Wasn't that the teeny bopper live stream app? Does anyone over the legal drinking age actually use it?
+ How to Objectively Pick Your Best Songs (Or Find Out If You Just Completely Suck).
Well, it turns out that not only do people of all demos use it, musicians are earning serious cheddar on it. And some are getting signed to labels because of it.
I promptly downloaded the app and started exploring.
And then I got it.
My head started spinning as I realized the endless money-making possibilities for musicians. I landed on a gal (Diana Jang, 38,000 fans) trading off between acoustic guitar and keys, singing beautifully into a Nady SCM 800 mic (with a popper stopper). Her kitty (Meiko) ran across her bed behind her while fans in the comment box shouted out almost simultaneously "Cat!" Then she picked up her feline baby and helped her play chopsticks on the keyboard. Then someone tipped her 1,000 "bars" (YouNow's currency). Someone requested Death Cab and she promptly went into "I Will Follow You Into The Dark" / "First Day Of My Life" (Bright Eyes) medley. Hand-heart stickers followed.
I swiped right and there was a split screen of a dude with a giant beard and sunglasses singing "Say Something" from his home studio (on the right side of the screen) while another guy (OneKeyUp, 54,000 fans, 6.2M total views) accompanied him on keys and harmonica from his bedroom (on the left side of the screen). Then beard man broke into Michael Buble's "Sway" while OneKeyUp danced around his room with various items like a Swiffer mop, a giant painting and a flower pot.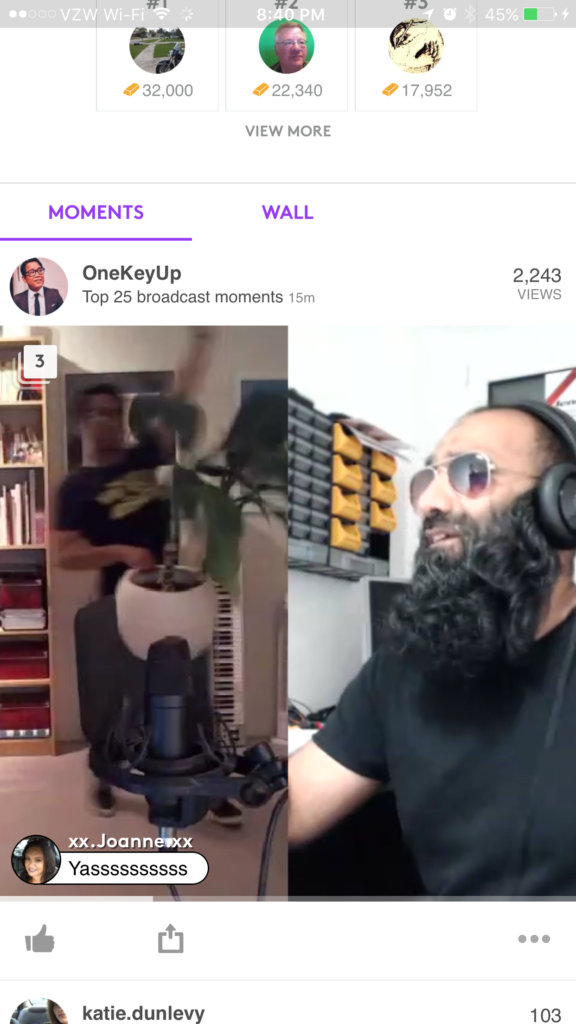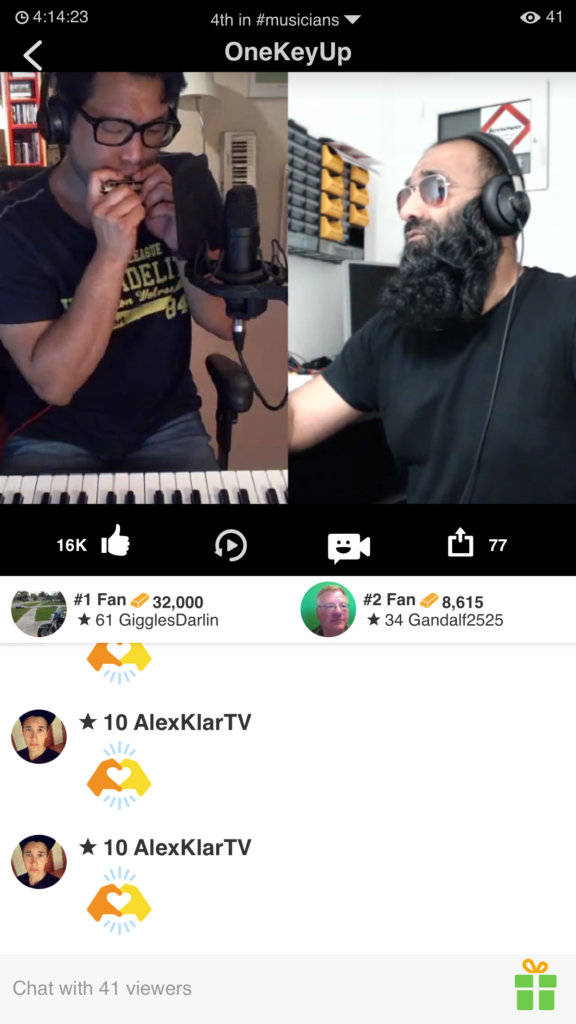 I watched Emma McGann (133,000 Fans, 6.7M total views) get caught up mid song because a moth flew into her mouth. Everyone joined in her hysteria via the chat box. But they flooded her with bars, Like-bombs and stickers.
And then after a few minutes of closing the app, I got a push notification that Brent Morgan (128,000 fans, 7.6M total views) was live. I quickly jumped back on. Why? Because this was the $10K/month man himself. I had to see how he did it. But I was somewhat dumbfounded when a couple hundred viewers and I sat with Brent in his car while he simply chatted with fans. Nothing fancy. Not much singing (other than a little jingle he made up on the spot for someone who invited her followers to Brent's broadcast- "Cookie thank you for the invite, oh cookie, and a booty and a booty…" I'm not exactly sure what he meant by "and a booty" but I think it was a tip. Or a special sticker that I missed in the chat window…?
Every broadcast I've browsed in the past few days since discovering this rabbit hole was simultaneously incredible and ordinary. Wondrous and boring. Magnificent and underwhelming.
But every broadcast was raw. Real. Authentic. And in real time. And every broadcaster interacted with viewers who were commenting, liking, tipping and posting YouNow-custom stickers.
I Skyped with Brent Morgan from his apartment in Huntsville, Alabama in between broadcasts yesterday to get a better idea of how he became so successful on the platform. He was one of the early adopters of YouNow back when it was a completely different live streaming app four years ago. He tried it out, didn't really get the appeal and left it. But he poked in and out over the years checking the updates and experimenting. He became an official YouNow partner when they launched the program two years ago (more on this in a bit) and started daily broadcasting about a year and a half ago. Now he broadcasts twice a day – usually at 9am and 1pm central time. Most of his broadcasts are from his home studio where he sings through an M149 mic ($5,000 mic) which he runs through an Apogee Quartet, then into Logic. And he video streams via a Logitech HD USB webcam ($35). Each broadcast lasts about 2.5 hours. Twice a day.
Brent started his music career by winning over $250,000 in jingle writing contests for Petco, The Today Show, Folgers, AT&T and others.
Now he writes spontaneous jingles for fans who tip him bars on YouNow. During these broadcasts he trades off playing originals and covers. He will be releasing his first single "Miss Behave" independently (via Tunecore) in a month or so. I got to hear the tune and it's pop gold. A mix between AWOLNATION, Imagine Dragons and Justin Timberlake. Don't be surprised if you start hearing this song in movie trailers or taking over the airwaves in the coming year.
"YouNow has opened every single door for me" – Brent Morgan
This past year Brent visited VidCon in Anaheim. The conference bills itself "For People Who Love Online Video." Nearly 20,000 fans of internet personalities – and those aspiring to be internet personalities – attended the conference to meet their favorite (internet) superstar (from YouTube, Vine and, now, YouNow).
"It was fun meeting people (at VidCon) that I felt like I already knew" – Brent Morgan
I also Skyped with Emma McGann from her home studio in Wantage, England. She uses a Black Magic cinema camera ($2,000 camera) which she runs through Vmix with a Rode K2 mic ($700 mic), into ProTools – for her home-studio music broadcasts. She has 133,000 fans, but most broadcasts only a few hundred people are tuned in at any given moment. Like Brent, Emma trades off playing originals and covers while of course interacting with commenters in real-time. Mid song she gives shoutouts to people who tip her "Thanks ReadyRatty for the 1,000 bars!" 1,000 bars is equivalent to about $10 (charged to the fan, $4.20 makes it way back to the broadcaster – more on this in a bit). One of Emma's broadcast's that I tuned into, ReadyRatty tipped her 5,000 bars (nearly $50) within the first 20 minutes.
ReadyRatty (Emma's "#1 Fan" (which means top tipper) for the broadcast I tuned into) is also a Subscriber of Emma.
YouNow Subscription
Partners on YouNow have the option to open up subscriptions to their fans. For $4.99 a month fans get an exclusive sticker (an animation of the broadcaster) to post in the comment box, 20 on-screen messages/month + priority chat, access to a subscriber only chat and access to watch all replays. Currently on YouNow, once a broadcast finishes, it's unavailable to watch again (talk about FOMO) – unless, of course, you're a subscriber – then you can watch them whenever you want.
Emma told me that she is making about £2,500-£3,000 (or about $3,310 – $4,000) a month on YouNow. Even though she has more fans than than Brent, she has fewer Subscribers.
Subscriptions on YouNow are standardized. You can't change subscription levels or offer custom exclusives (like you can on Patreon or BandCamp).
Fees
There are hefty commission and transaction fees taken out before the money actually reaches the broadcast partner. Because YouNow works with in-app purchases (for digital goods, i.e. "bars"), Apple and Android take their 30% cut right off the top. After that, YouNow then takes a 40% cut.
So, if a YouNow partner gets tipped $1,000 from their fans, they really only get $420 ($1,000 – 30%, x 60%). The broadcast partner is really only getting about 42% of each tip.
Contrast that with how Clare Means operates on Periscope. When Clare gets tipped $1,000, she earns about $970 (after PayPal's 3% transaction fee).
Busker vs. Periscope vs YouNow
And also contrast this with Busker – the newest live streaming app on the market.
Busker was launched in April of this year and already has 30,000 users on the service. I spoke with the co-founder and CEO, Lippe Oosterhof. He also lives in LA, but it's LA and there's traffic, so we spoke over the phone. He made sure to point out the biggest differences between Busker and YouNow – such as the commission. Broadcasters on Busker ("Buskers?") make 85% of the GROSS. Since Busker isn't selling "digital goods," the hefty Apple transaction fee is waved. Apple doesn't charge the 30% fee if the app sells services or hard goods. It's how Uber, Ebay and Etsy are able to get around the 30% fee.
How Much Do You Make On Busker, Periscope, YouNow?
Busker
You make 85% of gross
Periscope
You make (about) 97% of gross (via PayPal link)
YouNow
You make (about) 42% of gross
It may be hard for musicians to justify only 42% of their fans' tips actually reaching their pocket, until you understand the appeal of YouNow. Fans aren't just tipping their favorite musicians out of the goodness of their hearts or because they really dig the music. Every bar they tip, every sticker they post, every broadcast they watch, every coin they buy, increases their status on the app. They jump levels, earn crowns, badges and stickers. So, YouNow isn't just a live streaming app with a tipping feature, it's a fully interactive, live streaming gaming experience. And you're paying the premium for the enhanced experience.
Emma mentioned that she tried Periscope, but she didn't dig the design of the app as much and found there were fewer ways to interact with fans. She very much latched onto all of the interaction possibilities of YouNow.
Busker doesn't have its own currency or weird conversion rates (or fun stickers). Users add a credit card or PayPal to their account, load it up with money (like you refill your Starbucks card on the Starbucks app) and then the user can tip any broadcaster a dollar amount ($1, $3, $5, $10 or $20). A user can tip the broadcaster unlimited times during the broadcast.
Busker will be rolling out a store feature for broadcasters to sell merch, tickets, CDs or anything else they'd like to sell – directly within the app. Users can tip and make purchases without having to leave the app. YouNow, on the other hand, doesn't allow broadcasters (partners or not) to add a clickable link to their profile (on mobile), in effect removing musicians' ability to offer merch or tickets at will. YouNow does allow partners to list offers (like tickets) on screen in the form of drop down cards. But this has to be approved and setup directly with YouNow – much less streamlined than on-demand ticket/merch/crowdfunding offers.
Emma has her latest YouTube video URL listed on her profile, but unfortunately it is unclickable on the mobile app.
Unlike YouNow, anyone can sign onto Busker today and start accepting tips. The only people who can accept tips on YouNow are "partners" – which are vetted and accepted by YouNow. Anyone can apply to become a partner here.
But because Busker is so new, it's much more difficult to be discovered and build a random fanbase in-app. It currently only has about 30,000 users. YouNow boasts 150,000 broadcasts a day with 100 million user sessions a month. YouNow didn't reveal their total user numbers or monthly active users. Periscope hasn't released any public user numbers in about a year (it launched March 26th, 2015), but people land on random streams much more frequently on Periscope, it seems, than Busker.
"Give it a few more months and you'll see that earnings of top performers on Busker will blow those on YouNow out of the water." – Lippe Oosterhof, Busker CEO and Co-founder
Like StageIt and ConcertWindow, Busker is currently best for musicians that bring in their already existing fanbase – not get discovered on the platform. But Lippe hopes this will change very soon as more users sign up. I spoke with both Clare Means and internet personality/musician/all around badass creator Ali Spagnola (3M Twitter followers, 620,000 Vine followers / 35.5M loops, 48,000 YouTube subscribers / 5.7M views, 45,000 Instagram followers and a boatload of Snapchat followers/views) who both use Busker fairly regularly what their experience has been with it. Clare acknowledged that the majority of her viewers on Busker came from Periscope initially, but she does appreciate the streamlined tipping functionalities. She also appreciates that there aren't any trolls on Busker (yet), like Periscope.
"You can come on YouNow and there will be an audience waiting for you." – Emma McGann
That being said, because Clare invited her Busker followers to watch Calvin Thomas last night (via the "invite your followers" feature), I got a push notification to tune in (because I follow Clare). I tuned into Calvin's broadcast, dug what I heard and tipped him. Bam. Connection made. So there's that.
Ali Spagnola uses Busker as more of a fan engagement outlet. She's not as interested in earning money from live streaming (at least not yet), but rather using it to engage her fans in a different way. Currently she broadcasts herself painting while she chats with her viewers. Ali has a strong handle on multiple platforms and is simultaneously building her following across all mediums – something quite unique in the internet age. I don't know when she sleeps, but she convinced me she is, in fact, human, and sleeps human amounts of time.
YouNow has a nice tagging and leaderboard feature. You can browse the top "#musicians" or "#singers" at any moment on YouNow (Brent always broadcasts under #musicians while Emma broadcasts under #singers) as well as the top overall broadcaster of the moment. (Real-time charts are based on Likes – and remember, users can Like bomb you with 400+ Likes at once – for a price).
Periscope's tagging and filtering options for musicians are limited to the #Music hashtag (which is quite buried in the search bar – and as I'm looking at it now, there are currently only 66 total broadcasts (worldwide) with the top broadcast having only 10 viewers). Periscope does have a main Map (where you can bounce around the world to see broadcasts by geographic location) and the List feature, which seems curated by Periscope editors. YouNow's filtering and tagging are by far the most advanced.
It's worth mentioning that the video game playthrough live streaming app, Twitch.tv (now owned by Amazon), is starting to expand into the music vertical as well and similarly offers a $4.99 subscription feature (and tipping option).
You currently can't broadcast from your desktop on Busker (so you can't setup great sound and audio like Brent and Emma do on YouNow). But Lippe assured me this is changing very soon.
And one of YouNow's coolest features is "Guesting." Where any broadcaster can pull in a viewer who signs up in the Guesting queue. The broadcaster's screen is split and now they can have a public conversation or the broadcaster can showcase the viewer's talent.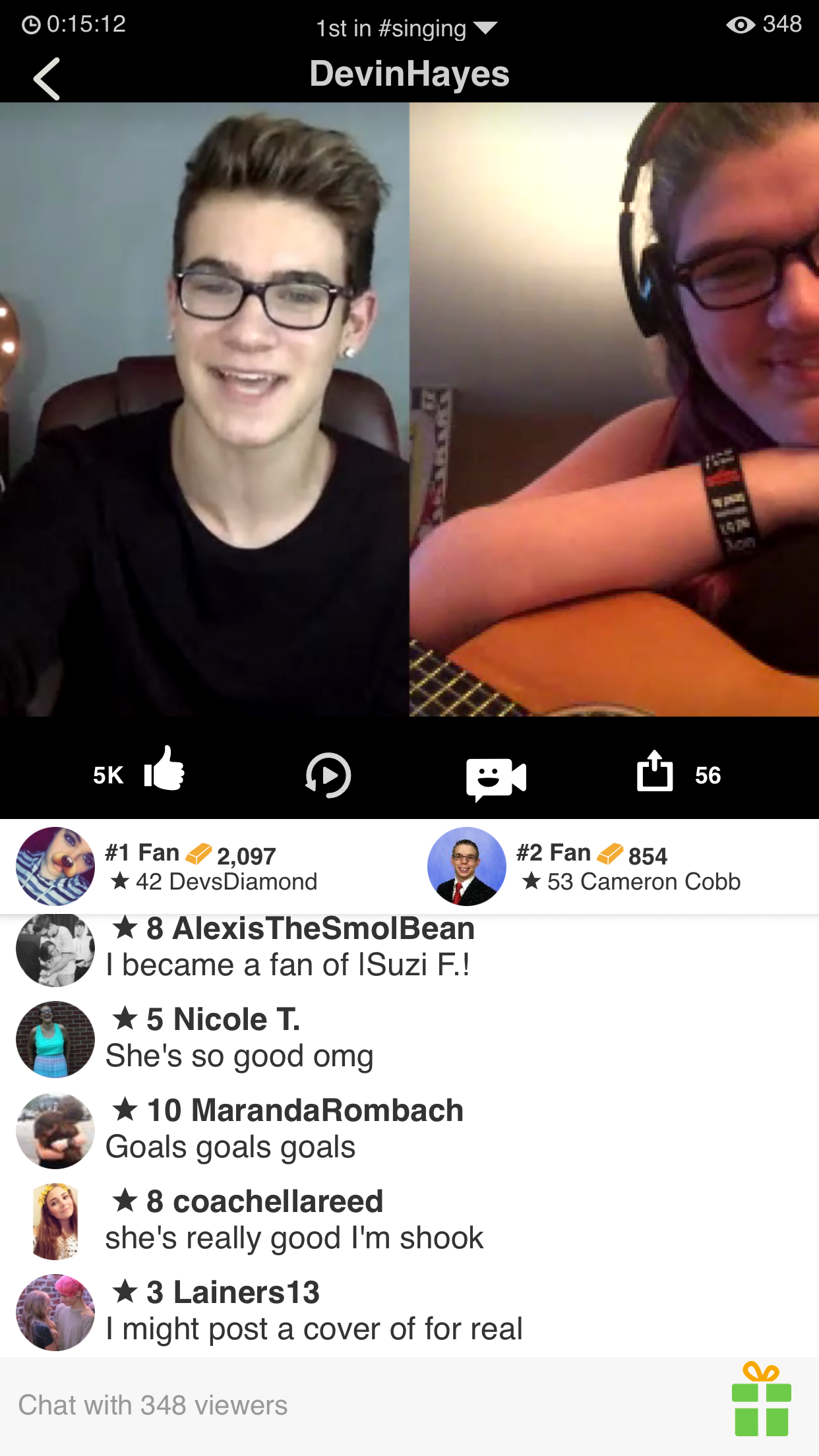 Emma and Brent both mentioned that they are developing shows around this feature. Open mic style.
However, AudioKite's study did reveal that the 4,000 random fans surveyed didn't really dig Guesting. But, I don't think this was necessarily a fair assessment because random users were shown "YouNow clips." They had no emotional connection to the broadcaster.  And really, at the end of the day, that's what live streaming, hell, a modern music career is all about: the emotional connection.

The way to make it in the new music business is to learn all of the tools available to you, understand who your target demographic (fan base) is, and master the platforms that fall in line with what you're trying to do.
And don't feel like you have to master every platform. Sure, Ali is a freak of nature and somehow has figured out how to be amazing at YouTube, Snapchat, Vine, Twitter, Instagram, Facebook and now Busker. How do you do it Ali?! How?!!!?! But even though Brent Morgan has 128,000 fans on YouNow, he only has 720 Likes on Facebook, 5,000 followers on Instagram and 8,800 subscribers on YouTube.
Master your one. And once you have, then get those fans to follow you everywhere. Better yet, get them on your email list so you own them. You rent your fans to social networks, you own their email addresses.
Live streaming isn't for everyone. But if you see it as something that inspires you and will excite your fans (or help you build a fanbase), then I strongly encourage you to hop on this train now – before it's too late.
Bands Use It Too
If you're not a singer/songwriter, that's fine. I tuned into The Catching's broadcast where they played a few acoustic songs and chatted with fans in advance of their new single release.
Hip Hop?
So far there doesn't seem to be much (any?) hip hop on YouNow or Busker that I found. If you're a hip hop artist, be the first (best). Since freestyling is a time honored hip hop tradition which is usually mastered by some of the best emcees, if this is one of your specialties, make up freestyles on the spot for top tippers or regular fans. Who is going to be the first breakout hip hop live streaming star?
YouNow Skews Young and Female
It's worth mentioning that YouNow's current user base is 75% 14-24 year olds and nearly 57% female. If you have a hard time relating to this demo then this may not be the platform for you.
How To Live Stream Like a Pro
Ok, now I know you're probably overwhelmed. And many of you have stopped reading. But for the diehards who are actually thinking about giving the live-streaming thing a go (and I STRONGLY encourage it), here are some tips that Brent, Emma and Clare shared:
Consistency
The number one thing Emma, Clare and Brent mentioned (and stressed) was you must be consistent. Broadcast every day if you can, or at a very minimum once a week. Make sure people know that you're going to be on it regularly. Again, Brent broadcasts twice a day and Emma usually does 2-3 a day. Clare also broadcasts multiple times a day – sometimes for 4 hours straight.
Be Unique
Don't sing jingles for tippers. That's Brent's thing. And he's a master jingle writer. What's going to be your thing? The more unique you are the more loyal your fans will be.
Quality
You don't need a $5,000 mic or a $2,000 camera run through a $500 DAW, but invest into your setup. You need to make it look and sound good. You can buy the camera Brent uses for $35 on Amazon. You can buy a great condenser mic for under $300 at Guitar Center (like the Bluebird by Blue, ST59 by Sterling Audio or the NT1A by Rode). Most of the top live streamers use decent mics. Some use fancy cameras, but many just use the built in webcam on their laptop.
Pay Attention To Your Frame
Set up the shot to make it look good. Emma said that people notice and comment on absolutely everything that is in the shot. So make everything in the shot look good. Or at least clean. If you're broadcasting from your room, make your damn bed!
Don't Beg
People will tip you because they enjoy what you're doing and like the experience you have created for them. They aren't going to tip you because they feel bad for you. Come up with your own thing that you do when someone tips. A shoutout is the bare minimum. Brent sings their name in a jingle sometimes. You could write their name on a board. You could sign their name. Just come up with something that shows that you noticed the tip and that they're not just watching a recording.
Community
YouNow, Periscope and Busker are communities and should be approached as such. Don't think of them as live streaming apps for you to get something from your fans. Or simply to make new fans. If you want to succeed on the platforms you should be an active member of the community. Watch other broadcasts. Tip other musicians. Like, comment, post stickers, level up. It was great to see that the top tipper on one of the broadcasts I tuned into was fellow YouNow musician OneKeyUp (who had tipped over 25,000 bars).
Interact
And most importantly, interact with your commenters. Respond to as many comments as you can. Show your viewers that you see them. That they're not just watching a recording. Most musicians take requests and if they play the request, more times than not, they get tipped (piano bar style). But that doesn't mean that you have to take requests. How will you structure your live streams? What is going to set you a part? Clare live streams her street performances and plays very few covers. She's built up a fan base just around her originals. Emma, Brent, Diana and OneKeyUp play mostly covers. What is going to be your thing? How will you engage and entertain your live audience?