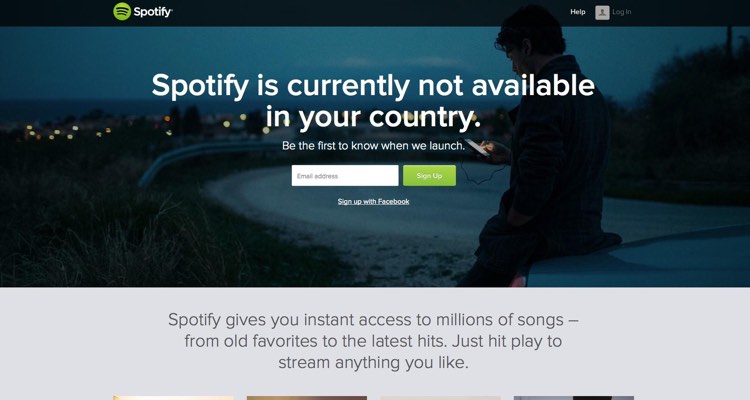 Spotify isn't licensed to operate in Russia.  So why is it so easy to use Spotify in Russia?
Spotify isn't legally licensed for music fans in Russia, thanks to a number of complicated licensing circumstances.  That includes a complex rights environment, though last we heard, Spotify opted to pull out of Russia last year based on economic instability.  That sounds fair: after all, country launches are expensive and time-consuming for streaming services, and Spotify has yet to launch anywhere in Africa, not to mention critical Asian countries like China, Japan, and Korea (here's a list of currently-available, licensed countries).
Now, fresh questions are surfacing over whether fans in supposedly 'unavailable' countries are actually accessing the service with ease.  Just this morning, a DMN reader living in Russia showed us just how easy it is to access Spotify in Russia.
Take a look:
Basically, this is dead simple.  Just go to open.spotify.com or play.spotify.com, then pick your favorite artist, song, or playlist and go.  It's all right there, ready to go for anyone with a broadband connection.
All of which raises the next question: is anyone getting paid for this?  After all, if Spotify isn't licensed in this territory, none of these royalties are being collected by Russian labels, publishers, PROs, or other royalty groups.  And if they are getting paid, who's collecting on those plays?
Those questions now apply to other unlicensed countries, where the exact same workarounds might be happening.  So far, we've only seen this in action from Spotify in Russia (but please share if you're in another unlicensed part of the world).
And, for additional proof that this user is in a 'blocked' country, here's the screenshot of the email itself (DMN is in California).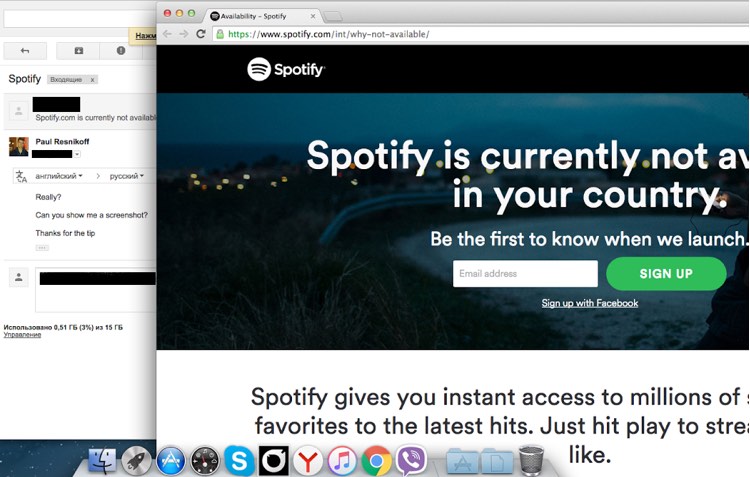 Cover image of the Kremlin shot by John Perry, licensed under Creative Commons Attribution 2.0 Generic (CC by 2.0).