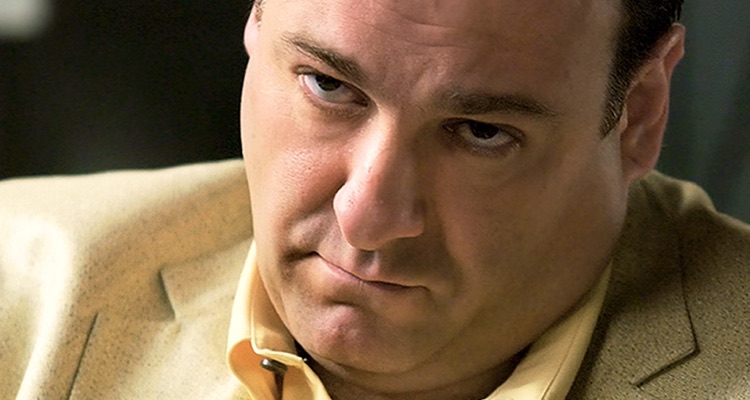 If Spotify crashed tomorrow and couldn't deliver a single song, they'd still own more than $1 million in guaranteed payments to three major recording labels, according to financial data just published.  Welcome to the murky — and extremely expensive — world of major label advances.
On-demand streaming services Spotify, Apple Music, Tidal, Deezer, Rhapsody, and others collectively paid nearly $1.6 million in guaranteed payments a day to just three major recording labels last quarter.  Total 'minimum guarantees' topped $144 million over the 91 day period, a figure that likely doesn't include preferred advertising inventory and other juicy perks.
That is on top of royalties for actual plays, which more than quintupled that figure.
Who says tech has all the power?
Benefiting from the guaranteed payments are Universal Music Group, Sony Music Entertainment, and Warner Music Group, a trio now wielding massive power over the fate of companies like Spotify.  Massive royalty burdens are a major reason why Spotify has been unable to initiate a public offering, or IPO, on Wall Street, while smaller players like Rhapsody and Deezer have long struggled to gain economic stability.
The data on advance payments comes from industry analyst Mark Mulligan of Midia Research, who pored through company reports, filings, and other data to triangulate the figures.  Over the course of three months during second quarter of this year, guaranteed payments topped the impressive $144 million threshold, according to the figures.  On a total of 91 days, that breaks down to a heavyweight $1.55 million daily in fixed, non-negotiable obligations.
Overall royalty payments to the three major label groups topped $918 million during the period, bring the overall per diem to $10.1 million.  That may be seriously crowding growth for the streaming sector, with Spotify paying out 82% of its revenues for royalties.  "Spotify states rights payments are 70% of its revenue though its 2015 accounts show royalty payments as 82% of revenue due in large part to advanced payments," Mulligan noted.
"Using this benchmark advanced payments represent around 16% of all label payments."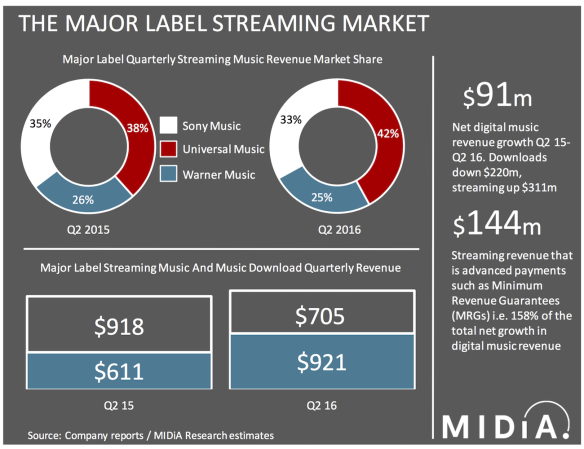 Stepping back, the transition towards streaming is looking pretty good for the majors.  During the second quarter, streaming revenues topped $921 million, up 33.1 percent, with download revenue shrinking to $705 million, or 23.2 percent.  That produced a net quarterly gain of $91 million, or a reasonable 6% year-over-year jump.
Of course, an emphasis on streaming is having a downward impact on paid downloads, with double-digit declines in 2016.  The downward spiral has forced Apple to actively consider phasing out all music downloads in the near-term, something the company denies despite aggressive moves in that direction in countries like South Korea.