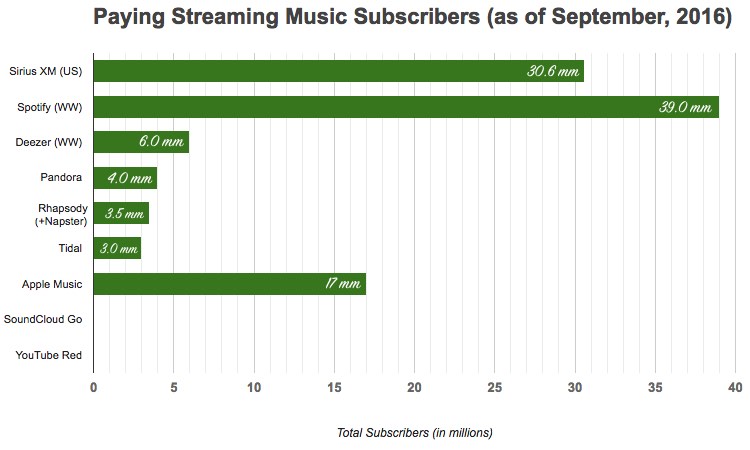 There are now more than 100 million people paying for streaming music services, with Spotify is easily leading the pack.  When will the industry hit 500 million?
Streaming music services collectively crossed the 100 million-mark this month, with Spotify, Sirius XM Radio, and Apple Music driving more than 85% of the total.  Just recently, Spotify executive Troy Carter revealed that Spotify had crossed 39 million paying subscribers, a figure that more than doubles Apple Music's estimated 17 million.
Officially, Apple last disclosed 15 million paying subscribers, though at a rate of 1 million new subscribers per month, their current estimate lands at 17 million (and probably, more).
Sirius XM Radio, meanwhile, has been steadily racking up streaming radio subscribers.  Amidst improving financials, the satellite radio giant disclosed 30.6 million paying subscribers during a recently quarterly announcement.
Others, like Tidal, Deezer, and Napster, are all contributing low-millions, with Tidal reportedly pushing past the 5 million-mark (though its most recent disclosure was 3 million, with 1.5 million paying for hi-fidelity premium plans).  SoundCloud Go and YouTube Red have yet to share any subscription totals, and it's unclear whether either service is managing to convert substantial paying subscribers.
In total, there are approximately 103.1 million people paying, worldwide, though we're guessing there are some smaller groups we may have missed.  That raises the distinct possibility that streaming music services could reach the 200 million threshold as soon as 2017, with bigger numbers like 500 million attainable by 2020.
Already, the industry is starting to consider shutting down free streaming, though 100 million could be a premature threshold to flip the switch.  "If we have 100 million or 200 million paying subscribers, then you can probably afford to move away from ad-supported," Emmanuel Zunz, CEO of digital music distributor oneRPM recently told Digital Music News.  "At a certain point you can afford to shut it off, you can afford to say, 'okay, no more free streaming'."
"There's a point, where is that point exactly? If you reach that inflection point, maybe it's 200 million, then things start to move exponentially towards 500 million."
Zunz is strongly bullish on streaming's long-term potential, though others have discussed the 'shut off point' as well.  That includes Sony Entertainment chief Michael Lynton, who recently confirmed that free has a sunset.   "I think it stops probably when you get over a — I don't want to say the number, but… many, many-fold bigger than what we have in the current paying subscription world," Lynton told Re/Code earlier this year.