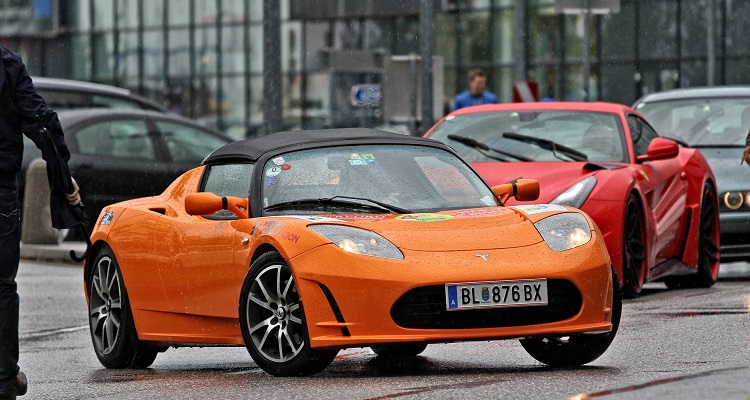 Back in December of last year, Tesla had announced that it would be providing voice-controlled access to Spotify's streaming platform right from your car.  While European Tesla vehicles have been able to enjoy the feature, it's been noticeably absent here in the States.
Well, not anymore. Sources close to the company have told Electrek that Tesla will soon surprise U.S. Tesla owners with Spotify integration as well.  Specifically, it will be available on U.S. models S and X.
Software snoopers have been able to see Spotify login information in Tesla's in-vehicle software source code.  It's not known yet, however, if Spotify will be fully integrated with the release of Tesla OS 8.0. However, Electrek speculates that since Spotify has been integrated in Europe since last December, the company may not have to test out the software in external beta tests.
So what features will Spotify have? Checking out the European side, you can expect to find the following available in your Tesla soon:
The ability to connect to other devices.
You can also switch between multiple Spotify accounts so family members can have access to their own Spotify.
There'll be voice commands so you can listen to albums, artists, songs, and even playlists from Your Music
You'll also get personalized recommendations that are specific to each journey, and evolve over time as it learns your preferences.
Here's the catch, though: Just like in Europe, you'll need to have a Spotify Premium account to unlock all of the features in your vehicle.
The question that does need asking is, 'why is Tesla still so late in bringing Spotify to the States?' 1 Red Drop has a very clear answer.  In Europe, Tesla had partnered with Rdio to provide music streaming to its vehicle owners.  However, Rdio went bankrupt, leaving Tesla without a streaming service.
In a mad dash, they reached a deal with the Swedish streaming service to fill the gap.
Tesla image by Lummi Photography, licensed under Creative Commons Attribution 2.0 Generic (CC by 2.0)