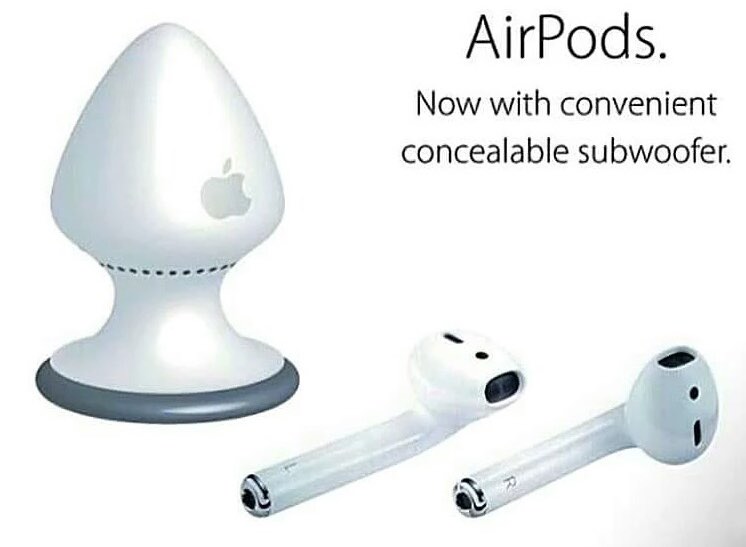 You might lose an AirPod.  But thanks to this handy Bluetooth-enabled subwoofer accessory, you'll never lose that bass.
Apple's AirPods are getting panned for lacking the bottom-heavy bass that music fans love.  But innovative accessory developers are now stepping in, with a myriad of new products already hitting the drawing board.
That includes feverish work on a wearable, Bluetooth-enabled 'iPlug' subwoofer accessory, one that promises to deliver that bottom-heavy bass that earbuds typically lack.  According to concept inventor Walter F. Rodriguez, users will enjoy non-stop subwoofer bass, wirelessly pumped where it matters the most.
Rodriguez first conceptualized the AirPod subwoofer while hungover on Photoshop, then posted it on Facebook.
But wait: what if you lose your AirPod subwoofer accessory? Last week, signs started appearing around Brooklyn for a lost AirPod, in anticipation of the near-certain problem of missing AirPods.  Guess that was another ironic Brooklyn jokester, though Rodriguez assures users that they definitely won't misplace this.
And if they do, they should probably go to the emergency room.
As attention escalates around his groundbreaking accessory, Rodriguez is keeping a lighthearted perspective.  "And you thought you were fucked when they got rid of the ubiquitous headphone jack!" Rodriguez exclaimed.
Actually, some other accessories are equally laughable, but real.  That includes an attachable 'AirPod Strap' to prevent people from losing their AirPods, which we thought was a scam but turned out to be real.  In other words, an outside company is already fixing a glaring design flaw in a near-$200 purchase.  And all for an iPhone 7 that won't even accept 3.5mm headphone jacks.
Details on this latest, proposed subwoofer accessory remain totally undisclosed.  But it looks like the idea may not be available in Apple Stores in October, for various complicated reasons.  Perhaps a 'big release' wouldn't be the best marketing approach for this particular Apple accessory.
iPlug case and special charger sold separately.
Cover image by SteveR, licensed under Creative Commons Attribution 2.0 Generic (CC by 2.0).