Are vinyl records slipping in 2016?  Fresh data from the RIAA shows a 9.1% drop during this first half of the year, at least for new product shipments in the United States.
Sales of vinyl records have been booming for more than ten years.  But now, there are signs that things might be cooling down.  According to data shared with Digital Music News by the Recording Industry of America (RIAA), shipments of LPs and EPs are down 9% during the first half of 2016.
That follows signs of a cooling down in April, with Nielsen tracking slower increases over 2015.
Specifically, the RIAA counted shipments of 8.4 million LPs and EPs during the first half of this year, with an associated revenue value of $207.1 million.  During the same point in 2015, sales were at 9.2 million, with associated revenues of $221.1 million, a 9.1% drop in terms of unit sales.
When measured by shipment revenues, which specifically refers to the wholesale price collected from retailers, the drop is a less serious 6.3%.
(Source: RIAA; in $millions)
The decline is part of an across-the-board decline in physical music sales.  In fact, not one physical format — CD, LP, or EP — grew during the period, according to the RIAA.  Overall, physical sales slipped 12.0 percent by units during the period, dragged heavily by CDs.
Niche, higher-end formats like SACD and DVD Audio are now effectively dead, though incoming streaming platforms like TIDAL may be scratching the hi-end itch.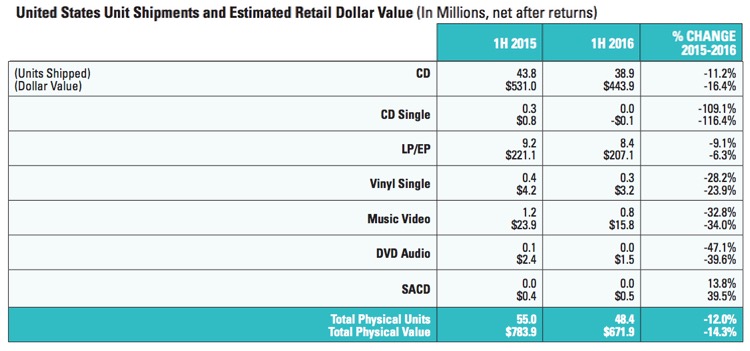 Back to the vinyl records resurgence, the question is whether this is just a statistical blip.  Or, a mere tree in the forest.  Indeed, even bull markets have their ups and downs, which makes it hard to draw firm conclusions or projections from just six months of data.
Perhaps the past few years have been so explosive, it's simply time for things to cool off.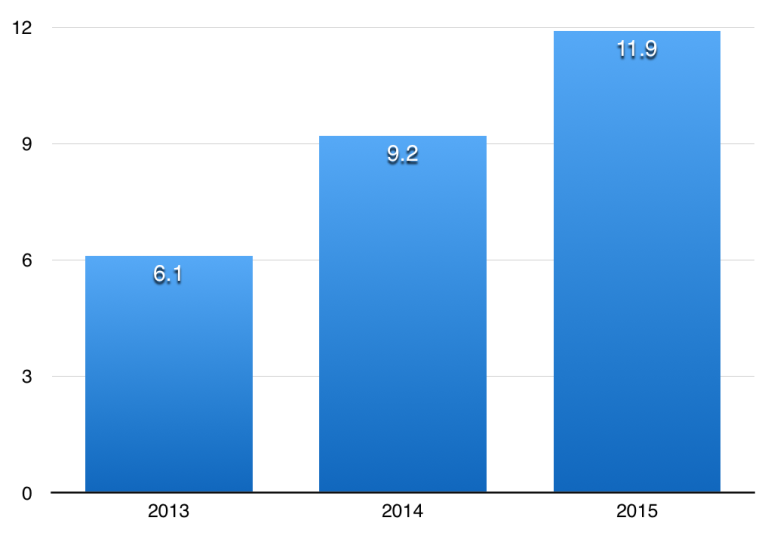 And looking at the past decade, sales of vinyl records have been outright meteoric after being left for dead just ten years ago.  Here's a quick look at the stunning revival in vinyl records that started in the mid-2000s.
The full RIAA first half report can be found here.