Beats by Dre is part of Apple. So why are they releasing a wired headphone line that won't even work with the iPhone 7?
Not feeling very courageous? Don't worry. Beats by Dre understands you.
For those who haven't taken the dongle plunge and upgraded to an iPhone 7 or iPhone 7 Plus, Beats has the wired headphones for you.  For just $129.99 (just under $30 shy from the price of Apple's new wireless AirPods), you'll able to get your hands on Beats EP On-Ear Headphones (ML992).
Strangely, these just-released, on-ear wired headphones have a 3.5mm jack, as advertised right on their page.  Which is funny because, the iPhone 7 doesn't have a 3.5mm jack.
Let's take a look at some of the characteristics:
Fine-tuned acoustics for the clarity and depth you expect from Beats
Durable, lightweight design reinforced with stainless steel
Battery-free for unlimited playback
Adjustable vertical sliders for a personalised fit
Take calls and control your music with the RemoteTalk cable*
*Compatible with iOS devices. Functionality may vary by device.
So what exactly is in the box? You'll get the following items:
Beats EP Headphones
Foldable Carrying Pouch
Quick Start Guide
Warranty Card
Along with your $129.99 purchase is a one-year warranty. Everything sounds fine and dandy, like cotton candy, right? There's just one major problem: they aren't iPhone 7 nor iPhone 7 Plus compatible, according to the Apple Store's product page.
However, if you do purchase them for use on your iPhone 7 or iPhone 7 Plus, well, you may need to use the adapter included in the iPhone box. But here's a major disadvantage for audiophiles: their sound will be downgraded. Why's that? According to tests done by a German magazine, this isn't a problem inherent in the Beats EP On-Ear Headphones, but it's actually a problem that will occur in all headphones.
Why's that? The iPhone 7 adapter degrades the sound of all headphones plugged in. Take a quick look of BGR's rough translation of the German magazine's test:
"The results are clear: with an iPhone 6S, the dynamic range worsens by 4.5 dB(A) for 24-bit music files. For the iPad Air, it worsens by 3.8 dB(A). The signal also gets worse for 16-bit music files, even if they aren't that drastic: the dynamic range worsens by 1.8 dB(A) and 3.1 dB(A) for the iPhone and iPad, respectively."
BGR went ahead and posted a screenshot of the full results.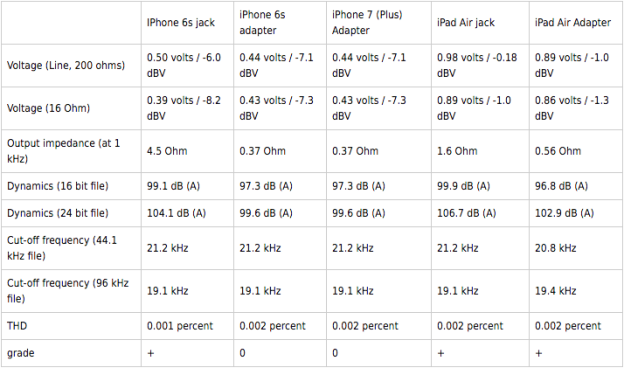 Don't worry, however, as according to BGR, most people won't even notice the difference. Why? It's completely imperceptible to the human ear.
So far, the Beats On-Ear headphones looks to be a solid product for those interested for high-end wireless headphones. For those who want to own a pair, just make sure to mind the reviews, as they have a 2.5 out of 5 rating on the Beats By Dre website.