The music industry supposedly 'shut down' MP3 Skull for good back in February, with a $22 million judgment and DNS seizure.  So why are more than 4.1 million users accessing the site every month?
In the music business, they call it 'whack-a-mole'.  And it's just like the arcade game: smash one mole into the ground, and another one immediately pops back up.  And so it is with music piracy sites, most recently Mp3 Skull.
+ MP3 Skull Monitor: Latest Active Versions [Updated]
Back in February of this year, the Recording Industry Association of America, or RIAA, brutally smashed mp3skull.com back into the ground.  The free music download site, which had been serving simple, web-based MP3 downloads for years, didn't have any licenses to distribute those files.  They were clearly a pirate site, serving ads and paying zero back to the labels or artists.
Enter the RIAA's armada of lawyers, which is absolutely great at shutting stuff down.  After dumping millions on legal fees, court fees, and other legal costs, the industry won a $22 million ruling against MP3 Skull, with a federal judge ordering the free download site down.
Everything was ripped apart, and the party ended immediately.
Or so we thought.
That was more than six months ago.  So why is MP3 Skull still serving more than 4.1 million users monthly, and sharply rising?  Here's what SimilarWeb, a leading traffic monitoring firm, shows for the months leading into September.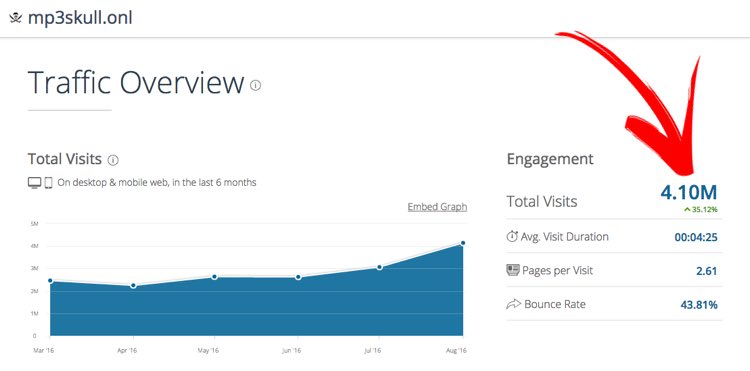 So, not only is MP3 Skull getting 4.10 million total visits a month, but its average pages per visit is about 2.61.  Which means that the 'shut down' Mp3 Skull is actually getting more than 10 million pageviews a month, all of which is handily being monetized.
Looks like the music industry shut down the wrong MP3 Skull.  And, left a lot of free music mp3s at the buffet table.
Take a look closer, and the explanation becomes obvious: the site being tracked by SimilarWeb is actually mp3skull.onl, not mp3skull.com.  The latter is actually completely shut down, thanks to the court-ordered injunction.  But it turns out that this is actually just a tiny detail to users, a large percentage of whom are searching for MP3 Skull via Google Search.
Which looks like this:
In other words, the actual url itself is actually a meaningless detail.  Almost like the entire lawsuit and ruling the RIAA obtained back in February.
But wait: there's more…
This gets even more interesting.  Because not only is mp3skull.onl offering free, unlicensed MP3s, but it's also a 'YouTube to MP3' converter.  Youtube to MP3 (or Mp4) converters, also known as 'stream rippers,' are now a focal point for not just the RIAA, but also other industry enforcement organizations like the IFPI and BPI.  The current focus is YouTube-mp3.org, the largest YouTube to MP3 site that operates (quite profitably) out of Germany.
But just like the MP3 Skull suit before it, the legal assault against YouTube-mp3.org looks like another whack-a-mole on repeat.  Millions on lawyers, a massive legal assault, and court-ordered shutdown seem like a likely result, with dozens — even hundreds — of similar sites just waiting to fill the void.
We've seen this mp3 download before.
Oh, and for all the mp3 downloaders out there: be careful out there.