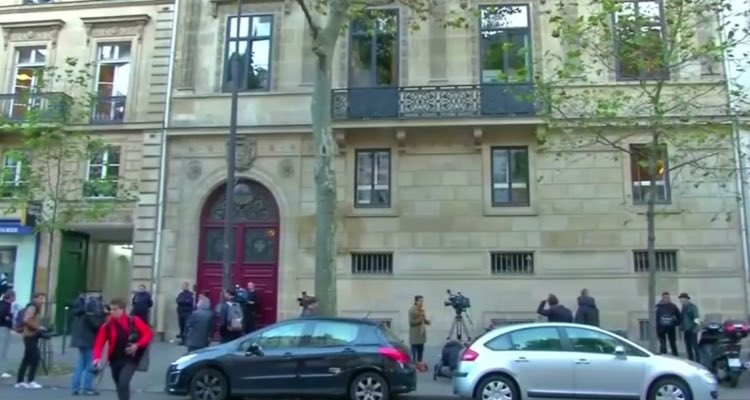 Was it all made up? Strangely, no surveillance footage has been found, despite reports of a robbery involving five people.  Now, French officials may be wondering if Kim Kardashian and Kanye West fabricated the entire thing.
Kim Kardashian and Kanye West are masters of the publicity stunt, but the pair may have gone too far last weekend in Paris.  Yesterday, Digital Music News raised a number of glaring problems with the reported jewelry heist, including the possibility that the story was completely fabricated.
It just doesn't seem to pass the sniff test.  And that could be a big, big problem for French officials desperately trying to repair the image of Paris.
Among the obvious problems are the absence of any security the night of the heist, the presence of just one night watchman in the entire hotel, an immediate escape by Kardashian and the watchman despite being tied up, and the absence of even one message to the outside (including from another person downstairs in the multi-level suite).
No security footage captured.
But this one may just take the cake.  According to details somehow 'leaked' to TMZ, there isn't any security footage of the crime.  Somehow, a five-person crew managed to evade every single camera, either inside the hotel or outside the building.  At this point, no other cameras have recorded anything, even though Paris is littered with cameras on every block.
In fact, one police surveillance camera outside the building shows zero activity.  That could be because it was pointed away from the building, or, perhaps there was absolutely nothing to record.
Additionally, there isn't one witness to the crime outside Kim Kardashian and the unidentified night watchman.  Fashion stylist Simone Harouche, who called the cops after allegedly hearing screams from Kardashian on the hotel balcony, has declined to comment.
Back in the US, even Supreme Court justice Stephen Breyer is raising questions about the heist.  Opining about a separate case, Breyer referenced "Kardashian's thief, if there is one."
No leads, no suspects, no
nothing

.

More importantly, French police seem to have absolutely no leads in this case.  Nobody saw anyone riding a bicycle in a police uniform, or even walking away.  Not one witness has come forward, if a witness even exists.  In fact, not one individual has even been detained, with French police failing to name one suspect.

All of which raises the possibility of a criminal probe ahead by French authorities.  For starters, Paris is a city suffering billions in losses from slumping tourism, thanks to a spate of horrific terrorist attacks.  Add a complicated jewelry heist into the mix, and the world's most visited city could suffer another plunge in tourism.

French authorities may be considering a serious criminal investigation, if only to prove to the world that Paris is safe to visit.
Ryan Lochte, anyone?
Strangely, Kardashian's reported heist bears an uncanny resemblance to a recent robbery wise tale.  During the recent Olympics in Rio, American swimmer Ryan Lochte claimed that robbers dressed as police officers accosted him with guns.  That story was widely accepted by the mainstream media, though Brazilian officials smelled a rat.
For starters, the Rio 'robbers' decided not to steal an expensive watch, among other glaring inconsistencies.  Soon, video footage revealed that Lochte and team were merely vandalizing a gas station bathroom while drunk, while urinating outside a locked door.  The 'robbers' were actually security guards trying to control the situation.
Ultimately, Lochte was shamed for cooking up a story and almost damaging the reputation of Rio.  Could Kim Kardashian and Kanye West be guilty of the same crime?
More as this develops.