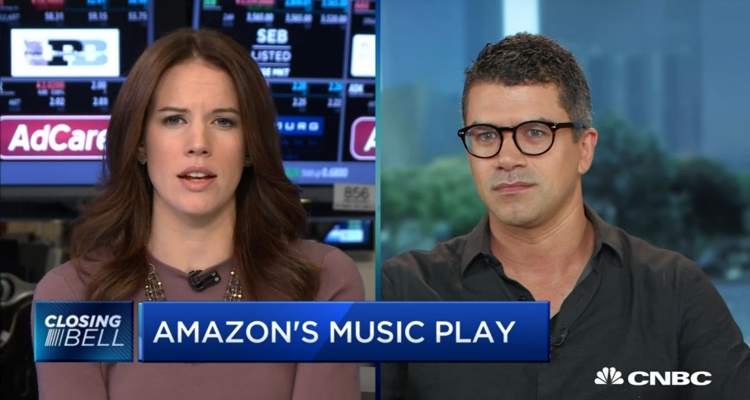 CNBC's 'Closing Bell' isn't afraid of some ballsy opinions.  So they called Digital Music News about Amazon Music!
If you want to know what we think about Amazon Music Unlimited, Amazon's brand-new streaming service, check out this full-blown commentary.  But that's mostly focused on the service itself, including the catalog selection, user interface, and mobile app.
What about the business implications?  The anchors at CNBC's 'Closing Bell' were asking questions about the bigger picture.  Not just how this will stack up, but what this means for investors.  That includes Pandora, which is actively traded, speculated, and beat up on Wall Street on a daily basis.
But investors are watching a lot of different players here, especially as this starts to shake out.  And you'd better believe Wall Street is watching this carefully head of a Spotify IPO.  Thankfully, 'Closing Bell' hosts didn't pile on about Spotify's public offering (or lack thereof), but maybe that's for another episode.
For now, the focus was the bigger picture.  Here are just a few of the questions thrown our way:
Does Amazon Music Unlimited change the game? (yes, it definitely does).
Can the smaller streaming services survive over the long haul?  (no, they definitely cannot).
Does Amazon need to acquire anyone to build its streaming music offering? (no, they don't).
What about Pandora? (my answer: just get ready…)
Is Google in this game? (yes, they're surprisingly huge, BUT…)
Here's the interview segment.