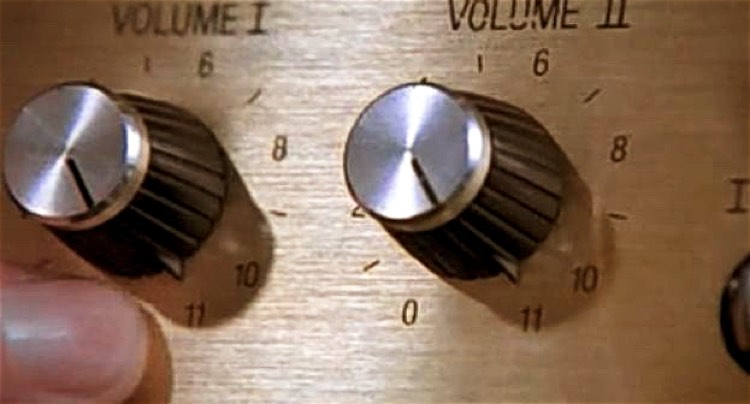 Harry Shearer, one of the creators of 'This Is Spinal Tap,' is now suing Vivendi for $125 million in compensatory and punitive damages.
'This Is Spinal Tap' is regarded as one of the greatest movies of all time.  It's spawned endless cultural references, starting with 'these go to 11'.  The film has also made hundreds of millions in revenue, from theater, VHS and DVD releases, merchandising, licensing, and recordings.
The only problem?  The guys who created the entire concept and produced the film aren't getting much of that.  According to a lawsuit filed against Vivendi Universal in a California federal court this week, a giant portion of the profits from the film have been squirreled away.
(See the full court filing here.)
In fact, Harry Shearer and three other creators have only been paid $81 from millions of merchandise sales since 1984, including t-shirts, hats, posters, stickers, and even Halloween costumes.  "But according to Vivendi, the four creators' share of total worldwide merchandising income between 1984 and 2006 was $81 (eighty-one) dollars," the complaint alleges.
"Over the past two years, Vivendi has failed to provide accounting statements at all."
And soundtrack sales?  Of course, the 'rock mockumentary' had a mega-selling soundtrack, led by songs like 'Stonehenge' and 'Sex Farm'.  But Shearer and his co-creators have only been paid $98 from that album, according to the suit.  "Between 1989 and 2006 total income from music sales was $98 (ninety-eight) dollars," the filing continues.  "Over the past two years, Vivendi has failed to provide accounting statements at all."
After numerous attempts to get paid, or even receive intelligible financial accounting, Shearer decided to file suit.  Shearer alleges fraud and breach of contract, and is even attempting to win his copyrights back.  That's possible under California law under certain situations, and Shearer feels the fraudulent behavior increases his chances.
The lawsuit specifically names Ron Halpern, an executive at StudioCanal, a Vivendi subsidiary.