Want to know how to get more plays on SoundCloud? Here are some useful tools you can use to get more SoundCloud plays right now.  And take over the airwaves of Planet Earth sooner than you thought possible!
SoundCloud has become a great place to find tracks that you can't find anywhere else. But how do you get more plays on Soundcloud as an artist? Unless you're an established musician, getting people to listen to your tracks on SoundCloud can be quite a challenge — unless you know a few proven tools.
Here are some simple ways to increase your SoundCloud plays.
1. Fastlykke
Fastlykke is a social media marketing company that does social proofing. They specialize in Soundcloud and can help their customers drive plays, likes and followers. You can buy Soundcloud Plays  starting from $3. They provide good services. Getting soundcloud plays is important for many audiences as it can help their music grow. The approximate delivery time is 1 to 7 days depending upon the order volume.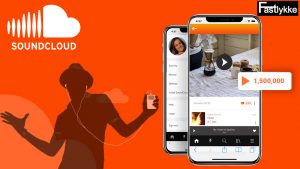 2. BuyPlays.co
While the idea behind buying plays on Soundcloud to manipulate the "Rising Talent" charts isn't anything new, the people at BuyPlays have legitimized their little industry.  Instead of hiding behind the dark-net and lurking around on 4chan, they've stepped into the light so to speak.  They openly deliver exactly what they offer: safe, anonymous, Soundcloud plays.
Even better, they will also deliver real likes, reposts, comments, and shares at a statistically appropriate level to the amount you get when you buy Soundcloud plays from them.  This keeps you from falling outside the trend graphs and keeps you safe from moderators who might look to prevent this activity.
While the art of buying Soundcloud plays might seem, well, odd – it's something Soundcloud has had to come to grips with. They cannot penalize you severely for the transactions, because then you'd be able to weaponize them and target the plays at your competition!
3. Hypeddit
Hypeddit is a promotional platform that is specifically dedicated to making your SoundCoud tracks more visible to potential fans.  The site is generally marketed towards musicians, but can be utilized by other SoundCloud users for promoting their tracks.
The service works by providing users with several tools for increasing the social proof of your tracks and make these more visible to possible fans and followers. Hypeddit works on the idea of "fan gating", which involves artists uploading exclusive content that can be accessed by listeners through becoming a follower on SoundCloud.  An example of a fan gate provided by the service is this one:
Setup for Hypeddit is simple and straightforward, with your SoundCloud account being linked to Hypeddit without the need for additional tools. Creating the fan gates is also done in a quick, three-step process. The service works well with a variety of file sharing applications like Dropbox or Megaupload to host your download files.
Hypeddit can also be used to take advantage of SoundCloud's promo channels.
These are Soundcloud profiles that are aimed towards specific music genres which attract a large amount of fans. While these promo channels are businesses that normally require you pay a fee to get your tracks reposted on them, Hypeddit offers a workaround through its fan promotion feature. This feature sends your chosen track via email to any of Hypeddit's promo channel partners. Once your track is approved, it will be reposted on the channel for their followers to see.
All of this additional social proof, as you gain more and more followers, can be a great tool to use right after buying SoundCloud followers. Combining two techniques which increase your followers is a sure way to get more followers, and the plays they bring, very quickly.
4. Click DJ
Click DJ is a track promotion platform that covers a wide array of social networks apart from SoundCloud, including:
It lets you manage social media promotions on these different sites through just one account. A little simplification can go a long way towards
One of the useful features of Click DJ is its Followers Sync function, which lets you increase followers across all your social media accounts from within the site. When someone follows you on Click DJ, they will also automatically follow you on your other social media accounts. Furthermore, whenever someone downloads your promotional tracks, they will be prompted to connect with you on your other social media accounts. The follow-to-download can also be integrated to your main website:
By embedding the download links on your own site, you can effectively integrate it to your SoundCloud campaigns, as well as your other social media accounts.
Another feature of the application that can help you get more visibility and plays for your tracks is download pages creation. Instead of just giving the download links to your tracks, Click DJ lets you package these links into neat-looking web pages that will catch the attention of your fans more. Setup of these pages are relatively easy and they can be integrated into your other social media pages easily.
5. Landr
Landr is a service that lets you master your SoundCloud tracks to improve their quality.  The service works through the use of its cloud-based mastering software, which analyzes your tracks uses its its set of tools to enhance them.  The bump in quality can have a nice impact on SoundCloud plays and interest.
A particularly interesting feature of Landr's service is its genre detection function (screenshot shown below). The function classifies your tracks into particular music genres based on specific musical components. From there, the software masters the track according to the conventions of the genre that it was classified into.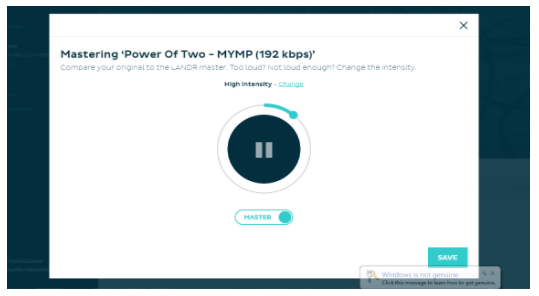 The genre detection feature is very useful in marketing your tracks, as you will be able to hone in on a more specific audience: those who are fans of the music genre your tracks fall into. From there, it's all a matter of providing them with more tracks of the same genre and you get yourself a solid following. The quality of the mastered tracks will serve as a great starting attraction for them to you.
Landr offers a free account, which means you start using it immediately. The services offered by the free account is good for a start or if you are don't have a lot of tracks. However, if you plan to produce a lot of tracks, upgrading to a paid account is always a good idea.
6. Tunecore Social
Tunecore Social is a music promotions platform that aims to help you build a following on various social media sites. Rather than being a singular service, TuneCore actually offers an array of services provided by its partners
First off, Tunecore offers track mastering provided by Landr and After Master. For Internet airplay, the site has Radio Airplay support. Tunecore even has CD publication services should you want to also dabble into physical distribution for your music.
However, Tunecore's social media tools are arguably the most popular of its various services. Particularly, the site offers support for SoundCloud promotions, including scheduled postings, posting on multiple channels, and analytics to keep track of your following.
The site also added a new set of social media tools courtesy of its recent acquisition, JustGo. Through the merger, JustGo's more streamlined social media promotion service is incorporated into TuneCore, making the work of promoting your tracks easier.
7. Facebook
With more than 1.7 billion active users every month, Facebook is going to be your biggest promotional channel outside of SoundCloud. And one of the best things about promoting your Soundcloud tracks on the social media site is that it is a fairly easy affair, as SoundCloud integrates readily into your Facebook posts. For one, you only need to paste the URL of the particular track you want to link to on your post and it will automatically be embedded as a playable track.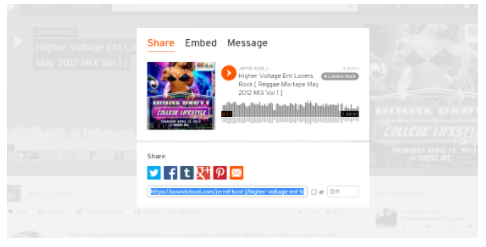 Creating a fan page is by far the most effective way that you can introduce people to your SoundCloud music. Here, you not only get to post samples of your tracks for listeners to check out, you can also engage them in real time. And by carefully crafting your posts, you can also direct them into visiting your SoundCloud page for more music.
Jason Derulo let fans stream his entire Naked album on SoundCloud earlier this year, and he shared this right on his Facebook.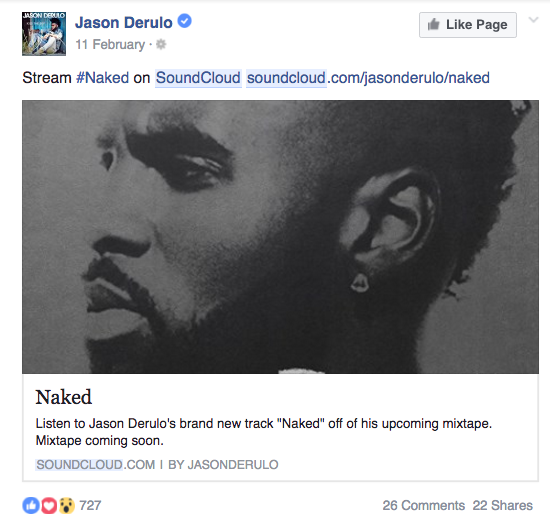 And he's now, what, one of the 5 most famous singers on the planet? Using Facebook as a tool to increase his SoundCloud plays certainly played a role in this. For the most impact on Facebook, buy a few SoundCloud plays just before a big share.  That can really help you get noticed.  We've all stopped to check out a track that's popular, and you can push yours to go viral with this little push.
8. YouTube
Youtube can be considered as this generation's equivalent of MTV as a venue where you can present new music and music videos to your fans.  But instead of a tedious acceptance process, all you need here is to click upload and your track goes live.
One thing that to note here is that, unlike other social media platforms, Youtube and SoundCloud do not readily integrate into each other, mainly due to them being of the same type of media.  There are a lot of products promising Youtube and Soundcloud integration, but these are more about providing you with easier means of managing your accounts, such as providing you with a single dashboard where you can simultaneously post on the two sites.
Thus, the goal with Youtube is to redirect listeners to your SoundCloud page through links.  Teaser videos are great for this purpose, as you can entice them to click to listen to the full track.  You can either have the link to the track at the video description, or embedded in the video itself for easier navigation.  SoundCloud itself uses this method for its promotional videos in Youtube, as shown below.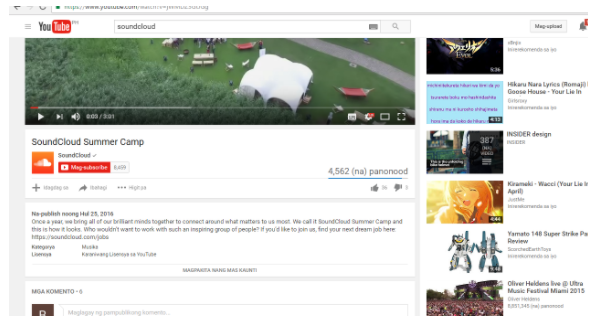 9. Twitter
Twitter is great for providing real time updates on track releases, earning you plays right away, as well as giving your listeners a quick sample of the tracks you have. This i largely thanks to Twitter and SoundCloud integrating their platforms. SoundCloud plays right in the Twitter API.
Twitter also makes it easier to engage fans, and hype them up.  For instance, following and retweeting fans' messages can get them really giddy and will be more than willing to repost your own SoundCloud related updates.
As is with other social media platforms, you need to time your Soundcloud-related tweets well for people to actually listen to it. However, since these are music tracks, you can be more flexible.  Your listeners can enjoy light music tracks, such as this one, for a morning coffee upper.
You can also take advantage of playlist embedding to give more tracks for your audience to listen to.
A new favorite: Madoka Magica Sayaka's Theme Decretum (HD) by Saruwatore Desu https://t.co/8ANdSnvpZr on #SoundCloud

— Myssie – The Anime Devourer (@QueenMyssie) June 16, 2015
Last June, Twitter announced that it will be investing $70 million on SoundCloud.  The two companies did not discuss how the deal will affect each company, though it could result in further integration between their services beyond the integration already mentioned.
10. Pinterest
Pinterest is about images, making it seem like an odd choice here.  However, the platform actually has an embed feature that lets you include SoundCloud tracks on pins. The process is easy, with the Pinmarklet browser tool letting you upload tracks without needing to go directly to Pinterest.
Of course, since this is Pinterest, images still need to be a big part of your pins. Don't just put in any random image, going instead for a picture that matches the vibe of the particular track, such as in this example.
If it's a playlist, create a unique "album cover" specifically for it. While the music is still the center of the pin, the image are useful in catching their attention, since not all people head to Pinterest to specifically look for tracks to listen to.
Don't forget to encourage your SoundCloud followers to share your tracks on their own Pinterest account. Soundcloud already has a Pinterest share button built in, so make sure to highlight it well along other social media platforms in your calls to action.
How to get more plays on SoundCloud — and get heard.
As you have learned above, these ten tools can help you get SoundCloud plays in a variety of ways:
MixCloud lets you import tracks from SoundCloud easily and take advantage of its own base of followers.
Hypeddit gives you the power of fan gates to attract listeners.
Click DJ lets you manage all your followers on different social media in just one place.
Landr masters your tracks expertly, giving your SoundCloud listeners better quality music.
TuneCore Social gives you a host of production and promotion tools to boost your SoundCloud presence.
Facebook is the biggest social media outlet to promote your SoundCloud tracks.
Youtube is great for premiering videos of your SoundCloud music.
Twitter is great for providing regular updates, as well as teasers for your new songs.
Pinterest is useful as another social media outlet to promote your tracks.
With all of these at your disposal, more people will be listening to your SoundCloud tracks, guaranteed.  So, now that you know how to get more plays on SoundCloud — go out there and bring them great music!