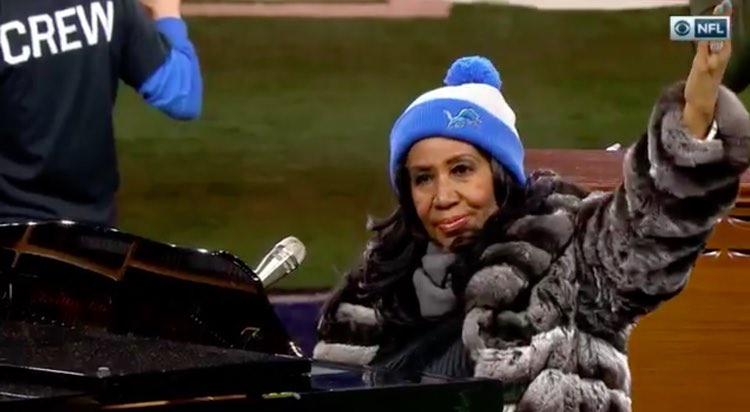 The timing wasn't accidental.  In front of millions of Americans on Thanksgiving Day, Aretha Franklin transformed the National Anthem into a religious experience.  And a football stadium into a gospel church.
The average time taken to sing the National Anthem is 1 minute 57 seconds.  On Thanksgiving Day, Aretha Franklin more than doubled that mark with a stunning, near-religious rendition at Ford Field in downtown Detroit.
The entire stadium, and millions of Americans, were effectively taken to church before a traditional NFL matchup between the Detroit Lions and Minnesota Vikings.  They were also unified by a spiritual leader who played a critical role in the Civil Rights Movement of the 60s.
In the end, the spiritual performance clocked 4 minutes and 55 seconds, which is the longest recorded rendition.
The soulful performance smashes the earlier record of 2 minutes and 36 seconds set by Alicia Keys in 2013.  That's when Keys delivered the impassioned Star Spangled Banner to kick off Super Bowl XLVII.  A bigger audience, sure, but a far less important moment in US history.
Earlier, Natalie Cole carried the record with a 2 minute, 32 second rendition back in 1994.  Of course, both versions are now smashed by Franklin.
Comfortable in a Detroit Lions knit hat and fur coat, the Queen of Soul seemed like she was playing for a small gospel church.  Franklin simply sang and played a grand piano, accompanied by an organ player.  Players, fans, and members of the military responded strongly, though Franklin was soon blasted on Twitter for dragging the song out.
That's right: there's always lots of hate when you do something different (musicians: here's how to deal with it).  Here's the stunning performance.
The timing of the rendition was no accident.  Franklin, a registered Democrat, played Barack Obama's Inauguration in 2009 and has been specifically honored by the president.  "Nobody embodies more fully the connection between the African-American spiritual, the blues, R&B, rock and roll — the way that hardship and sorrow were transformed into something full of beauty and vitality and hope," Obama noted last year.
More importantly, Franklin was an important voice during the Civil Rights Movement, and is regarded as a symbol of racial progress in America.  But instead of blasting the system like Colin Kaepernick, Franklin seems to be doubling down on unity.  And 'doubling' can be taken literally.
On the field, Franklin was rooting for the right team.  The Detroit Lions pulled out a victory against the Minnesota Vikings, 16-13.