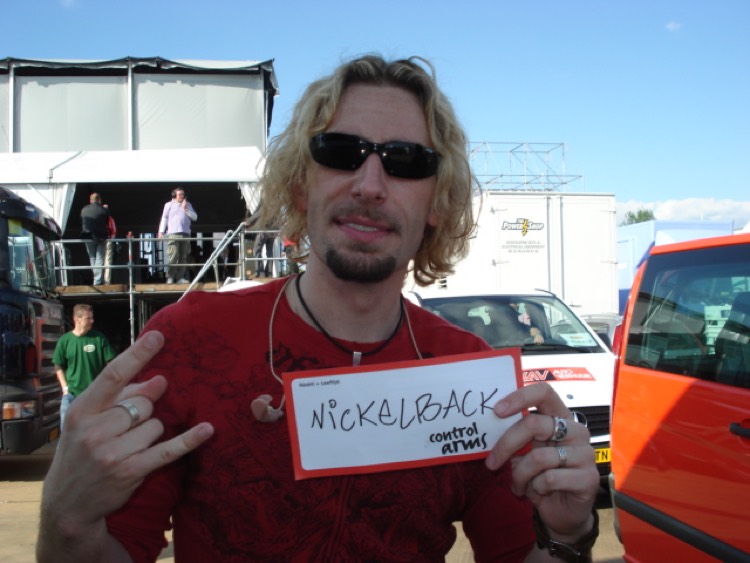 Today, a Canadian police chief apologized for threatening to torture DUI suspects with Nickelback music.  But that's just the latest in a long string of jabs.  All of which begs the question: why do people hate Nickelback so much?
It was the most attention that Prince Edward's Island (PEI) has received in decades. But amidst a torrent of press, the police chief in a tiny Canadian island apologized for poking fun at Nickelback. But the incident begs the question: why do people hate Nickelback so much?
Just last week, Constable Robb Hartlen of PEI town Kensington threatened to torture DUI suspects with Nickelback music. Small town, good times. But millions of views later, and Hartlen said sorry.  "Our post became an international story.  And somewhere in the noise, the message of 'Don't Drink and Drive' was overshadowed by negativity towards the band I said I would play if you did," he said.
It was another funny moment to distract us from a tumultuous world.  And all at the expense of one of the most successful rock bands of the past two decades.
But where did all this mockery originate?
Actually, a researcher in Finland has attempted to answer that very question.  The student, Salli Anttonen, poured through 14 years of Nickelback reviews and articles, and recently published her findings.  The University of Eastern Finland student was looking for the match that started the raging forest fire of ridicule, and became a cultural fixture.
"They follow genre expectations too well, which is seen as empty imitation…"
Anttonen's study, called "Hypocritical Bullshit Performed Through Gritted Teeth: Authenticity Discourses in Nickelback's Album Reviews in Finnish Media," discovered some trends in the hate.  The biggest was that this band has been so successful at mimicking the rock genre that they lost any sense of authenticity.
In other words, they excelled at copying everything that already existed, and being super-successful at it.  They were professionally bland.   "Nickelback is too much of everything to be enough of something," Anttonen asserted.  "They follow genre expectations too well, which is seen as empty imitation.  But also not well enough, which is read as commercial tactics and as a lack of a stable and sincere identity."
But blandness and formulaic inauthenticity are like dry needles before a forest fire.  Who started the blaze?
The lynchpin: DFS.
According to the report, there's one event that ultimately triggered an avalanche of ridicule. In November of 2008, Nickelback licenses their song 'Rockstar' for use within a furniture ad in the UK. This, according to the research finding, is widely regarded as the beginning of the band's image collapse.
It was after this point, according to the report, that existing hate and ridicule exploded. Full-blown memes, non-stop jokes, and all-out protests soon became the norm.  It was the proverbial lynchpin that sparked the unstoppable explosion.
Actually, the furniture ad itself was banned because the seller, DFS, exaggerated the size of its sofas. But hey, it's hard to delete things off the internet sometimes (here's the YouTube link).  Just keep in mind those sofas aren't as big as they seem.
Others have questioned the finding. For example, early skits on Comedy Central may have been the bigger reason. And it's even possible that a separate, US-based spark occurred. Either way, it's difficult to debate the absolute torrent of anti-Nickelback sentiment that soon followed.
And with that, here are some other major moments of ridicule against Nickelback. With many more sure to follow.
November, 2008.
Nickelback gets pelted with rocks and bottles at a hard rock festival in Portgual, forcing the band to quit after two songs.  The event coincided with the DFS furniture ad.
November, 2011.
Aux Labs develops NickelBlock app to block all mentions of Nickelback from your internet experience.  App goes completely viral, used by millions and spreads to Facebook.
Later that month.
Nearly 56,000 football fans sign a petition to prevent Nickelback from playing the halftime show between the Detroit Lions and Green Bay Packers.  The band plays just one song.
Alberta, Canada, 2013: 'Until Nickelback Took the Stage'
Nickelback refuses to allow broadcast of their charity performance at Alberta Flood Aid, drawing the ire of thousands of fans.  Media starts declaring them, 'the world's worst band.'
January, 2016.
Donald Trump aides removes someone carrying a 'Trump Likes Nickelback' sign in the audience.  The troll also attended other Republican rallies.
December, 2016
Constable Robb Hartlen of PEI town Kensington profusely apologizes for threatening to torture DUI suspects with Nickelback music.  World waits for next Nickelback moment of hilarity.