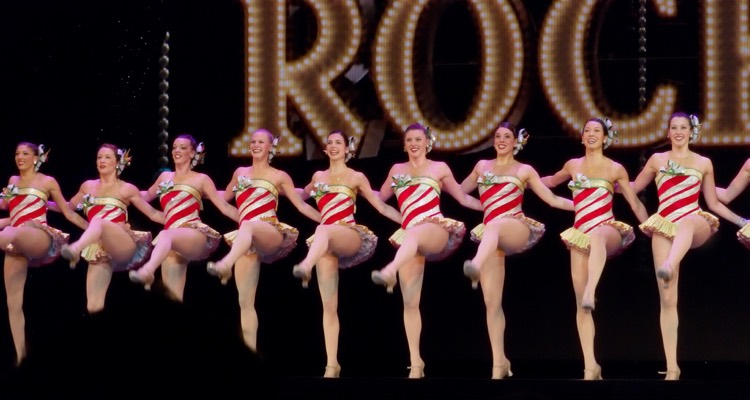 The Rockettes are currently locked in a battle against Donald Trump, with members refusing to participate in his upcoming Inauguration.  But who's the real racist here?  Now, some very ugly skeletons are coming out of the closet on this organization.
The Rockettes: they're as American as apple pie, baseball, and the 4th of July.  But that squeaky clean image has a pretty dirty history.  And according to critics speaking with Digital Music News, this is an organization with a long — and very recent — history of extreme racism against non-white dancers.
How recent?  According to details shared with Digital Music News, the Rockettes refused to allow any dancers of color into their organization until the late-80s.  That is, the 1980s.  In other words, the definition of hiring exclusion based on color, i.e., flat-out racism as strictly defined.
The allegation, from two different readers, sounded implausible at first.  But it's published fact, and widely known.  In fact, this was probably the easiest fact-check imaginable.  In 1983, the New York Times noted that the Rockettes had a stated, above-board policy of excluding any black (or any non-white) dancers.
"The shapely legs best known on the famous [Radio City Music Hall] stage — over 5,000 pairs since the Rockettes began in 1932 — are all white," Times writers Laurie Johnston and Susan Heller Anderson shared.  "The chorus line has never been integrated because, as Violet Holmes, its director and choreographer, has maintained in the past, blacks would 'distract' from 'the look of precision,' the Rockettes' trademark."
Author Daniel Okrent also discussed the policy in his 2003 book, The Epic of Rockefeller Center.  "The book also has a light touch — too light —  with the most unsettling parts of the story," New York Times critic Adam Cohen writes.
"Black employees were largely unwelcome at Rockefeller Center — in the case of the Rockettes until as recently as 1987."
Viewed from another (legal) perspective, this is an organization that blatantly violated both federal and state laws against racial discrimination in the workplace.  And they did it for more than twenty years.  That would include Title VII of the Civil Rights Act of 1964, and similarly-enacted statutes for the State of New York.
"No decision affecting hiring, promotion, firing or a term, condition or privilege of employment shall discriminate on the basis of a person's race or color, nor shall employees be harassed or otherwise discriminated against on such basis, or perceived basis."
State of New York Employment Law.
Perhaps under legal, social, or ethical pressure, the Rockettes finally changed their policies in 1987.  By 1988, the organization welcomed their first black dancer, Jennifer Jones.  But Jones was quickly sent into a different sort of 'specialized' role: "Jennifer Jones, 20, of New Jersey, will join the Rockettes dancers in the upcoming Super Bowl," Jet magazine reported in January of 1988,  under the title, "First Black Rockette".  "She will perform a tap-dance and 'twist' number with R&B performer Chubby Checker.  Jones will be called in whenever there's a vacancy in the Rockettes line."
We'll leave it at that.
'One of the most racist organizations in American entertainment history…'
That history certainly casts the Rockettes' current battles against Donald Trump in a different light.  After Madison Square Garden Company executive chairman James Dolan committed the group to perform at Trump's upcoming Inauguration, a number of dancers publicly protested the forced decision.  A recent dancer told Marie Claire that she'd rather lose her job than perform for the President-Elect.  "If I had to lose my job over this, I would.  It's too important.  And I think the rest of the performing arts community would happily stand behind me."
+ Rockettes Dancer 'In Tears' After Being Forced to Perform Trump's Inauguration
The report noted that numerous dancers were 'crying' through their pre-Christmas shows, with Trump viewed as a sexist, racist 'monster'.  Others have reportedly dropped out, with a small group agreeing to perform.  In-between, in-fighting has also emerged between active dancers and alums, with many taking sides.
According to one source to Digital Music News, all of that wreaks of hypocrisy.  "All I can say is you have one of the most racist organizations in American entertainment calling Donald Trump a sexist, a racist, everything in the book," one DMN reader, a black woman, remarked.  "I'm not taking sides on that one, okay?  But I'm not sure which is worse."
Actually, there is an open question of whether enough Rockettes will show up to the Inauguration.  If the numbers are too slim, the famous lineup simply doesn't make sense.  Then again, neither does this group's historical policies on race.
The Rockettes, who have mostly refused media requests after the Inauguration commitment, have not responded to ours.
Top image by Ralph Daily (CC by 2.0).