Has Google grown overconfident on YouTube? Have Apple Music and Spotify finally dethroned the controversial king of music streaming?
Trusted market monitor BuzzAngle released a new report, and it's not pretty. For the second straight time, American consumers pay more to Spotify and Apple Music for music streams than YouTube.
The 2016 Year-End Report details a few interesting facts. First, audio stream consumption continues growing at a phenomenal rate. Last year, overall music streams jumped 82.6% to total 250 billion streams in the United States alone.  Furthermore, album and individual track sales continue declining.
In total digital video streams, YouTube only saw a dismal 7.5% growth, compared to Spotify and Apple Music's 82.6% growth. In the fourth quarter of 2016, video streams were lower than Q3 2015 levels, totaling 45.34 billion streams. This includes both YouTube and Vevo total views. BuzzAngle's tally includes premium content identified tracks. In addition, total 2016 on-demand audio streams totaled over 250.7 billion, with video platforms trailing at 181.3 billion.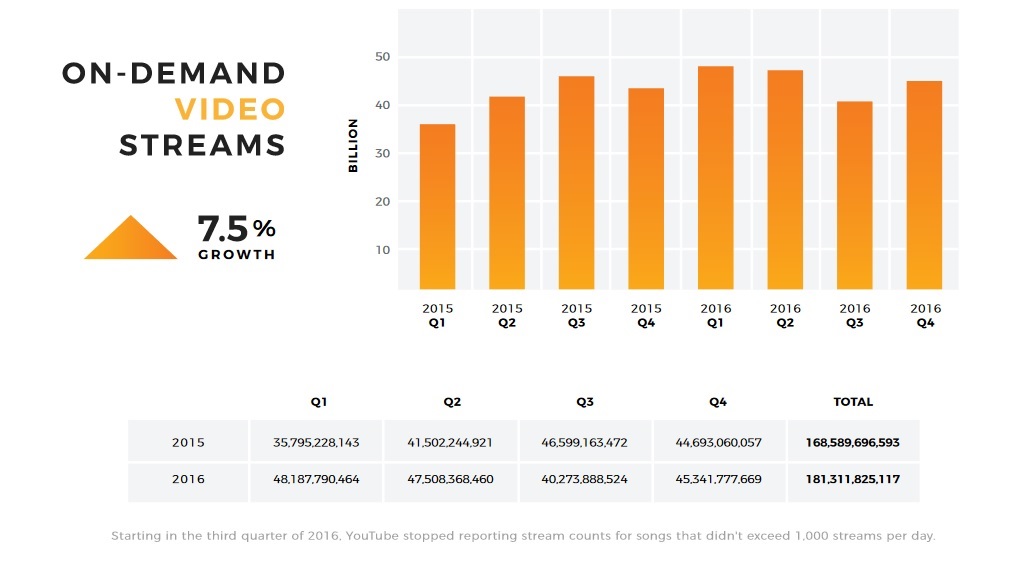 These numbers signal a dramatic market reversal, and bad news for Google and YouTube. Back in July, BuzzAngle reported a 23% growth in on-demand music streams on digital video platforms for the first half of 2016. Meanwhile, audio streaming platforms like Apple Music and Spotify experienced a 58.3% growth. Audio streaming overtook video platforms 114.23 billion to 95.17 billion. Furthermore, the music industry may now shift to a subscription model for revenue instead of relying on ad-based revenue. In addition, BuzzAngle's report, at least in the foreseeable future, minimalizes YouTube's controversial "value gap."
Several additional report key takeaways include:
Drake is the 2016 Artist of the Year with 6.1 million in total album consumption.
American listeners streamed over 28 million unique songs. Consumers only purchased 7.3 million unique songs as well as 1.4 million unique albums.
Overall album sales including digital albums were down 15.6% and 19.4% respectively.
Individual track sales also fell 24.8% compared to 2015, 734.2 million vs. 975.8 million.
Vinyl sales increased (surprisingly) 25.9% over 2015, returning to 1991 levels.